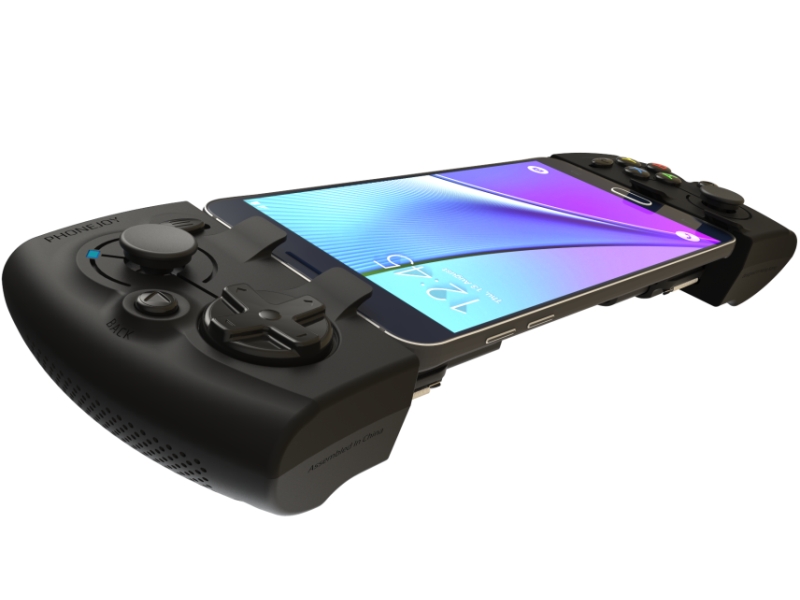 Phonejoy Gamepad 2 Review: A Solid Upgrade
There's no shortage of Android gamepads these days, at prices ranging from just around Rs. 1,000, to between Rs. 5,000 and Rs. 10,000 for international brands like Steelseries and Mad Catz. Most of the gamepads available online are either tiny controllers (which are really not the most comfortable to use), or – as is much more common now – roughly the size (and shape) of an Xbox One controller, with a flip-out handle in the middle where you can attach your phone.
It's a good solution, for the most part, since you don't need a separate stand to prop up the phone when playing, and the large size also means that the controller tends to be comfortable to use during long gaming sessions. The catch is that most of the controllers of this style tend to be a little bulky – you can't exactly slip one into your pocket and carry it around.
A good compromise between portability and comfort is the Phonejoy Gamepad and an improved version of the gamepad is going to be available soon. The Phonejoy looks like a miniature controller – and can be used like one, if you're gaming on a tablet or a smart TV – but it actually splits down the middle and can be stretched like an accordion to wrap around your phone. The result is something like a PlayStation Portable, and if you're a fan of the idea, you can install a PSP emulator from the Play Store, assuming you have a stash of legal PSP games available, of course.
original_phonejoy_android.jpg
In our review of the original Phonejoy gamepad, we'd noted that we really liked the little gamepad, and found it comfortable to use with (and without) a phone. There were a few issues though – the shoulder buttons were spongy, and the analog sticks were too short to use comfortably, and worst of all, there were some pretty serious compatibility issues.
The new version of the Phonejoy, which we've been using for a week now addresses all these issues, and the result is a controller that is a delight to use with a battery that is still going strong after 10 hours of gaming. Compatibility is also not as much of a problem as it was last year, though the credit for that lies with Android.
The small, yet chunky Phonejoy Gamepad 2 is almost unchanged in terms of design, and while it's a little too thick to just slip into your jeans, it's small enough to put into a jacket pocket or cargo pants. The interlinked metal section in the middle is reassuringly solid looking, and springs back with a snap – this might change over time, but one year down the line, the Kickstarter edition of the original Phonejoy is still feeling pretty solid.
phonejoy_side_buttons.jpg
The LG G3 just about fits into the Phonejoy Gamepad 2, though the ideal size is a little smaller – around 5-inches. If your phone is bigger than six inches then it won't fit in the controller – you'll have to prop it up on a stand while gaming instead.
The buttons all feel very solid, and clicky. The D-pad is still a little spongy though – it's better than last year, but this is one area where there is still room to improve. The same is true for the analog sticks – they're a definite improvement over the original, but compared to the full controller style gamepads like the Amkette Evo Gamepad Pro, this is still pretty short, and not as satisfying. It's a necessary compromise to allow you to slip your Phonejoy into your pocket, but it does feel a little stiff as a result.
Connecting the Phonejoy Gamepad 2 to your phone is really simple, and the companion app allows you to find games you can play easily. It divides games into different genres, and also shows the prices, so you can scoop up the best free games if you want. The Phonejoy app also includes a section for emulators, in case you want to have some retro fun.
phonejoy_buttons.jpg
The overall experience of using the new Phonejoy Gamepad 2 is great, and by now, the library of games that take advantage of this peripheral also looks pretty good, over and above the ever present emulators. The catch is the price – you can get a Phonejoy for $69.90 (approximately Rs. 4,600); that's a high price considering that you can get a branded gamepad like Amkette's for a little over half that price. On the other hand, compared to Steelseries or Mad Catz, this feels like a steal.
Of course, there's also shipping – you'll have to buy it from Phonejoy's website, and then shipping will cost you extra. This also further tilts the value equation.
If you're comfortable with the price, then the build quality of the Phonejoy Gamepad 2 is top notch, easily competing with the other international brands. And its design is the best blend of portability and gaming comfort that we've used so far. We feel that in India specifically, the cost of shipping coupled with cheaper local alternatives (which might be less portable, or less durable, depending on what you buy) make the Phonejoy a hard sell here, but it's still a pretty good buy. Is that worth paying a premium for? Only you can decide.
Phonejoy provided an early unit of the Gamepad 2 to Gadgets 360 for this review.
For the latest coverage from the Consumer Electronics Show in Las Vegas, visit our CES 2017 hub.
Tags: Amkette, Amkette Evo Gamepad Pro, Android Game Controller, Bluetooth, Bluetooth Controller, Evo Gamepad Pro, Game Controller, Gaming, Mobile Game Controller, Mobiles, Phonejoy
["source-ndtv"]