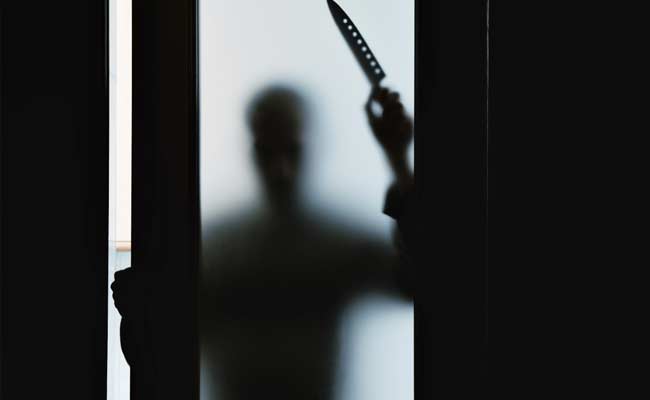 Robert Pickton sat in a Vancouver jail cell and lamented that his quest to kill 50 women had come up just short.
"I made my own grave by being sloppy. Doesn't that just kick you in the ass now," Pickton told his cellmate, adding that authorities were planning on charging him with murdering 49 women. "I was just gonna [expletive] do one more, make it even."
That 2002 confession was captured on video (his cellmate was actually an undercover cop), and it would play a role in Pickton's conviction for killing six women, for which he was sentenced to life in prison.
In a book published 14 years later, however, Pickton now claims that he is innocent: "the fall guy" for a bungled investigation.
"The [Royal Canadian Mounted Police] were desperately failing to do their job properly, while looking for someone to take the fall, which is truly evil," Pickton writes in the book, "Pickton: In His Own Words," according to CTV News Vancouver.
The book, which was reportedly smuggled out of prison, has drawn instant and intense outrage from the families of Pickton's alleged victims.
"It really disgusts me knowing that the worst serial killer in history has the nerve to write that book and reopen wounds," Sandra Gagnon, whose sister Janet Henry used to go to Pickton's farm and went missing in 1997, told CBC.
"He's taunting us – the victims' families," added Ricky Papin, the brother of another woman slain by Pickton, in an interview with Global News. "Yeah, there's no question, he's taunting us."
Within hours, a petition calling on Amazon to stop selling the book amassed more than 50,000 signatures. The company pulled the book from its website, although at least one other major online bookseller continued to sell the book as of Tuesday morning.
The controversy has caused a California man and a Colorado company involved in the book's publication to issue apologies for promoting the serial killer's 144-page self-defense.
"Outskirts Press apologizes to the families of the victims for any additional heartache this may have caused," said a statement from a Colorado company that helps authors self-publish their books, according to the Associated Press.
"If I had to do it all over again, I would say 'no,'" added Michael Chilldres, a California man whose name appears on the front of the book and who said he helped publish it as a favor to a friend locked up with Pickton.
"I didn't think this book was going to be as big of a deal as it is," he told the National Post. "I just thought it would be a little deal."
If the book is a big deal, then it's because Pickton is considered to be perhaps Canada's most heinous criminal. Friends testified that he bragged about killing scores of women and feeding their corpses to the pigs he kept on his farm in an attempt to hide the evidence.
In his jailhouse confession, Pickton said he was "a bad dude" and that he had also used a meat rendering plant to hide evidence of his crimes.
"I wanted one more to make the big five-o," he told the undercover officer, adding that the prosecutors' list of 49 alleged victims only had "half" the real number.
Pickton bragged of being "bigger than the ones in the States," he added, in an apparent reference to either John Wayne Gacy or Ted Bundy. "His record was about 42."
The pig farmer mainly preyed upon drug addicts and prostitutes, picking them up in Vancouver's red light districts before driving them to his farm, where he had sex with them before murdering them in a variety of horrific ways, prosecutors claimed.
"I filled the syringes up with antifreeze and you inject the stuff and you're dead in about five to ten minutes," he told the undercover cop. He allegedly handcuffed and stabbed other victims, including one woman who managed to escape, naked and bleeding, in 1997 after stabbing Pickton with his own knife.
That woman was considered unreliable by police, however, and Pickton was not prosecuted. It would be another half decade before his arrest.
When he was finally arrested in February of 2002, it was almost by chance. Investigators had raided his pig farm looking for illicit weapons, only to find items belonging to long-missing women.
A search of Pickton's farm revealed DNA evidence of 26 missing women, and the pig farmer was charged with their murders.
During a high-profile trial, both Vancouver Police and the Mounties were accused of missing many chances to stop Pickton's decades-long murder spree. They even trailed him to the meat rendering plant where he allegedly disposed the bodies, but never stopped him to check what he had in his truck.
Workers at the plant didn't suspect anything, either. Robert Bayers, the plant's foreman, testified to seeing Pickton drop off between five and ten loads at the plant, but didn't see exactly what he was dumping.
"It was just another guy dumping stuff in our pit," Bayers said in court, according to the Globe and Mail. But Bayers was put off by the filthy man.
"He was handling these old dirty barrels, just with his bare hands, and it was so gross-looking," Bayers said. "We work in the rendering industry, and it's, you know, dead animals, right? It's not a very pretty thing to be working with your bare hands."
When he offered Pickton gloves, the man refused.
"He was such a dirty guy," Bayers testified. "He was gross-lookin', actually. I kind of felt sorry for him."
Pickton's method of disposing of his victims' bodies, either at the plant or by feeding them to his pigs, frustrated investigators, who had been fielding tips about Pickton since 1971.
Lori Shenher, a Vancouver Police officer assigned to investigate women's disappearances in 1998, received a tip about Pickton on her second day on the job in 1998.
"I was mindful we were not finding bodies. We were not finding bodies because we're dealing with someone who had the ability to dispose of them," she later testified, according to the Star. "When I heard grinders, I thought 'bingo, this is the kind of guy we're looking for.'"
But Shenher said that even after interviewing the woman who escaped from Pickton in 1997, she couldn't get her superiors to sign off on arresting the pig farmer.
When Pickton was finally picked up in 2002, Shenher didn't feel relief. She felt sick.
"I had people coming up to me in the couple of days, weeks after his arrest, saying 'Oh, wasn't that your guy? That's your guy!' and every time I heard that I just about threw up," Shenher told CBC's The Current.
The Vancouver Police Department later admitted that "there were mistakes made and we could have caught Pickton earlier."
Despite a mountain of DNA evidence against Pickton, his trial was far from open and shut. Although initially charged with 26 counts of first-degree murder, he was convicted of only six counts of second-degree murder. Twenty other charges were later stayed.
Families of Pickton's other alleged victims were left frustrated that their loved ones had not received justice. Many felt that the victims' race — some of the murdered women were Native American — drug problems or sex work had again worked against the women.
"I have a friend that went to them [police] in '98 and told them about the [Pickton] farm," said CBC's Audrey Huntley. "They said that she was a 'junkie ho'." And they ignored her testimony about the missing native women."
Now many of those families feel re-victimized by Pickton's book.
"Rambling" and "interspersed with passages from the Bible," the book claims that Pickton was set-up by investigators without offering any hint at who might have killed the 26 women or why their DNA was found at the farm, according to CBC.
After family members expressed disgust over the book, which was reportedly offered for sale on Amazon's Canadian website, officials said they had reached out to the retailer.
"We are taking this very seriously and investigating every means available to ensure that the families involved are protected from further harm and that Robert Pickton will not profit in any way from this book," said Mike Morris, Minister of Public Safety for British Columbia.
Unlike other Canadian provinces and many American states, British Columbia does not have a law banning convicts from making money by recounting their crimes. After Monday's events, however, B.C. is now considering such a law, often referred to as "Son of Sam" laws after the infamous New York City serial killer.
Canadian officials are now investigating how, exactly, the book manuscript was smuggled out of the prison where Pickton is being kept.
According to Chilldres, it was another inmate who sent him the pages. Chilldres agreed to publish them as a favor to his friend, a convicted child molester who now shares a cell with Pickton, according to the National Post.
"I'm not sure how he did it, but I got it in the mail," Chilldres, a pilot and the retired owner of a glass repair shop, told the newspaper. Chilldres said it took about one year and cost $2,500 to publish the book, which features his name prominently on the cover.
"I just published a book!" he posted on his Facebook page on Sunday.
Then came the backlash.
Chilldres admitted, however, that he wasn't ignorant of Pickton's identity before publishing the controversial book.
"I got on Wikipedia and looked up his arrest record and stuff, and he was kind of creepy," he said. But he also hinted that he thought the convicted serial killer might really be innocent, as the book argues.
"If Pickton did it, then he needs to rot in hell and I feel real sorry for the victims and the families," Chilldres told the National Post. "But if he didn't do it, then who did do it?"
Chilldres said he hoped to at least recoup his $2,500 from the book's publication but said none of the money would go to Pickton. Instead, 10 percent would go to an undetermined charity and the rest would go towards the legal defense of his friend, the convicted child molester.
The California man said he hoped Pickton's victims would not "hold it against me" and that he was "sorry I had to bring it up."
But he also said he has plans to translate the book into French and Spanish.
As of Tuesday morning, the book was still for sale on Barnes & Noble, but it wasn't well reviewed.
"Barnes and Noble you need to take this down," wrote one reviewer. "This is a hurtful and illegally smuggled book. Get it off your site."
"You will not find any 'Whys' in this incoherent, illiterate ranting," wrote another reviewer. "It is tedious and boring drivel filled with tirades against the police, asinine theories about the Hell's Angels, and a consistent poor me theme.
"Absolutely no revelations here. Don't waste your money," the one-star review continued. "This book has no literary merit, in fact, it has no social merit either. It is not literature, it is not revelatory of the criminal mind, it is not relevant. There is absolutely nothing it has to offer the world."
["source-ndtv"]