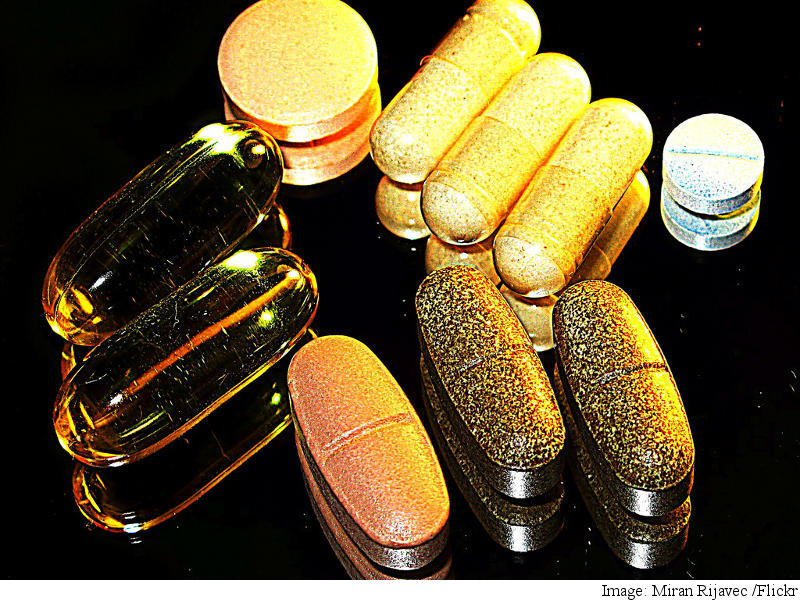 The last few years have seen Uber's on-demand model being applied to offer doorstep delivery of prescription medicines. Startup data tracker Tracxn counts over 60 active online pharmacy startups in India which provide delivery of medicines either as licensed pharmacists, or as aggregators and doorstep delivery service that work with local pharmacies.
Most provide Web- and mobile-based ordering systems for prescription medicines, listing cheaper generics to save money. All of them require users to upload a valid prescription using the phone's camera or from the photo gallery. Healthcare major Practo has also forayed into this space by leveraging Practo Ray – its software solution for clinics, to eliminate the need for users to upload a prescription. If you're too sick to make a trip to the medical store, here are a few apps that can deliver prescription medicines to your home.
(Also read: Roundup: 10 Indian Healthcare Startups You Should Know About)
1) 1mg
1mg's medicine ordering service helps users find cheaper generics, get more information on medicines, their side effects. 1mg currently delivers OTC and prescription medicines in Delhi – NCR, Chennai, Hyderabad, Lucknow, Agra, Indore, Bhopal, and Bengaluru. The startup doesn't maintain its own stock of medicines; instead it connects to the nearest partnered pharmacy. 1mg is open for orders seven days a week, (8 AM – 8 PM, Monday to Saturday, and 8 AM – 5 PM on Sunday). The apps can also be used to book diagnostic tests and appointments.
Website: www.1mg.com
Download: 1mg for iOS | 1mg for Android
2) NetMeds
Netmeds operates as a licensed online pharmacist, offering prescription medicines and other health products across India, covering tier-2 and tier-3 cities and villages. The startup provides low-cost generic drugs as alternatives prescription medicines, and delivers orders in three to seven working days. Apart from prescription and OTC drugs, it lists products in the wellness space, such as health monitoring equipment, senior care equipment, and supplements. Payments can be made via card or cash, with charges of Rs. 49 applicable for cash on delivery orders less than Rs. 1,000.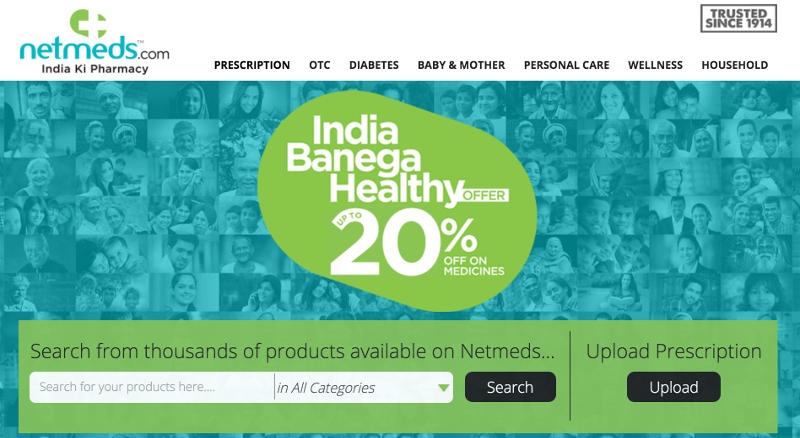 Website: www.netmeds.com
Download: MetMeds for iOS | MetMeds for Android
3) BookMeds
Operational in Hyderabad and Kolkata, Bookmeds does home delivery of prescription, OTC medicines, surgical and medical products on cash on delivery basis in 24 hours. The startup has tied up with registered pharmacies and procures medicines from authorised distributors of pharma companies.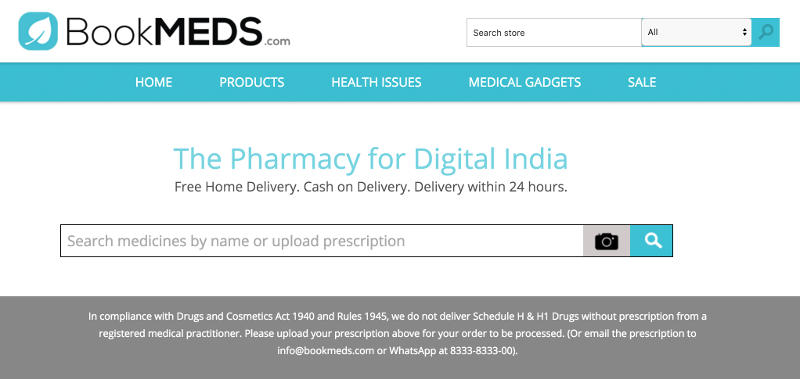 Website: www.bookmeds.com
Download: BookMeds for Android
4) Pluss App
Founded in 2015, this Gurgaon-based hyperlocal pharmacy marketplace app offers free, and same-day delivery for OTC and prescription medicines, and is currently operational in Delhi/ NCR, Hyderabad, and Bengaluru. Apart from medicines, the platform also lists personal care, pet care, baby care and ayurveda products, and claims to provide delivery in a few hours in serviceable areas.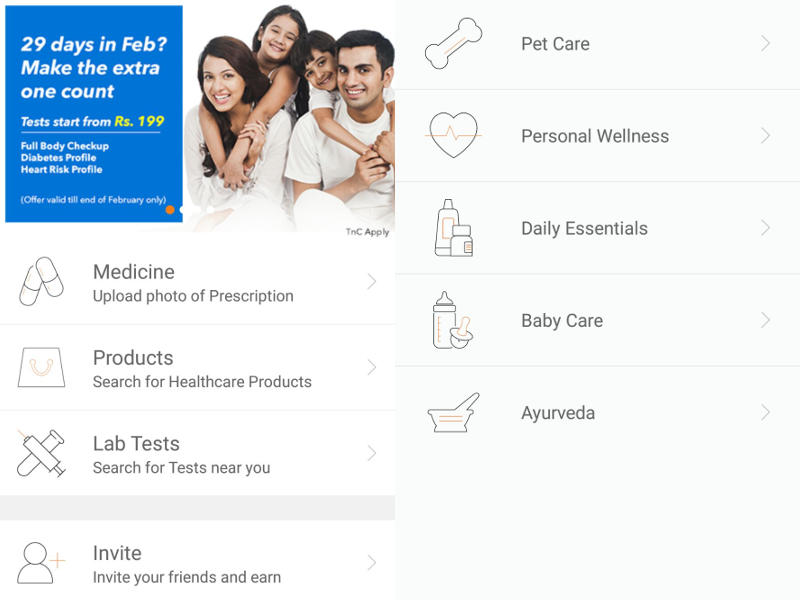 Website: www.plussapp.com
Download: Pluss App for iOS | Pluss App for Android
5) Inayo
Backed by super angel Zishaan Hayath, Mumbai-based Inayo delivers medicines in under 90 minutes for orders placed on the phone, WhatsApp, or its Android app. The app lets users maintain an electronic medical history in the form of medicines ordered, and provides a medicine dosage reminder. Users can also book lab tests online, and get reports delivered at their doorstep. The service is currently operational in Powai, Mumbai.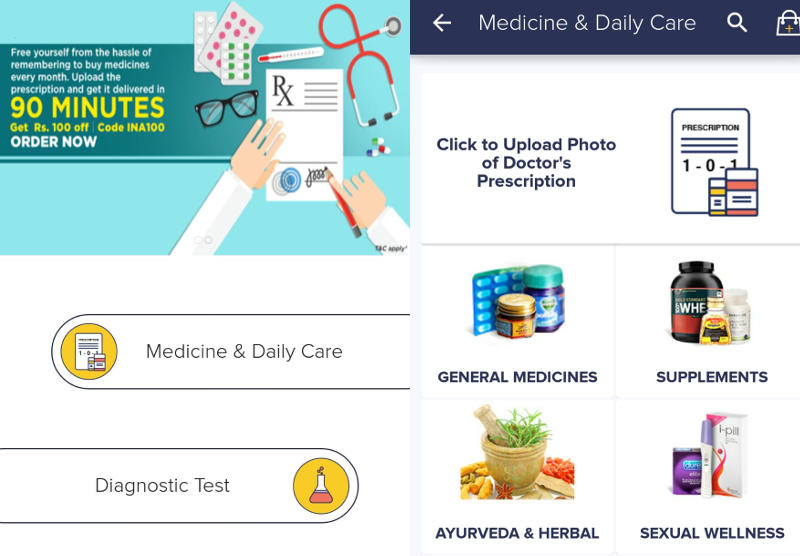 Website: www.inayo.in
Download: Inayo for Android
6) Myra Medicines
Operational in about two dozen neighbourhoods in Bengaluru, Myra offers 30 minute delivery of prescription medicines on cash and card on delivery basis, Monday to Saturday, between 9am to 10pm. The app is currently offering a flat 15 percent discount on all medicines.
Website: www.myramed.in
Download: Myra for iOS | Myra for Android
Download the Gadgets 360 app for Android and iOS to stay up to date with the latest tech news, product reviews, and exclusive deals on the popular mobiles.