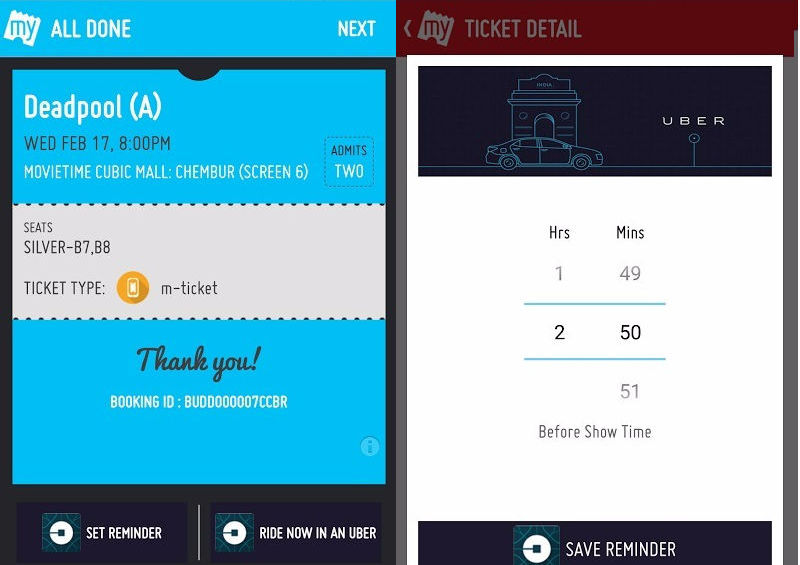 Uber India has announced its API integration with online entertainment booking portal BookMyShow, which will enable movie goers to book an Uber when they buy their tickets on the BookMyShow mobile app.
The user will either get an option to 'Ride Now' or to set a reminder to book a ride on Uber, depending upon the time of the show. The API integration will go live for Android users on Monday, Uber said, though the features is not live at the time of filing.
Commenting on India's startups and developers who have leveraged Uber's API, Saad Ahmed, Business Development Lead, Uber India said that its integration with Zomato and Practo in the restaurant booking and healthcare space formed the beachhead of its API partnership program.
Uber had launched its trip experiences API in Bengaluru in January 2016, and some of the other players to integrate its API in India include real estate aggregator Housing.com, movie chain Satyam Cinemas, and nightlife aggregator Happitoo. E-commerce platform Snapdeal is reportedly exploring a taxi integration with Uber, though both the companies have refused to comment on the rumoured development.
"We made a conscious decision to launch our Trip Experiences API first in India, at one of our first hackathons in Asia. We've seen considerable interest from startups both big and small who are already using our API, we're in conversation with a few larger players as well," Ahmed said, speaking to Gadgets 360. He didn't specify any numbers in terms of bookings facilitated by the developer ecosystem, but added that Uber India is working with players both large and small, and is receiving a lot of interest from developer ecosystem.
Some global examples of Uber's API integration showcased on its developer showcase include public transit app Transit, online travel aggregator Tripadvisor, and Uber's integration with Microsoft Outlook.
Download the Gadgets 360 app for Android and iOS to stay up to date with the latest tech news, product reviews, and exclusive deals on the popular mobiles.