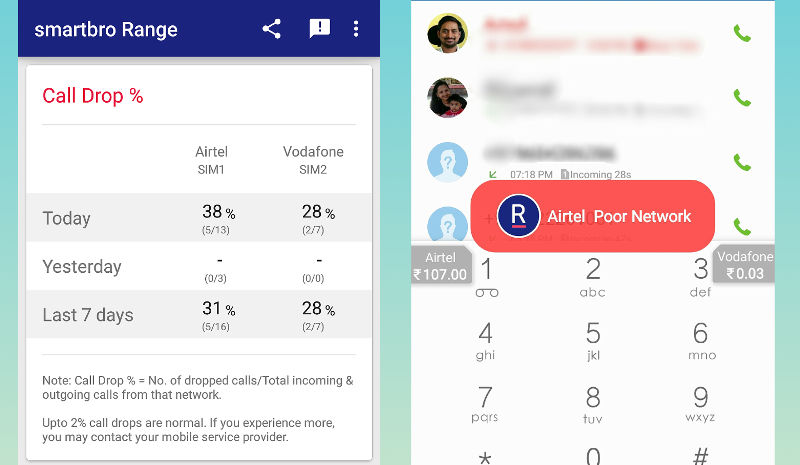 Not sure whose telecom operator is causing call drops? With an aim to bring transparency and accountability to network-related call drop issues, Pune-based Optinno Mobitech Pvt Ltd, makers of prepaid bill tracker app Smartbro and SMS Blocker, an MIT Award winning spam blocker app, released a call drop management app for Android users earlier this month.
Called Smartbro Range Call Drop Alert, the app notifies users if the network quality is low and call dropsare likely to happen. Available for prepaid and postpaid users, as well as those with dual-SIM smartphones, it also keeps a log of call drops, and how many phone calls were made and received on a daily basis.
"People cannot really figure out if the call was really dropped. Even if it was dropped, they do not have any way to report that to the telecom service provider. We do a lot of qualitative analysis of the network as well in the app, based on that and our own patent pending algorithm, we tell the user that there's a bad network, you may have patchy voice or the call may be dropped," said Optinno founder and CEO Sagar Bedmutha, speaking to Gadgets 360. "Irrespective of what regulation comes, we wanted to create some mechanism for people to let them understand the quality of their network, specifically for them," he said.
The idea for the app was pitched to him by Google India's Managing Director Rajan Anandan, Bedmutha said. "He gave us some inputs – we thought this was a very interesting idea and we should build this. We knew this was very challenging. At the same time, it sounded very exciting," he added.
Earlier this year, Optinno had launched a prepaid bill tracker, which Bedmutha said has seen over 50,000 downloads without any advertising or marketing spends. The call drop app was launched as a separate app because it isn't focused just for prepaid users, but for every Android user in India, he said.
Depending on the Supreme Court judgement, the startup plans to add a mechanism on the app to enable users to report call drops to the telecom operators automatically or semi-automatically. Currently telecom operators do not have any process to enable users to notify them on call drops, he said.
Japan-based SoftBank Ventures Korea (SBVK) had recently invested Gurgaon-based True Balance, a prepaid mobile balance tracking app that has seen over 2.5 million downloads. Other apps operating in this space include SmartApp, which recommends the best recharge plan for a user by tracking call, SMS, and data usage.
"It's a great validation of our domain. I'm very glad that investors are understanding the potential of the prepaid analytics domain," Bedmutha said.
Download the Gadgets 360 app for Android and iOS to stay up to date with the latest tech news, product reviews, and exclusive deals on the popular mobiles.