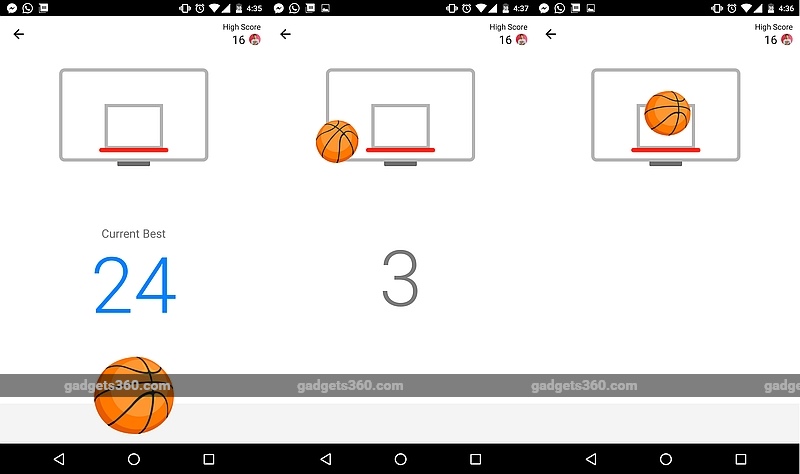 Recently we told you about a secret chess game that you can play with your friends within theFacebook Messenger app. Now, the social media giant has another game where you simply have to challenge the other party by throwing as many basketballs as you can into the basket. The game is no secret as it comes as a part of the app update and is clearly mentioned in the What's New section of the respective Google Play and App Store listings. The game shows up in v62.0 of the app on Android andiOS.
To play the basketball game inside the messaging app, all users need to do is to simply search for the Basketball emoji in the Facebook Messenger emoji list and send it to anyone in the chat's contact list with whom you want to compete. You can then tap on the sent Basketball emoji icon to initiate the game. It's a simple swipe game where a basketball is placed on different positions at the bottom of the screen and you have to swipe it towards the backboard to score points.
The games difficultly increases as you progress. After 10 points, the backboard starts moving horizontally across the screen, and then starts moving faster after 20 points. It however does not support landscape mode, at least on Android. The updated Facebook Messenger app is available to download from Google Play and App Store.
It is worth mentioning that Facebook Messenger got its first game – Draw Something – last year. As we mentioned earlier, it recently also got the ability to let users play chess inside it. To play chess on the Facebook Messenger, all you need to do is enter "@fbchess play" command to begin playing a game with the person you're chatting with. Unlike the basketball game, users could play chess on the Facebook Messenger Web client, as well as the Facebook for Web message interface.
Download the Gadgets 360 app for Android and iOS to stay up to date with the latest tech news, product reviews, and exclusive deals on the popular mobiles.