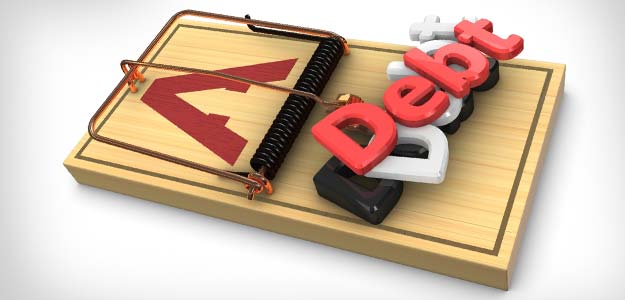 With credit easily available these days, it's not rare to find people overspending only to regret it later. Taking a loan to build assets like a house is recommended due to the tax benefits and savings on rent. But overspending using expensive debts such as credit cards and personal loans for lifestyle expenses should be avoided.
However, if you are already burdened with debt, here are a few steps that can help you to lighten up you debt burden.
Take account of your finances
First of all, you need to ascertain where your finances stand. How bad is the situation? Calculate your income to expense ratio. Ascertain what portion of your income goes towards servicing EMIs. "Personal loans including car loan, credit card outstanding or any other loan should be in the range of one-seventh to one fifth while home loan should be limited to one-third of net income," says Kartik Jhaveri, founder director of Transcend Consulting, a Mumbai-based financial planning firm.
All types of loans put together shouldn't exceed 50 per cent of the income of a person, he adds.
Therefore, if your loans exceed the limit, you can be in a worrying situation. "If somebody's loan repayment outgo is 60-70 per cent of the income, it should be brought down in the shortest possible time," says Suresh Sadagopan founder of Ladder7 Financial Advisories.
Cut down on your lifestyle expenses
It will be difficult to do so but you will have to do this. Make a budget, analyse your monthly expenses to figure out where you can save. Even small savings by cutting down on spending on eating out, limiting the movies you watch in theatres etc can make a difference. "If there are 5-6 expenses on which you spend Rs. 2,000 monthly and can be avoided, you can save Rs. 12,000 per month which is a decent sum," says Mr Sadagopan.
Prepay the expensive loan first
Make a list of all the loans along with the interest rate that you are servicing currently. Higher interest rate means higher cost. So you should start paying off the high cost debt first. Credit card loan is one of the most expensive loans with interest rate usually ranging between 24 and 36 per cent per annum.
Next comes, the personal loan where interest rate generally starts at 13-15 per cent per annum. You can utilise some of these cheaper options to repay the high-interest loans.
Loan against fixed deposit: If you have a fixed deposit, take a loan against it which generally comes at an interest rate of 1 to 2 per cent above the fixed deposit interest rate.
Top-up home loan: If you have a home loan and paid EMIs for at least 6-12 months, you can avail a top-up loan which is generally available at an interest rate of 1 to 2 per cent above the home loan rate. Unlike a home loan, you can utilise the sum for any purpose you want to.
Loan against insurance: If you have an insurance policy which is more than 10 years old, you can utilise it to avail a loan against it to repay the expensive loans, says Mr Jhaveri of Transcend Consulting.
Use the bonus: If you are getting any incentive or bonus, any proceeds from investments maturity, use it to prepay the loan, says Mr Sadagopan of Ladder7 Financial Advisories.
["source-ndtv"]