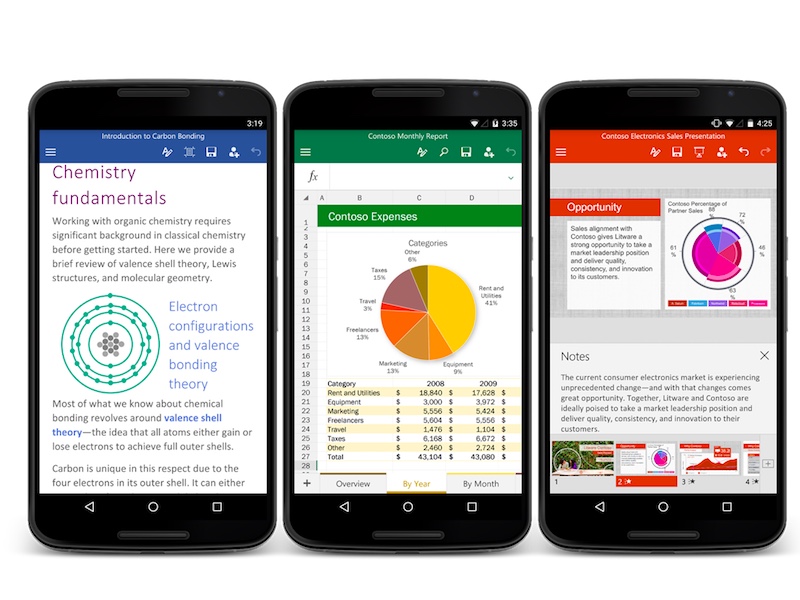 The Microsoft Office productivity suite for Android has received an update that brings interesting new features to the Word, Excel, and PowerPoint productivity apps. Among other additions, the company is now allowing users to sign up for a free Microsoft account from within the app.
Starting with Microsoft Word, users now get the option to choose the colour with which they want to highlight text. There is also a new feature called Smart lookup that allows a user to get relevant definitions, pictures, and other pieces of information gleaned from the Web right on the Word window.
Excel for Android now offers a range of table styles, allowing users to change the way tables on their sheet look. Microsoft realises that pasting content on a small screen isn't the easiest of things to do and hence it is fixing that with giving users more Paste options. Users can now paste a formula, value, or quickly format a copied cell. Google added a similar feature to Slides app for Android in October last year.
PowerPoint for Android is getting some new features too. Users will now be able to play the embedded media files in their presentation.
Microsoft is also making it easier for users to share their documents, spreadsheets and presentations with users. The update now gives users the option to share the files using WeChat and QQ apps. Users will also find the ability to sign up from within the app handy.
To recall, Microsoft released Word, Excel, and PowerPoint on Android last year. The apps are free to use.
["Source-Gadgets"]