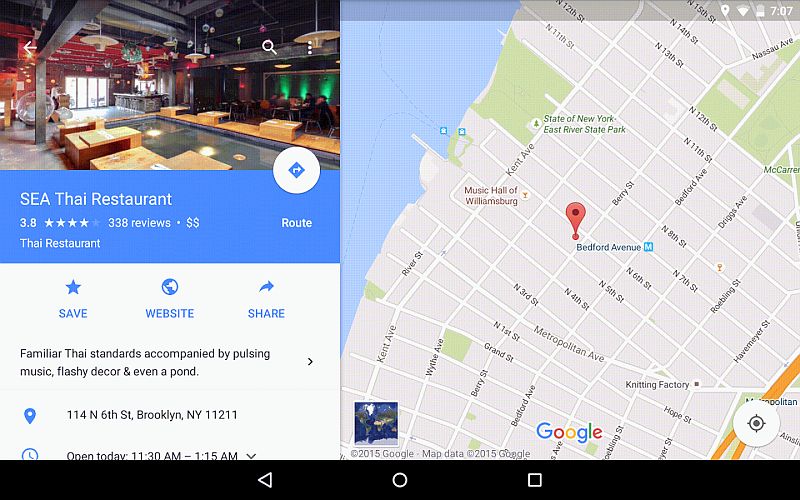 Google Maps is all set to receive its first major update in 2016 which brings several new features including Driving mode and more.
The new Google Maps for Android version 9.19 is currently not available on Google Play and can be expected to be rolled out soon. For those who can't wait for the new features can download the apk which is signed by Google via APK Mirror.
One of the biggest highlights of the upcoming Maps update is the 'intelligent' Driving mode which essentially utilises the user's location history and Web searches to provide traffic updates and ETA (estimated time of arrival). The new Driving mode feature is an optional feature in the new Maps update for Android. It can be enabled from a shortcut on the home screen and can also be turned on from the navigation drawer.
Android Police points out that Driving mode in the latest update is already plagued with a bug that actually makes it hard to switch on the feature. "Driving mode has to be enabled through some arcane set of steps on each device before it can actually be used," writes Cody Toombs of Android Police. Google may fix the bug before making the new app available to all users, and so a gradual rollout could be expected.
The new Maps for Android update (version 9.19) also brings the on-screen toggle for turning on or off the turn-by-turn voice assistance. Previously, the toggle for audio was shifted to overflow menu making it harder for users to turn on or off the option while driving.
The Google Maps interface has also received minor tweaks with the Manage location settings option been switched for Timeline settings. The new setting allows users to control what the users see and restrict data usage. Some of the other additions include to option to see images from Google Photos or switch on the search option to correct an inaccurately feed location.
["Source-Gadgets"]