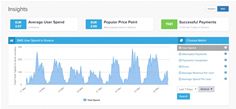 A responsive web feature that provides txtNation's customers real-time insights into Mobile Billing services
txtNation's 'Insights' allows clients to view all Mobile Billing activity across Direct Billing and Premium SMS services in much more detail than ever before.
Insights Screenshot of Mobile Billing
'Insights' is available from the MytxtNation web panel and is accessible from every (mobile) web browser. It is unique in its kind as it provides real time information into all types of Mobile Billing, is transparent and presents trends in performance.
Key data allows customers to forecast future payment trends and deliver the best customer growth and revenue performance. The 'Insights' analytics tool provides a unified view of Mobile Billing performance, customers, what they are buying and how much they are spending.
The new monitoring and analytics feature saves clients time and using at a glance it shows which countries and, or operators have trouble processing worldwide messaging services.
Marketing can build stronger services by being optimised and targeted to generate maximum customer engagement across incremental or subscription revenues.
txtNation 'Insights' saves time, provides unparalleled information on user spend, allows clients to adapt marketing strategy directly. It provides views into the status and performance of billing campaigns including direct recognition of technical or billing flow bottlenecks, general overviews for billing rates and end user spend.
txtNation 'Insights' is so powerful and easy-to-use, even other large worldwide Mobile Billing aggregators use this to look at their results. And the best of it all: it's completely free of charge for txtNation clients.
Try 'Insights' using the MytxtNation web panel; http://my.txtnation.com.
["source-Realwire"]