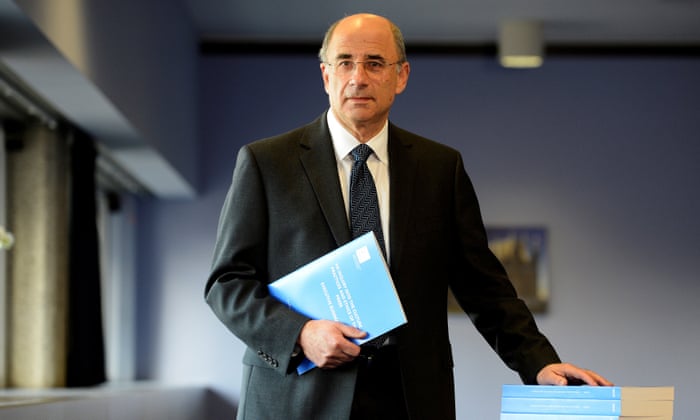 Brian Leveson wrote to the government earlier this year insisting the second phase of his inquiry should be 'commenced as soon as possible'. Photograph: Paul Hackett/Reuters
The government has narrowly defeated a Labour bid to force it to launch the second phase of the Leveson inquiry into press behaviour.
MPs were voting on an amendment to the data protection bill tabled by the former Labour leader Ed Miliband. The government won the vote by 304 votes to 295, a majority of nine.
The Conservative manifesto for last year's general election said Theresa May's government would not proceed with the second stage of Leveson. During a two-hour debate on Wednesday, the culture secretary, Matt Hancock, said it would be the wrong way of tackling the most pressing questions facing the media industry.
He praised the low-cost arbitration system for victims of press intrusion set up by the Independent Press Standards Organisation). Ipso is voluntary, and not officially recognised.
"I am determined that we have a system that is strengthened so that we have recourse to justice when things go wrong," he said. "The choice isn't between doing something, and nothing. It is between doing something, and something better."
Sir Brian Leveson was appointed in July 2011 in the wake of the phone-hacking scandal that led to the closure of the News of the World, and spent many months examining witnesses, ultimately reporting in November 2012.
When the inquiry was launched, a second phase was envisaged, which would cover cases under criminal investigation when phase one was carried out. Leveson wrote to the government earlier this year insisting he believed the second phase of his inquiry should be "commenced as soon as possible". Ed Miliband attacks government's axing of new Leveson inquiry – video