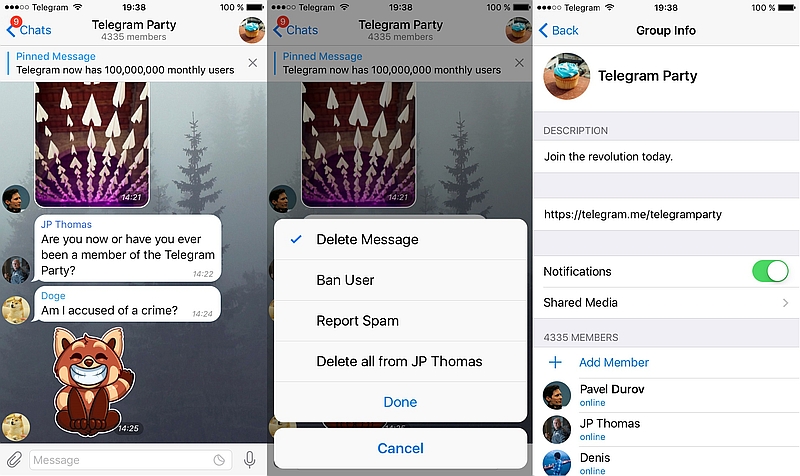 Telegram last month hit 100 million monthly active users and alongside announced a bunch of updates for the app as well. The instant messaging service has now announced another update, focusing on the Supergroups feature.
As a part of Telegram v3.7 on Android and iOS, the company has now increased the number of people who can join a Supergroup from 1,000 to 5,000. The admins of the group can now also let other members know some important news or any other information by pinning it at the top. In addition, all the members in the Supergroup will receive a notification for the pinned message, even if they have muted ordinary messages from the group.
The app update also brings the ability to make a Supergroup 'Public' and share them via a short link with others. This will let the link recipient read the entire chat history and also join to be able to post messages. Since, this would lead to an increase in spammers in Supergroups, Telegram has also introduced some 'powerful moderation tools' for admins. "From now on, they can quickly delete all messages from a specific member, block and report them," says the company blog post.
Further, an admin of any group can now convert the group into a Supergroup. Group admins are shown in group members list after the app update. The company has added that the public groups feature will be rolling out gradually. It is for now available in the US and Europe, and will soon reach several countries in Asia as well. The updated app is available to download from Google Play and App Store.
Last month Telegram gave users the ability to edit their messages after it has been posted. The post however, can be edited a short while after they have been posted. A single tap on Android and double tap on iOS would let them edit the sent messages.
Download the Gadgets 360 app for Android and iOS to stay up to date with the latest tech news, product reviews, and exclusive deals on the popular mobiles.