Coming up with creative content ideas on a regular basis is not an easy task, but it's essential for traffic growth and SEO rankings. A frequently updated website and social media, rising traffic, longer session durations and higher click-through rates (CTR) are some of the ways Google decides that your website is a great resource for your audience. As such, it gets a boost on search engine page results (SERPs).
Social Media Content Ideas
Social media content matters. It has the power to attract your audience to your site and keep them there.
However, churning out new content takes time and you may find that your business is faced with either a total lack of new content ideas or, worse – sub-par articles.
Luckily, there are quick and effective solutions to this problem.
Keep reading to learn about the most effective tips, tools and tactics to help you generate content ideas for all the channels in your content strategy.
Different types of content
Educational Style Content
Inspirational Content
Community Content
Content About Trends
Promotional Content
The role of content in creating omnichannel consumer experiences
To create an experience that matches the needs and goals of your target consumers, you need to plan for and design a connected brand network for delivering content.
Even when the norm for all modern brands is to be present on multiple channels, creating a unified experience with an omnichannel strategy is the challenge that will take your brand to the next level.
What is an omnichannel strategy in content marketing?
Omnichannel content strategy is a plan for creating a consistent and connected consumer experience across all of your brand platforms and channels. Take this into consideration when you want to start your content marketing.
Digital interaction with brands and the content they publish not the typical linear or page-by-page way, like a person would interact with a magazine, for example. Instead, digital engagement usually happens at connected touchpoints across many platforms.
How To Create Quality Instagram Content : 25 Attractive ideas
How to Come up with New Content Ideas
In a perfect world, we'd create creative content, and our audience would immediately connect to it. Those readers would love your content so much, they'd share it with their friends, family, and colleagues. You'd create content that would reliably go viral. Your material would be spreading everywhere, loved by all.
Real life, though? Not as simple.
You want folks to follow your content and then share it with others. Our biggest content writing tips for beginners is to develop a strategy and execute it, no matter what. You need key tips to keep in mind and on hand when you create content. Quick, easy pieces of advice that not only refine the process you use to create creative content, but refine the content itself.
These tips will be the tools you keep by your side when it's time to dig down, settle in, and create content. Here's a list of content writing tips you need to know to get people reading and sharing your online material.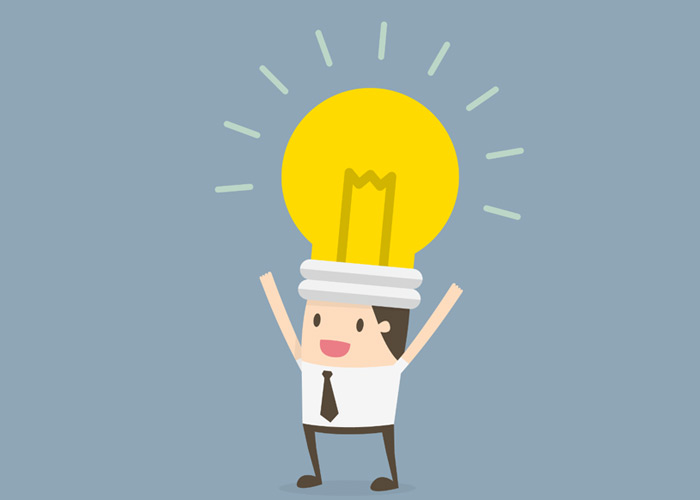 1. Organize Brainstorming Sessions for content ideas
Coming up with as many ideas as possible is the essential part of a productive brainstorming session.
Before you start, take a look at lists as some of the vital ingredients of a successful content idea curation:
Break up bigger groups into smaller teams: a shared goal should be contemplated by two or three people at most
Include people with no preconceived notion of what's about to be discussed, or people from different teams, so that they offer a fresh angle
Define a few main parameters of your work that you can discuss to create idea foundations
"Yes, and" instead of "no, but" approach: recognize the good points of each idea and work on their potential to be incorporated
Focus on AIDA: ideas that arouse attention, interest, desire and action
Remember to write down everything so that nuances and finer points of ideas discussed in the early stages are not lost
2. Create a constant plan for your brand
Want to make your social feed feel more like an event versus a laundry list of random posts?
Start a series where you have the opportunity to interact with your fans and followers on a regular basis. By providing relevant content at a consistent clip, you can build a habit among your target audience to look forward to seeing specific content from your brand.
The regular schedule shows our community what to expect and offers a relevant, helpful way to bookend the work week.
3. Content and Social media followers
Start with people who follow you on social media. Click on their profiles and see what they're talking about.
Read through tweets. Check out photos. See what brands they are interacting with.
Some of these may lead to a dead end, but others can be extremely beneficial to your brainstorming process.
Plus, if you have tons of social media followers, you'll always have a huge source of ideas.
You could even ask your followers directly. Post a question on your Instagram story, and ask for replies.
The answers will help you come up with new content ideas.
4. Content Ideas: Run a contest or giveaway
You don't need to run contests week after week to reap the rewards. Contests are a great way to spike your follower count and social media engagement, and are a great social media idea for campaigns you're looking to enhance, such as new product launches.
How to Run a Successful Facebook Contest: Contest Ideas
5. Conduct interviews for generating more content
The great thing about an interview is it doesn't have to be direct. You don't have to have a clear black and white question with a definitive yes or no answer. Just find ways to get people talking.
You'd be surprised how interesting some of these statements can be. The responders may start feeding you new content ideas without even realizing it.
It's in your best interest to record your interviews. That way, you can review them later instead of frantically trying to write things down while someone is speaking.
6. Share, pin, Repost, Retweet & regram
Don't be afraid to let your fans and followers do the talking.
Remember, not all of the content on your social feed has to be your own. In fact, conventional wisdom tells us that it shouldn't be. Use User generated content. Promoting other relevant brands, articles and photos from your followers is a great content idea that shows that you're part of your industry's conversation, not just a parrot. Repost the popular and creative data!
7. Identify Your Audience Before You Create Content
Figuring out who your audience is should be at the core of your content strategy. You've likely already integrated a lot of this approach into your business, but you'll need to take it a step further.
Buyer personas let you craft an imaginary audience member with a specific background. They should have personal goals, lofty dreams, and specific hurdles they have to jump in their day. Once you have a few of these buyer personas, you should keep them in mind when creative content writing.
8. Provide Value To Your Audience
The ultimate goal of every piece of content you publish should be to provide real value to your target audience.
To make that happen, follow these steps:
Research your audience and create an archetype and a persona
Make sure you understand your audience's needs
Represent the solutions to those needs in your content ideas
By tackling the right issues and adding value for readers, you can make sure that every piece of content you create is:
Relevant for your audience
Informative and educational
Well-researched and useful
Personal and customizable
Targeted at a specific segment of your audience, not everyone
Better than other posts on a similar topic
9. Google search suggestions for content ideas
If you've got a general topic in mind, start searching for it on Google: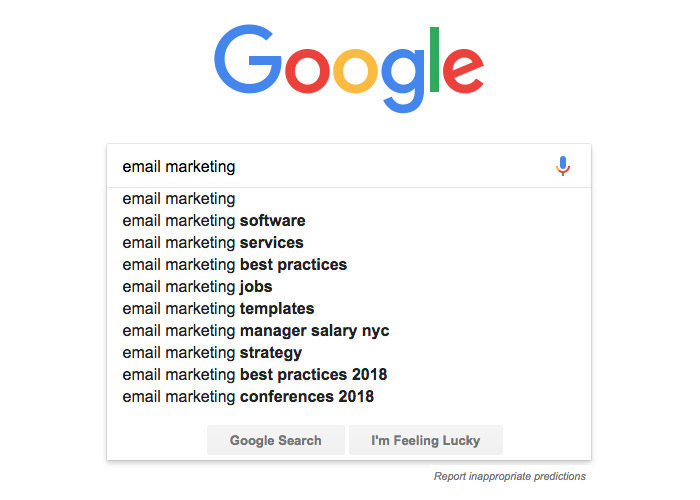 Look at all the suggested topics that come up when I type in "email marketing."
These suggestions could all be topics to cover.
In addition to the search suggestions, you can also check out the related searches at the bottom of the page.
10. Create content by video clips
Video marketing has become a must-do for modern brands. Unfortunately, many see the investment in video content as being too complicated or out of their reach.
But when you consider that video content gets exponentially more shares than video or text, brands should give some serious thought to creative social media ideas that incorporate video.
11. Recent events
Depending on your brand, you may not want to be reporting breaking news.
It won't speak to your audience, and it doesn't fit with your company image.
But you can definitely come up with ways to get creative. When you're watching the news or reading updates from an online source, try to figure out how you can make these topics relevant to your brand.
Look up local events or  national trade shows related to your industry.
Give your audience information about the event. Tell them what they need to know if they want to attend or register.
12. Product reviews in content marketing strategy
Think about recent products you've used related to your brand or industry.
You can review these topics in a blog post or video demonstration.
For example, let's say you run a website related to camping and other outdoor adventures. If you go on a fishing trip and use a new pole, you could write about your experience with the new gear.
Also Read:
Video Testimonials : Why You Need It For Your Business ?
13. Team up with another brand
Co-marketing is a win-win situation. Two brands team up on a campaign or piece of content such as a webinar, ebook or even a special promotion. Each company gets exposure to the other's audience.
Social media is the ideal platform for co-marketing campaign ideas because it's so easy to sync up your efforts.
14. YouTube videos for content generation
All businesses should have a YouTube profile. Use it to upload videos, and then share those videos on all your marketing channels.
But YouTube can also be a resource for coming up with new ideas.
15. More Content ideas: Go live
Plain and simple, there's something compelling about live video.
Whether you're vlogging from your car or conducting a Q&A session, responding to people in real-time establishes a more personal connection with your followers.
["source=webmd"]