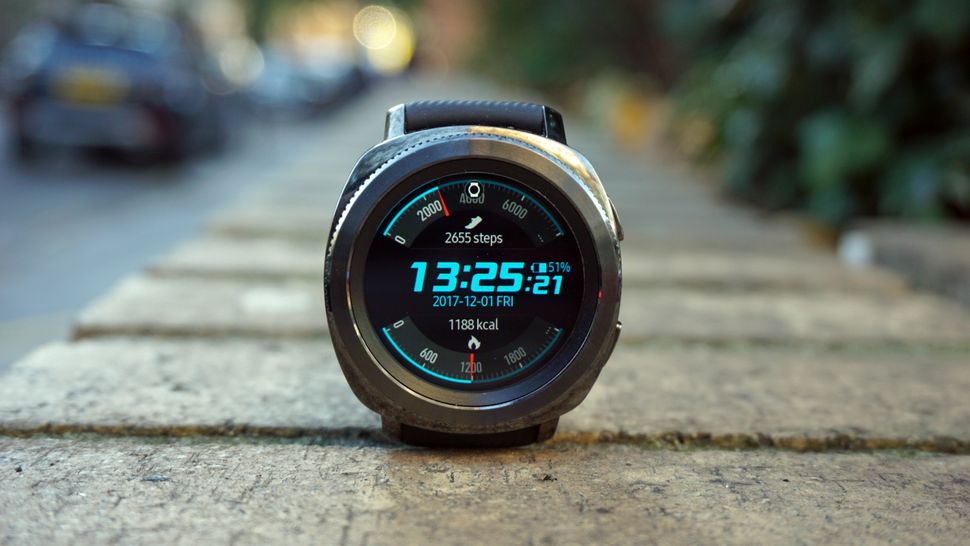 We're not sure whether we'll get a Gear Sport 2 or a Gear S4 next from Samsung, but one of them is probably in the works, and we're starting to hear about what it might feature.
You'll find all that below, along with thoughts on the likely release date and price, and we'll keep this article updated as we hear more.
But while we wait for the leaks and rumors to properly start rolling in we've also come up with a wish list of what we want from the Samsung Gear Sport 2, as the previous Gear Sport is a capable but overly familiar wearable, so we're hoping for some big changes for the next model.
Cut to the chase
What is it? Samsung's next smartwatch
When is it out? Probably sometime in 2018
What will it cost? Likely upwards of $299 / £299 / AU$499
Samsung Gear Sport 2 release date and price
There aren't any release date rumors yet, but with the Samsung Gear Sportbeing announced in August 2017 (before hitting stores in October) there's a fair chance we'll see the Samsung Gear Sport 2 in or around August 2018.
Samsung also launched the Gear S3 and Gear S2 in August of previous years, so it's very likely we'll get some kind of smartwatch this August, though whether it will be called the Gear Sport 2, Gear S4 or something else entirely is currently unknown.
As for the price, that will probably be at least as high as the Gear Sport, which launched for $299 / £299 / AU$499.
Samsung Gear Sport 2 news and leaks
While we haven't seen any news or rumors that mention the Gear Sport 2 by name, we have seen a handful of Samsung smartwatch patents, so it's possible that some of their features will be included in the Gear Sport 2.
One of them talks about having a battery built into the strap, which could provide extra life to the watch or could simply replace the battery that would otherwise be built into the watch body, leaving extra room there for new features.
Another details a blood pressure monitor, which could use a light source and a light receiver to monitor your bloodstream, somewhat similarly to how heart rate monitors work.
Patently Mobile has also shared a patent (pictured above) which talks about a screen built into the bezel of the watch, which could potentially tell you things like the date and the weather, leaving the main display free for other functions.
And another patent, this time spotted by 3Dnews, shows a watch that strangely has a camera built into the middle of the screen.
The camera sports optical zoom and while it leaves you with less screen, that could be made up for by the strap, which also has a screen on it, shown in the patent as offering shortcuts to apps and functions.
We wouldn't count on any of these features making their way to the Gear Sport 2, especially as many seem ambitious or impractical, but anything's possible.
What we want to see
We don't know much about the Samsung Gear Sport 2 yet, but we have plenty of ideas for what we want from it.
1. Better exercise tracking
Although the Gear Sport can track some things well, we found in our review that it had real issues tracking certain exercises, such as star jumps and lunges.
Not only that, but it doesn't provide training plans, so for example you have to manually set how many of each exercise you want to do each day, rather than the wearable gradually increasing the number over time on its own.
We want to see some serious improvements for the Gear Sport 2. At the very least we want it to accurately track all the exercises that it claims to be able to, but ideally we also want it to push us to do more.
2. More accurate heart rate monitoring
Although the Gear Sport has a heart rate monitor it's really not a very good one and it gets even less accurate in cold weather, so we'd like to see some major improvements here. Given that the Gear S3 also has a poor heart rate monitor though we're not optimistic that the Gear Sport 2's will be much better.
3. Improved GPS
Although not as bad as the heart rate monitor, the GPS performance of the Gear Sport also isn't always great, proving slightly erratic in our review.
Given that GPS is likely to be a key feature for many buyers it really needs to perform well. Hopefully it will do for the next model.
4. Better battery life
The Gear Sport is actually a downgrade from the Gear S3 when it comes to battery life, offering around two and a half days where its predecessor offered up to four.
That's still not awful, but it's disappointing, especially when the watch looks to track your sleep as well – something you won't be able to do so much if you're regularly having to plug it in at night, so for the Gear Sport 2 we want to at least see a return to the life of the Gear S3.
5. A slicker strap
Not a big deal, perhaps, but the Gear Sport's strap can be awkward to get through the holding loops, and what with the regular charges needed it is a watch you'll be taking on and off quite a lot, so we hope that for the Gear Sport 2 Samsung gives the strap some thought, and makes it faster and less fiddly to put on.
6. More apps
While the Gear Sport has some apps, including notable ones like Spotify and Swim.com, there isn't a huge selection overall, even compared to other smartwatch platforms like Android Wear and watchOS.
This is likely a side-effect of the Gear Sport using Samsung's Tizen – an operating system which is less popular than rivals. We doubt Samsung will ditch Tizen for the Gear Sport 2, but hopefully it will convince some more big names to support the platform.
7. A bigger screen
The Samsung Gear Sport has a decent quality Super AMOLED screen, but at 1.2 inches it's quite small, and a reduction in size from the 1.3-inch display on the Gear S3.
We don't want a massive screen on our wrists, but a return to the 1.3-inch displays of old could be desirable, as that small difference makes it slightly easier to interact with and means you can see more on your wrist at once.
These are the best smartwatches available right now
Related product: Samsung Gear Sport
Our Verdict:
Samsung's Gear Sport does seem like a limited upgrade, but new features including support for Spotify offline and swim tracking means this could be a great new watch for very particular sport lovers.
 FOR
Offline Spotify support

Great design
 AGAINST
Limited upgrade

Some strange straps
["Source-techradar"]