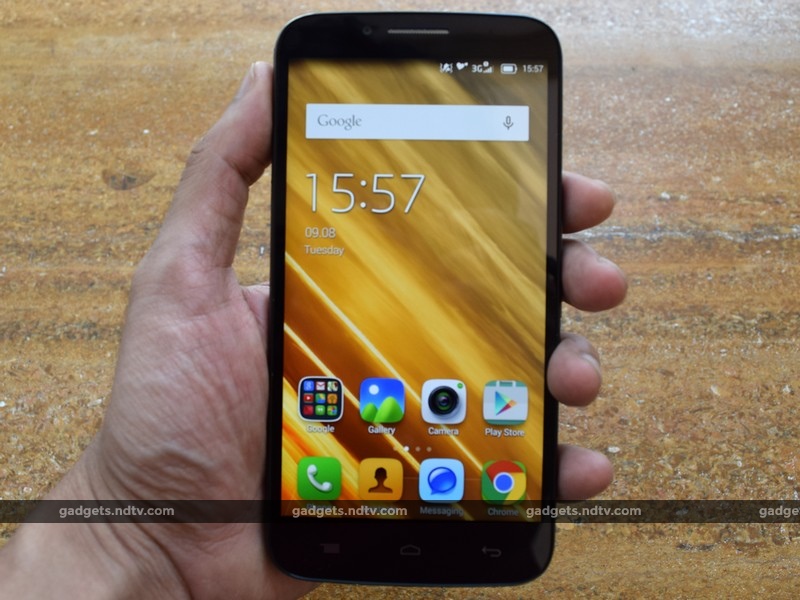 Panasonic Eluga Icon Review: Another Low-Cost 4G Option
Airtel's aggressive marketing strategy for 4G has spurred handset makers to pump out new, 4G-compatible phones in rather quick succession. The latest launch is the Panasonic Eluga Icon which supports 4G and features a sizeable battery, which is always welcome.
At Rs. 12,399 on Amazon, this phone aims to compete with the Lenovo K3 Note (Review | Pictures), Redmi Note 4G (Review | Pictures) and even the Motorola Moto G (Gen 3) (Review). Panasonic boasts of heavy software optimisations and a long battery life in the Eluga Icon. How this actually translates in the real world is what we're about to find out.
panasonic_eluga_icon_rear2_ndtv.jpg
Look and Feel
The Panasonic Eluga Icon measures 7.95mm in depth and weighs around 147g, which are both respectable. The slate-coloured phone (also available in gold) looks good without being flashy thanks to the matte finish. This also helps it be a bit resistant to scratches or minor dings from everyday use. The phone does get a bit slippery, however, and there isn't much in terms of grip on the sides either.
The fit and finish of the chassis is quite excellent. Edges are smooth and beveled at places making the phone comfortable to hold. The power button and volume rocker are placed mid-way on the right so it's easier to reach when you hold it. The ElugaIcon is a dual-SIM phone which accepts Micro-SIMs through slots placed on either sides of the unit. Rather than needing a pin to eject them, there are flaps which can be popped open by simply pressing down on a nub. Around the back, we have the 13-megapixel camera module along with the single-LED flash. The camera module bulges a bit which can cause unwanted scratches over time. There's a mono speaker grille down at the bottom. The headphone socket and Micro -USB port take their usual spots at the top and bottom respectively.
panasonic_eluga_icon_slot2_ndtv.jpg
The Eluga Icon features capacitive buttons on the front which unfortunately, aren't backlit. They are responsive enough but you'll have to guess your way in the dark. The display is a 5.5-inch OGS HD IPS panel. Even though the pixel density tops out at 267ppi, it's never really an issue. The display is vibrant with good brightness levels and good colour reproduction. The auto brightness function isn't the most intelligent though as the display is always a bit dimmer than it should be with it on. We also found legibility under direct sunlight to be quite poor as the display gets washed out quite badly.
Panasonic bundles the phone with a charger, data cable, headset and screen protector. We didn't get the headset with our review unit but the charger and cable were decently built.
panasonic_eluga_icon_speaker_ndtv.jpg
Specifications and Software
The Eluga Icon is powered by a 64-bit MediaTek MT6752 SoC with eight ARM Cortex-A53 cores. We have the Mali-T760 on the GPU front, as well as 2GB of system RAM. Other specifications include 16GB of storage that's expandable by 32GB, Wi-Fi b/g/n, Bluetooth 4.0, FM Radio, and USB OTG. The MediaTek SoC also has an embedded 4G LTE modem which supports band 40 for India. The 3500mAh battery is one of the highlights of the phone, for a rated 19hrs of talk time.
The software is where things get a bit disappointing. For starters, you get Android KitKat 4.4.4 out-of-the-box and there's no mention on Panasonic's website about a future upgrade to Lollipop. Panasonic has also heavily skinned KitKat with their ICON UI. This is a bit unnecessary, to be honest, and not the most user-friendly. Thankfully, apps do come pre-organised in folders so it's not too difficult finding them. Apart from the usual suspects, Panasonic also bundles some apps that you might actually use, including a file manager, Truecaller, Saavn, Clean Master, Paytm, WPS Office and Amazon.
panasonic_eluga_icon_slot_ndtv.jpg
The lockscreen has shortcuts to the dialler, messaging app and camera. You also put a host of customisable toggle switches in the notification shade. The settings app reveals more cusomisations to the OS. First up is HotKnot, which is MediaTek's answer to NFC transfer. Of course this only works if the other phone supports HotKnot as well. Gesture Play lets you open apps by tracing letters on the screen, even when it's off. Smart iSense is a gesture-based implementation which does things such as automatically answering a call when you lift the phone to your ear, or sifting through your images when you swipe your hand over the screen – essentially everything you've seen in Samsung's offerings in the past.
Performance
The interface is quick with no discernible lag creeping in. The screen is responsive but there are times when it intermittently fails to register touches, which we noticed happened while trying to capture a shot.
panasonic_eluga_icon_corner_ndtv.jpg
Coming to some performance numbers, we got 39,879 points in AnTuTu and 17,792 in Quadrant, which are both good. Graphics performance was pretty good as well for a mid-range phone, as 3DMark Ice Storm Extreme gave us 5,842 points while GFXBench gave us 22fps. Overall, the Icon packs in enough horsepower for most 3D games and apps.
The video and audio player plays most popular formats well enough. Since the display is very reflective, watching videos in the daytime can be a challenge. Even with Full HD videos and games, the phone only got a bit warm but never uncomfortably hot. High-bitrate videos and taxing games such as Angry Birds 2 and Rayman Jungle Run played without a hitch. The volume from the speaker is also quite good for a mono speaker.
panasonic_eluga_icon_day_ndtv.jpgpanasonic_eluga_icon_macro_ndtv.jpgpanasonic_eluga_icon_flash_ndtv.jpg
(Click to see full size)
We have an 8-megapixel snapper up front and a 13-megapixel module around the back. The latter manages to capture pictures that look decent when viewed on the phone, but zooming in reveals another story. Landscape shots lack detail and sharpness, while colours seem noticeably oversaturated in macros. Night shots aren't too great either as there's a lot of noise which creeps into the scene. The camera is simply unable to focus on a subject very well in the dark, even with the flash.
You get a few scene modes like Face Beauty, PIP (which uses the front camera as well), HDR, Filters and Fix Me. The latter lets you adjust the contrast, brightness and ISO settings manually, however, the implementation could have been a lot simpler and the sliders don't change orientation to landscape mode, which is inconvenient.
panasonic_eluga_icon_front2_ndtv.jpg
Coming to one of the highlights of the phone, the 3,500mAh battery will easily get you through an entire day and maybe a bit more if you activate the power saver modes. In our video loop test, we clocked a battery life of 10 hours and 12 minutes, which is good, but we expected more considering it's only a 720p display.
Verdict
The Panasonic Eluga Icon is good budget 4G option with pleasing aesthetics and solid build quality. There's isn't anything in particular that really stands out apart from this, though. The price also could have been a little lower considering there are better options with similar features already in the market. Other misses are the fact that it comes with KitKat, and rather than sticking with the stock interface, they've gone ahead and overhauled it a bit too much for our liking.
Panasonic Eluga Icon in pictures
Panasonic Eluga Icon Panasonic Eluga IconRs. 8,882
REVIEW
KEY SPECS
NEWS
Design
Display
Software
Performance
Battery life
Camera
Value for money
Good
Good aesthetics
4G compatible in India
Strong performance
Bad
Sub-par camera performance
Older version of Android
Read detailed Panasonic Eluga Icon review
BUY AT
Amazon
Panasonic Eluga Icon (Gold)
Rs. 8,882
Flipkart
Panasonic Eluga Icon (Slate, 16GB) – OFFER
Rs. 8,991
Amazon
Panasonic Eluga Icon (Slate, 16GB) –
Rs. 9,989
For the latest coverage from the Consumer Electronics Show in Las Vegas, visit our CES 2017 hub.
Tags: Android, Eluga Icon, Panasonic, Panasonic Eluga Icon, Panasonic Eluga Icon 4G, Panasonic Eluga Icon Review, Panasonic Eluga Icon features, Panasonic Eluga Icon performance, Panasonic Eluga Icon price, Panasonic Eluga Icon price in India, Panasonic Eluga Icon specifications, mobile, review, smartphones
["source-ndtv"]