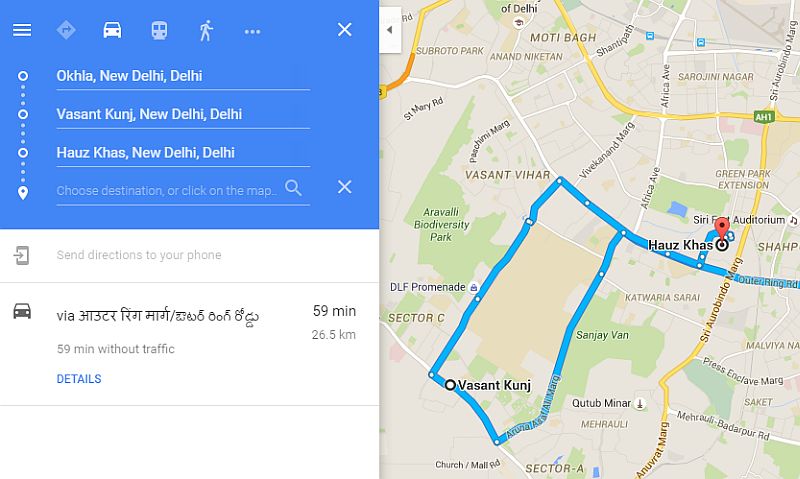 HIGHLIGHTS
Users will have to install the latest 9.31 version of Maps app
The feature also requires server-side switch from Google
The new features helps users add multiple stops while navigating
Google Maps for Android was expected to bring the navigation to multiple destinations option back in April. The feature has however started rolling out to the Android users only now.
The feature requires users to install the latest version of the Google Maps for Android app. Android Police points out that the feature "is being activated via a server-side switch, not an actual update to the Maps app." We can expect the feature to be available to users soon.
Users will be required to install or update the Maps for Android app to version 9.31. Notably, the version is steadily rolling out to the Google Play but doesn't guarantee that multiple destination feature will work after the update.
Previously the Maps mobile app allowed users to side-track during a trip to gas stations, restaurants, cafes, and shopping marts. The app however didn't allow users to navigate to multiple destinations, something that Google Maps allowed on desktop. Map's multiple destination feature on Android app works same as the desktop and allows users to add multiple stops while navigating.
Until the new option shows up on your mobile app, you can take a little help from the desktop to navigate to multiple destinations using the Maps for Android. Users will have to copy the full URL of a multiple destination search on Maps for desktop, and send it to themselves on mobile in whichever way they please, from an email to a message to yourself in a chat app. Once users click on the received link and then choose to open it in Google Maps, the app will open the multiple destination route navigation. We've independently verified the method works, and don't hesitate to say it can truly be a boon to users.
Win Star Trek merchandise and movie tickets by participating in our Star Trek Beyond contest.
["Source-Gadgets"]