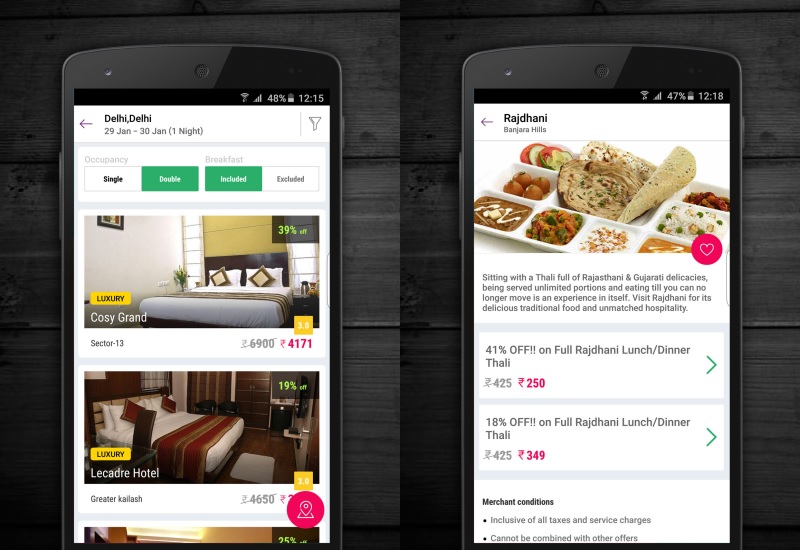 The next time you're visiting a mall and want to grab a cup of coffee, you might want to pull out the Little app on your phone first instead.
The app helps you find nearby deals that range from restaurants, multiplexes, hotels, gyms, and more. On its site, the developer has stated that it has enrolled over 10,000 merchants offering 30,000 deals in 11 cities across India.
When you open the app, you'll see deals in eight categories – Food & Drinks, Spa, Fitness, Movies, Medical, Things To Do, Auto, and Local Services and Holidays. You can browse for deals in these categories, or you can click on the 'Nearby' tab, which lists deals in your area. This makes more sense because you're probably not making your plans based on the best deals; the Nearby tab allows you to find deals at the mall or market you're already hanging out in.
Tapping on a deal shows you the distance to the retailer, deal value, merchant conditions and the steps to redeem the deal, with the nearest deals at the top of the list. Availing deals is quite simple too, all you have to do is open the app and buy the deal. Most merchants will require you to make the full payment through the app, though some allow you to make a partial payment to buy the deal, and complete the payment in cash or by card. The Little app only supports payments via Paytm, so you'll need to set up an account.
Redemption is simple, there are no printouts needed – just buy the deal and then share your order code with the merchant.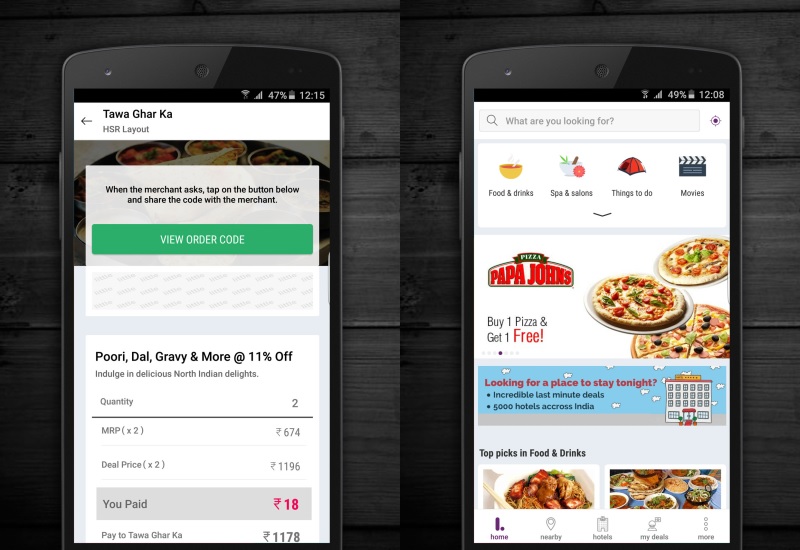 You can also switch to a map view to find deals nearby, and a search bar so you can look for specific deals – say you're at a multiplex and want to grab a cup of coffee, then you can search for it instead of hunting through the categories.
In our experience, using the app was hassle free – we wanted to watch a movie, and so we searched for PVR tickets. The price of the ticket was Rs. 300, but we found a voucher offering it for Rs. 250. Tapping on it showed the amount to pay, and all deal conditions, and a Pay with Paytm button. We tapped that and then payment was done.
Your purchased deals gets saved under My Deals section, and you just have to show it to the vendor – of course, in the case of PVR, the purchase is done online and you get an SMS with your ticket details right away.
One word of warning – there can be some conditions on deal, so for example, a restaurant chain deal might be for specific outlets, or not on weekends. Read the terms carefully before buying any of the deals.
That said, many of the deals we found happened on the spur of the moment – we were in the mall already and looked for deals, and found a buy-one get-one deal from Coffee Bean and Tea Leaf, for which you we had to pay Rs. 9 to activate the deal. The actual purchase at the coffee shop could be done with cash or card.
Overall, Little proved to be well designed, and easy to use, and the only caveat is that payment is limited to Paytm alone. It's a well-known mobile wallet that's used by huge platforms like Uber, but it's still a limitation. If there were other ways to pay for things on Little, it would be better. Besides this though, we liked the app and think it's a great way to find deals on the go.
["Source-Gadgets"]