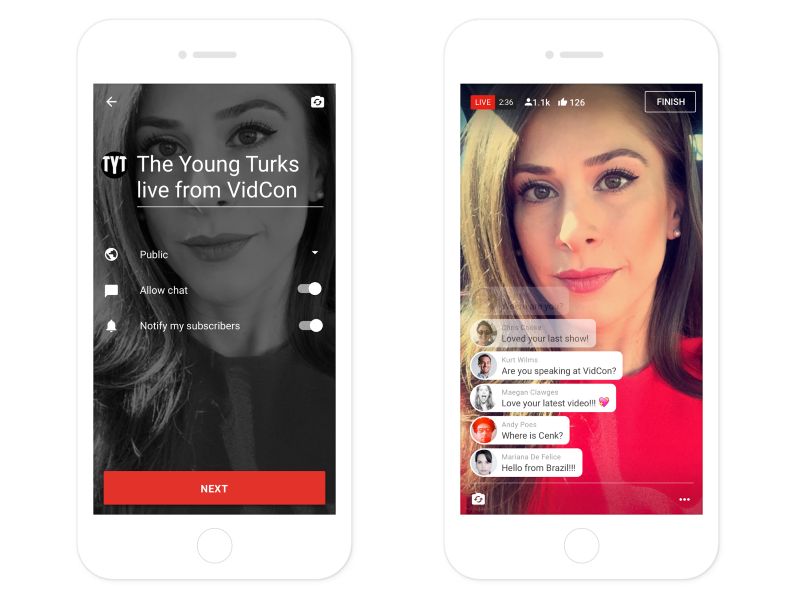 HIGHLIGHTS
Mobile Live Streaming will be built right into the YouTube app.
YouTube introduced live streaming to its platform in 2011.
Ability to live stream from app is currently available to select users.
YouTube added live streaming to its platform in 2011 and now the company is gearing to bring the feature to its mobile apps on Android and iOS. The company says that the YouTube mobile live streaming will be baked right into the core YouTube mobile Android and iOS apps. For starting a live video, users will have to tap the big red capture button in the corner, select an image to use as a thumbnail, and then they can broadcast live to followers. YouTube says near real-time chat will be there.
It adds live-streamed videos on the YouTube app will have all the features of a regular video, and users will be able to find them via recommendations as well playlists. YouTube has launched the feature initially with some creators including The Young Turks, AIB, Platica Polinesia, SacconeJolys, and Alex Wassabi at VidCon. It will be rolling out to more users soon.
Announcing the news, Kurt Wilms, Product Lead, Immersive Experiences at YouTube said, "Today, we are announcing a new chapter in bringing the power of live video to creators everywhere. Soon, we'll be putting the power of YouTube live streaming in the palm of your hands.
YouTube in a blog post lists some milestone live videos that made records on the platform including the Royal Wedding in 2011 when millions of people tuned in. It adds that one-sixth of the Internet watched Felix Baumgartner leap from space live on YouTube in 2012 and over 21 million people tuned in to watch Coachella on YouTube this year.
YouTube's move to bring mobile live streaming is a way to counter Facebook's aggressive push of live videos on its platform. Last year, Twitter acquired Periscope which meant that the micro-blogging site had its own app for the wildly popular live video streaming phenomenon.
Download the Gadgets 360 app for Android and iOS to stay up to date with the latest tech news, product reviews, and exclusive deals on the popular mobiles.