How do you compare the price of different products and make sure that you're not losing out on money when you're shopping online? On your computer, it's easy enough – just open up a dozen tabs in your browser and you can quickly look for whatever you want across all your trusted sellers. Or, you could install one of the many browser extensions that compare prices across sites and you'll never pay MRP again. The way these work is simple – when you go to a Snapdeal or Flipkart or Amazon in your browser, the extension checks the product and automatically compares prices across a number of stores to find you the best deal.
On mobile, on the other hand, you either download and use a price comparison app such asShopInSync, and search for products only in that app, or you open and close a dozen different apps or browser tabs as you try and get the best deal.
Looking at it like that, the first option makes a lot more sense, but many of us prefer searching for products on specific apps – perhaps you like the reviews on Amazon, or the ease of navigation on Flipkart, or the speed with which links load on Snapdeal. Regardless of the app you prefer, the problem remains the same; you lose out on the features you like just to be able to get quick price comparisons.
That's where Voodoo for Android comes in; the app description says it casts a spell of black magic over your phone, and using the app certainly felt that way. It essentially works a little like the browser extensions do on the Web: you can open your regular favourite shopping apps, whether it's an e-commerce app like Flipkart, a food delivery app like Zomato Order, or even a travel app like Cleartrip. When you do this, Voodoo's icon shows up on the screen, and tapping it shows you deals on the same product across different websites. If there's no deals available, Voodoo will show you other similar products available, or coupons and offers related to the app you're using.
If you find a better deal, just tap on it, and you can see the details. Then, tap the 'View in app' button to launch the relevant app, and make your purchase, and enjoy your savings.
Now, for this to work, you have to select Voodoo as an accessibility service – it opens the menu automatically when you first launch the app – and there is a pretty serious looking warning that shows up when you do. Voodoo can collect all the text you type, except for passwords. This means it can read details such as your credit card numbers, and can also collect data about your interactions with the phone, and this is understandable given the nature of the app. There's a note in the app description which promises that Voodoo will never collect your person information, but it is something that you should at least be aware about before blindly choosing to allow access.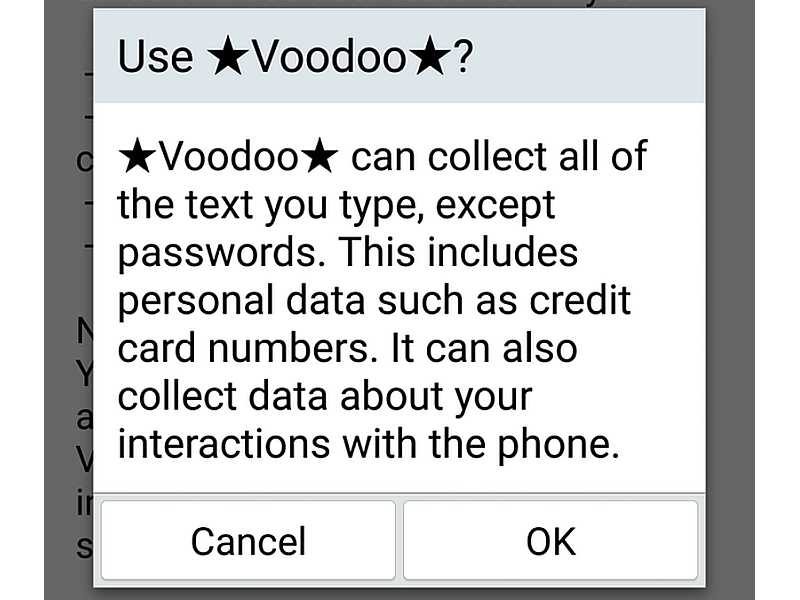 If you go ahead with it, using Voodoo is pretty great. For example, we wanted to buy a new mobile, and opened Snapdeal to search for the Moto E, 2nd Gen. Snapdeal was offering it for Rs. 4,999, and we checked this by tapping the Voodoo icon. Shopclues had it for Rs. 4,599, and Flipkart listed it for Rs. 5,999. In just a second, I had the choices from all the different e-commerce sites, saving a lot of time.
Voodoo also gives good suggestions for similar products – we were looking at a T-shirt by Wrangler in the Jabong app, which was priced at Rs. 1,000. Voodoo didn't find the same T-shirt on other sites, but it was able to show is other wrangler T-shirts across different sites, and a single tap shows a picture with the details, before you launch the other app.
Perhaps the most useful feature was cab fare comparison. When you open the Uber or Ola app, tap the Voodoo button and enter your destination, or just use the slider to enter the distance in kilometres. It then shows the different cars available, sorted by price, or by the nearest car, for both Ola and Uber. In the "Cheapest" tab, it also shows the amount of time the car will take to reach you – so for example, when we checked this, the cheapest car was an UberGo that was 3 minutes away, followed by a Ola Mini that was 2 minutes away, and Ola Prime that was 3 minutes away. Uber XL was more expensive, though thanks to surge pricing, Uber X was even more expensive. It also shows the fare estimate for each, so you can pick the best option.
Overall, the app is really great at what it does, and the few annoyances we had were mostly just with the icon covering up the screen at times, which could be a little inconvenient, but it's a floating icon so you can move it around. That said, it must be stressed that although the app maker says it is not looking for your personal information, the level of access that you need to grant for something like this to be possible is a little disturbing. If that isn't a dealbreaker for you though, then you can get theVoodoo app for free on Google Play.
Download the Gadgets 360 app for Android and iOS to stay up to date with the latest tech news, product reviews, and exclusive deals on the popular mobiles.