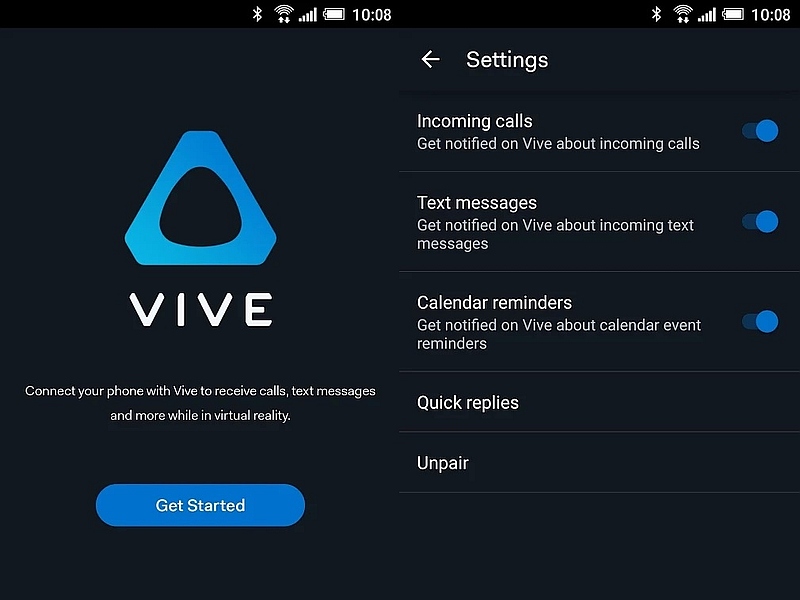 The HTC Vive virtual reality headset, which started taking pre-orders in March this year, has now got its own companion app called the Vive Phone Companion for Android phones to keep users updated with all the important notifications while immersed in virtual reality.
The new app by HTC stays connected with the HTC Vive VR headset with the help of Bluetooth and requires the wearable device's computer software to be set up. The app send users notifications for incoming calls, messages, calendar reminders while wearing the Vive. It also lets them respond to missed calls, send quick replies to text messages, and call the sender back.
"Don't miss what's important IRL while you're in VR. To get essential notifications in the world of virtual reality, just connect your phone with your HTC Vive. Notifications about phone calls, text messages and calendar events pop up without interrupting play and appear in the Vive tab on your System Dashboard so you can view them later too," says the app description page on Google Play.
HTC last week said it faced an issue while processing some pre-orders for the wearable device. The company said that some pre-orders were affected by auto-cancellation last month. It is working on the issue and says it has already restored orders for some customers.
According to a HTC executive, the Taiwanese company last month sold over 15,000 units of the HTC Vive virtual reality headset in the first 10 minutes of its pre-orders. Since the device costs $799 (roughly Rs. 54,000) in the United States, it means that in the first 10 minutes the company sold $12 million worth of headsets.
Download the Gadgets 360 app for Android and iOS to stay up to date with the latest tech news, product reviews, and exclusive deals on the popular mobiles.