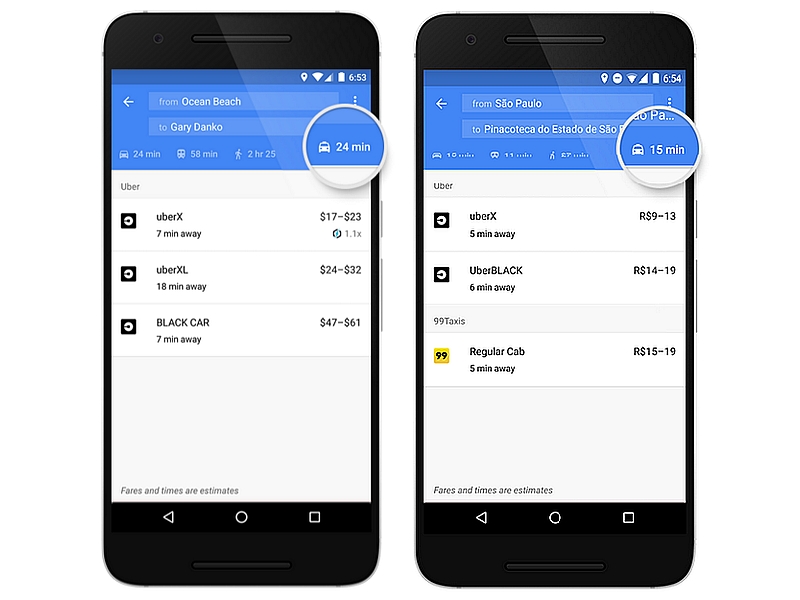 Alphabet's Google on Tuesday announced a Google Maps update that would let you view more cab/ ride services and compare their fares, all inside a new dedicated ride services/ ride sharing tab. While the app until date had only Uber integration for users, it will now be showing cabs from other rival companies as well. This Google Maps update will be rolling out on Android in next few days and will soon reach iOS as well, and the new tab will show when searching for directions from one point to another.
Google says that the updated Maps app would start showing users a fourth tab – ride sharing, besides the existing tabs – driving a car, taking public transportation, and walking/bicycling options when travelling from one place to another. The new ride-sharing tab would let you easily compare the fares taken by different cab services between places without having to open multiple apps.
The Google Maps app update will be showing new cab providers across five countries – 99Taxis in Brazil,Ola Cabs in India, Hailo in the UK and Spain, mytaxi in Germany and Spain, and Gett in the UK.
However, it is worth mentioning that to view the fare comparison in the dedicated ride-sharing tab in Google Maps, users would still need the app of the cab service (for instance Ola app) installed on the devices. Tapping at one of the options in the tab would directly open the app (Ola, Uber, 99Taxis, and others).
"When it makes sense, we'll also show ride service availability when viewing the map in walking and transit directions, and multiple ride services options for each provider-where they exist," said Holger Flier, Software Engineer, on the company blog post. This means that if you are using Uber, the dedicated tab will now show you it multiple ride service options if available – such as UberX, UberXL, and UberBLACK.
Download the Gadgets 360 app for Android and iOS to stay up to date with the latest tech news, product reviews, and exclusive deals on the popular mobiles.