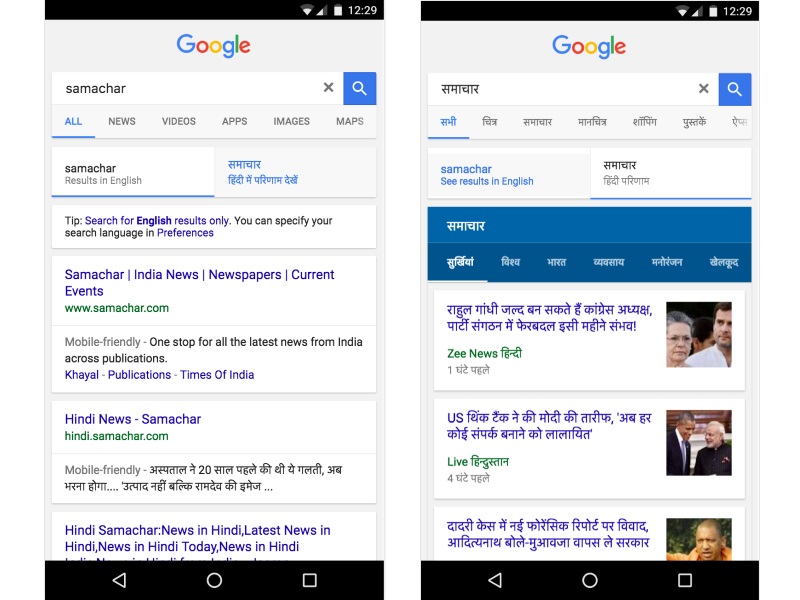 HIGHLIGHTS
The new Hindi search results tab will appear in select states
Google targets significant Hindi-speaking populations with new feature
Users in Delhi, Bihar and Haryana among others to get new Google feature
Google on Wednesday to cater users in India has started rolling out a new tab on search for mobile which will show results both in English and Hindi. The new move by Google makes sense as it will cater to users who are served with results in English regardless. With the new feature, users can type query in English and then flip the tabs to read the answers in Hindi, or vice versa.
The search engine giant says that the new tab in search results throwing Hindi results will show up to users state-wise. This means users in the states namely Bihar, Chattisgarh, Haryana, Himachal Pradesh, Jharkhand, Madhya Pradesh, Rajasthan, Uttarakhand, Delhi and West Bengal will start seeing the new Hindi tab alongside the query for any term which could be better served in Hindi language.
Google confirmed that the new tab search feature has started rolling out for mobile users and will show up on all browsers except UCBrowser and Opera Mini and will improve over time. The company explains that the feature is targeted at audience with significant Hindi-speaking populations. The new feature gives users a way to flip between English and Hindi searches when using the Google Search app or Google Search on any browser on Android or iOS.
The new feature works for all queries, according to Google and lists some examples such as Samachar, Dil Chahta Hai, and Dhoni ka janam din kab hai. It adds that users can also look up health related information and view the results in Hindi.
Google's Shekhar Sharad, Product Manager, International Search, announcing the new feature in a blogpost said, "Indians should be able to search for information online the same way they live: moving between multiple languages depending on the moment or the audience. For example, you may search for "samachar" in English, but you would rather be better served with results for a Hindi query."
Download the Gadgets 360 app for Android and iOS to stay up to date with the latest tech news, product reviews, and exclusive deals on the popular mobiles.