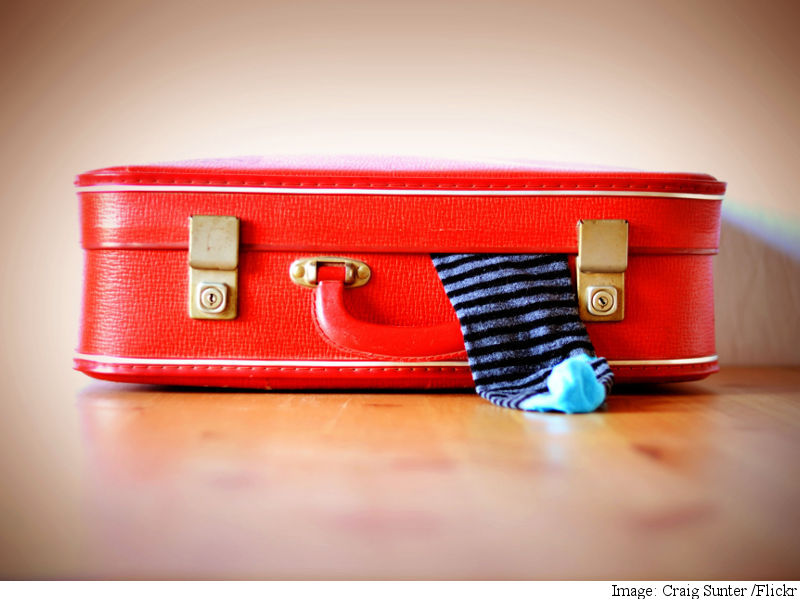 If you're planning a road trip or a business trip, or trying to make the best of an unplanned excursion, last-minute hotel bookings apps are a great way to get a discount on a place to stay. These apps aggregate discounts that hotel chains offer to increase occupancy rates, and an increasing number of travel startups are operating in this particular niche, referred to as last minute booking, on demand booking, or same day booking. These apps do not let you book a week or month in advance, and only provide access to special deals on the same day.
Global players that operate in this space include US-based HotelTonight, which covers most regions but has a limited presence in the Asia-pacific region, where Hong Kong-based HotelQuickly and Singapore-based In2nite operate. Established players like Hotels.com and Booking.com have also added sections for last minute hotel booking deals on their website, and this trend can be seen in India too, where OTAs (online travel agencies) such as Cleartrip and MakeMyTrip have added sections catering to last-minute deals.
If you're a business traveler or an impulsive holiday goer planning to take a trip around India, here's a survey of startups operating in this space, based on a query we ran on startup data tracker Tracxn. Do note that all the players here have a no refund policy on cancellation of bookings.
1) HotelsAroundYou
Founded in 2013, HotelsAroundYou offers what they call 'Tatkal' hotel bookings, with an emphasis on getting the lowest prices on the best quality hotels a day in advance. The startup also has a unique concept called transit stay hotels, where hotels can be booked between 6 a.m. and 6 p.m. for 4, 8 and 12 hours. A search for hotels in Bengaluru yielded a curated list of luxury, business, and budget stays, with discounts as high as 50 percent. HotelsAroundYou uses Citruspay as its payments gateway, and accepts debit cards, credit cards, and net banking for bookings.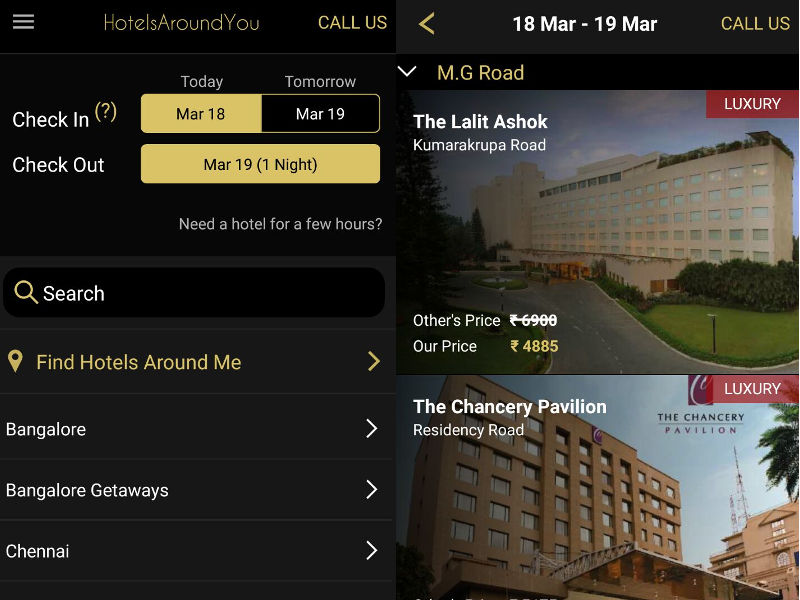 Cities: Jaipur, Delhi, Mumbai, Pune, Shirdi, Chennai, and Bengaluru
Download: HotelsAroundYou for Android | HotelsAroundYou for iOS
Website: www.hotelsaroundyou.com
2) NightStay
Operational in 14 cities, NightStay offers discounts of upto 70 percent on last-minute deals on unsold rooms, with an emphasis on luxury hotels. The startup says that it clearly displays actual discounts and not some obscure strike-through prices. A search for hotels in Trivandrum revealed over a dozen listings, ranging from Rs. 2,000 to Rs. 5,000. Payment options include credit and debit cards, the app provides detailed information at a glance, with graphical icons denoting amenities, check in and check out times provided by the hotel.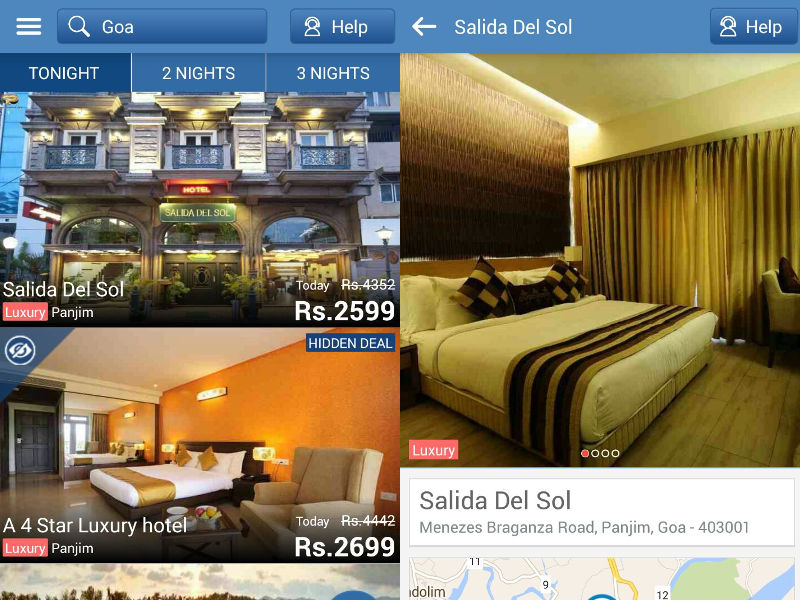 Cities: Delhi-NCR, Mumbai, Bengaluru, Chennai, Hyderabad, Goa, Jaipur, Pune, Ahmedabad, Kochi, Agra, Chandigarh, Kolkata, and Trivandrum.
Download: NightStay for Android | NightStay for iOS
Website: www.nightstay.in
3) RoomsTonite
One of the leading startups operating in this space, RoomsTonite has a network of hotels in over 300 destinations in the country, which include home stays and vacation villas. Rooms can be booked for a maximum of three nights, up to two days in advance. The app is currently offering a Rs. 900 discount on first bookings, and has a referral program where friends get a 35 percent discount on booking, and the referrer gets Rs. 1,000 credited to the RoomsTonite wallet. Unlike some of the other players listed here, RoomsTonite provides listings in cities as well as hill stations, was able to list deals in Darjeeling, Ooty, Munnar, and Dharamshala, making it more tourist and vacation-friendly. RoomsTonite accepts credit and debit card based payments, and also provides a pay at hotel option for some of the rooms listed on its app.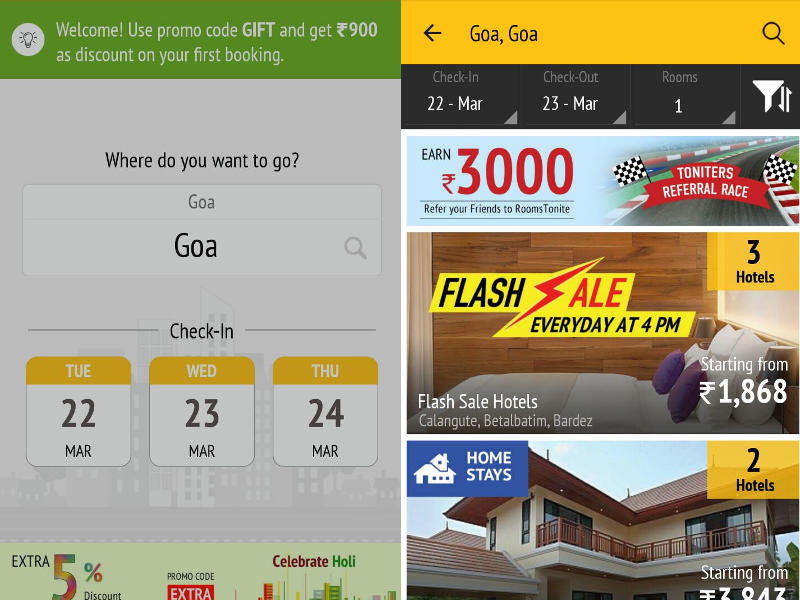 Cities: Over 300 destinations in India.
Download: RoomsTonite for Android | RoomsTonite for iOS | RoomsTonite for Windows |RoomsTonite for BlackBerry
Website: www.roomstonite.com
4) Staytonite
Focused on same day booking, Staytonite has a range of stays from budget to high end hotels. Staytonite says that it has tied up with over 200 hotels across India, and lists curated properties not found in any other hotel aggregator. Staytonite has a no-cancellation/modification policy, bookings made non-refundable, and only accepts credit card payments.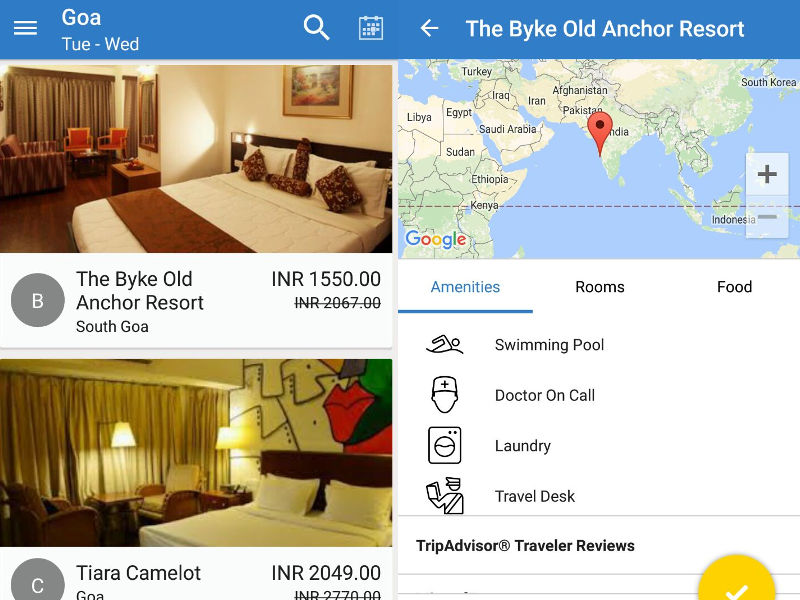 Cities: New Delhi, Mumbai, Chennai, Bengaluru, Noida, Gurgaon, Neemrana, Goa, and Hyderabad
Download: Staytonite for Android
Website: www.staytonite.in
5) SavvyMob
Targeted at leisure and business travellers, SavvyMob lets users make bookings within a 48 hour window through its mobile only marketplace, which aggregates unsold last minute hotel inventory from over 5,000 partners in over 50 cities across India. The startup says it only selects quality hand-picked hotels – we were able to find hotels to stay in all major cities and hill stations like Ooty, Jaipur, Munnar, Darjeeling, and Shimla. Discounts were going at around 20 percent of list price, including taxes on a Monday morning. Like the rest of the startups listed here, SavvyMob has a no cancellation policy, and accepts debit and credit card payments.
Cities: Over 50 cities in India
Download: SavvyMob for Android | SavvyMob for iOS
Website: www.savvymob.com
As mentioned at the start, there are some international apps that also fill this gap, but many of them don't have a presence in India. Bookings.com has one of the best experiences for same day booking from the international sites, and both MakeMyTrip and Cleartrip can help you find some good options as well.
Download the Gadgets 360 app for Android and iOS to stay up to date with the latest tech news, product reviews, and exclusive deals on the popular mobiles.