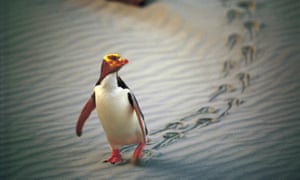 Almost half the breeding population of the world's most endangered penguin species, the yellow-eyed penguin, has disappeared in one part of New Zealandand conservation groups believe commercial fishing is to blame.
The yellow-eyed penguin is endemic to New Zealand's South Island and sub-Antarctic islands, where there are just 1,600 to 1,800 left in the wild, down from nearly 7,000 in 2000.
During a recent survey of the island sanctuary of Whenua Hou (Codfish Island), department of conservation staff made the alarming discovery that close to half the island's breeding population of penguins had vanished. Elsewhere in New Zealand the bird's population is at its lowest level in 27 years.
Forest & Bird's chief executive Kevin Hague said because the island was predator-free the evidence pointed to the animals being caught and drowned in the nets of commercial fishing trawlers. Only 3% of commercial trawlers have independent observers on them to report bycatch deaths.
"Unlike previous years where disease and high temperatures caused deaths on land, this year birds have disappeared at sea," said Hague.
"There is an active set net fishery within the penguins' Whenua Hou foraging ground, and the indications are that nearly half the Whenua Hou hoiho population has been drowned in one or more of these nets."
Last year 24 nests were recorded on Whenua Hou, but this year rangers only found 14. Penguin numbers are declining in other parts of the South Island as well, and researchers fear the beloved bird, which appears on the New Zealand $5 note, is heading ever closer to extinction.
Yellow-eyed Penguin Trust general manager Sue Murray said every effort was being made to save the birds by conservation groups, but the birds faced multi-pronged threats from disease to dogs and climate change.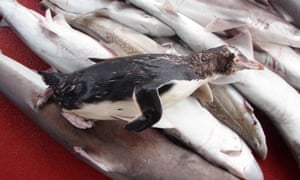 "The trust has huge concerns for the future of hoiho [yellow-eyed penguins] on Whenua Hou given their rapid decline. Our focus must be the marine environment where hoiho spend at least half of their life as it is unlikely that terrestrial impacts are a major factor in the decline here."
The penguins – which are small and have yellow eyes – can be found from Banks Peninsula near Christchurch to as far south as the sub-Antarctic islands.
University of Otago's Thomas Mattern, a penguin expert, told the Otago Daily Times he believed time was running out for the birds.
"Quite frankly, the yellow-eyed penguins, in my professional opinion, are on their way out," Mattern said.
source:-theguardian