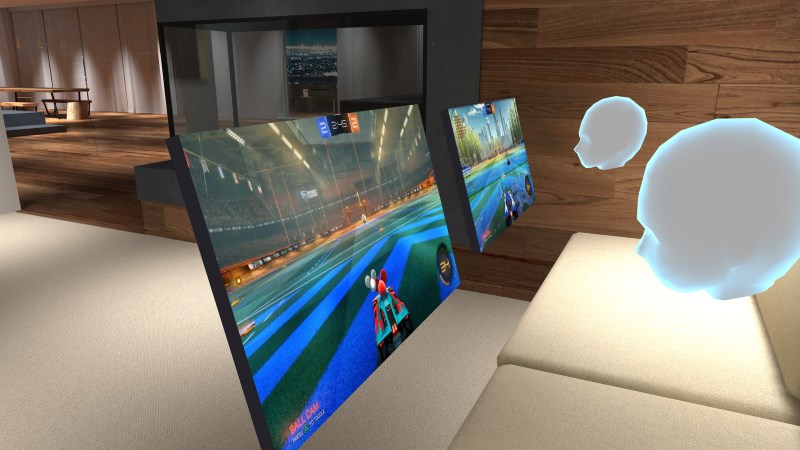 You can enjoy all kinds of experiences with virtual reality (VR) headsets, but what if you wanted to gun down your opponents in Call of Duty or enjoy an episode of House of Cards without taking the headset off? BigScreen – a new VR app developed by Y Combinator alumni and CEO Darshan Shankar along with co-founder Hayden Lee – wants to be of service.
(Also see: Hollywood Learns a New Storytelling Language for VR)
"Our goal is to let you use your entire desktop, with anyone, in virtual reality," Shankar told Upload. "Why use your computer on a tiny 15-inch screen when you could use BigScreen and get massive screens of infinite size? Anything that you can do on your computer – browsing the Web, watching videos, playing video games, and even productive work – you can do in VR on massive screens with BigScreen."
BigScreen depicts your real world screen into the virtual world in a 20-foot version, and it already supports Oculus Rift – releasing end of this month – and HTC Vive – shipping beginning of April. As for mobile VR devices such as the Samsung Gear VR, Shankar said it's in the works.
With BigScreen, the company noted, you can "play games in a virtual reality LAN party, watch movies with your buddies, collaborate together, or simply hangout". Four people can join in a "virtual" party with BigScreen, and can see what the other user is doing on their screen. As for the people themselves, all you see are their floating heads.
(Also see: The Creepy, Inescapable Advertisements That Could Define Virtual Reality)
BigScreen is now accepting sign-ups for its beta version, so if you're interested, head to the official website to apply.
Download the Gadgets 360 app for Android and iOS to stay up to date with the latest tech news, product reviews, and exclusive deals on the popular mobiles.