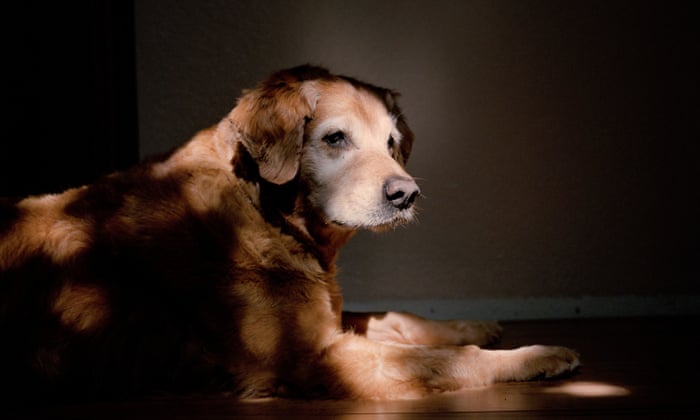 I'm not sure what Cory Arcangel's video Drei Klavierstücke Op. 11 says about our relationship with animals – except that we think it's funny when a cat plays the piano. So many people have posted so many YouTube videos of cats pawing the ivories that Arcangel has been able to edit a constellation of cute clips, so the cacophony of cats coheres into a brilliant staccato rendition of Arnold Schoenberg's 1909 expressionist masterpiece Drei Klavierstücke. The pussycats stumble, crawl and gingerly tap keys in a montage that must have taken stupendous effort to create. What is the true art – Schoenberg's composition, Arcangel's re-creation of it, the YouTube videos – or the piano-playing of the cats?
Turner Contemporary's delightful exploration of the borderline between human culture and the rest of the animal world is full of such mind-expanding moments. Cuteness and horror, love and cruelty nuzzle side by side. A series of noble photographic portraits of dogs by Charlotte Dumas is arresting. When you find out that all are veteran rescue dogs who comforted survivors and workers at the World Trade Center site in September 2001, they become more heroic still. These dogs have such kind faces. Do they know what they did, the part they played in history? They are studies in goodness.
Human beings have been seeing character in other species for tens of thousands of years. The oldest paintings that exist, in caves decorated by ice age hunters, are sensitive portrayals of species including mammoths, bison and horses. This exhibition doesn't have any stone age art, but it does have an ancient Egyptian figurine of the cat-headed goddess Bastet from the collection of Sigmund Freud, who saw the dreamlike quality of the Egyptian pantheon. The animal-centric mythology of ancient Egypt resurfaces in Michal Rovner's 2017 video portraits of jackals. Filmed with a night-vision camera near the Israel-Palestine border, these wild dogs associated in ancient times with death become minatory ghosts, their bright eyes watching as you edge past them.
The most radical works in this haunting exhibition go beyond contemplating animals to try and break down the border between species. A film of Joseph Beuys's 1974 performance I Like America and America Likes Me documents the three days he spent locked in a cage with a wild coyote. Beuys cajoles, mystifies and befriends the supposedly dangerous American critter. When he plays the triangle, it runs terrified into a corner. Was this green politics or animal abuse?
There are no such worries with Andy and Peter Holden's A Natural History of Nest-Building (2017), a homage in video and sculpture to the architectural genius of birds. Like Arcangel's cat musicians, but more scientifically, this essay on bird builders raises a serious question about the supposed uniqueness of human culture. Are we really the only species with a feeling for beauty? Is art as uniquely human as we suppose it to be? Sculpture for Octopuses, a 2013 work by Shimabuku, is a collection of coloured glass balls designed to test the favourite colours of cephalopods. It is half artwork, half experiment. Octopuses collect interesting objects, just as we do on the beach. What's the difference?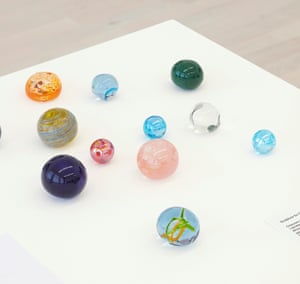 This show is full of wonder. It includes unexpected and moving sketches of dogs and donkeys by JMW Turner; a surprisingly subversive double portrait of the contrasting lives of a poor dog and a posh dog by Edwin Landseerthat surely comments on the inequalities of Britain when it was painted in 1829; and a mystical figure of a hare on its hind legs by Barry Flanagan.
In 2013, Tracey Emin befriended a fox in her wild garden in Provence. Her video Love Never Wanted Me documents their encounter in filmed clips and still photos of the fox eating in her kitchen, wandering among rocks and trees, finally vanishing back into nature. As she follows it, camera in hand, her voice on the soundtrack talks about love, loneliness, loss. It is a beautiful encounter – she wants to be friends with the fox, but she's not trying to tame it. In the end, she has to watch it leave. She respects its wildness. It respects hers.
Animals and Us is at Turner Contemporary, Margate, from 25 May until 30 September
["Source-theguardian"]