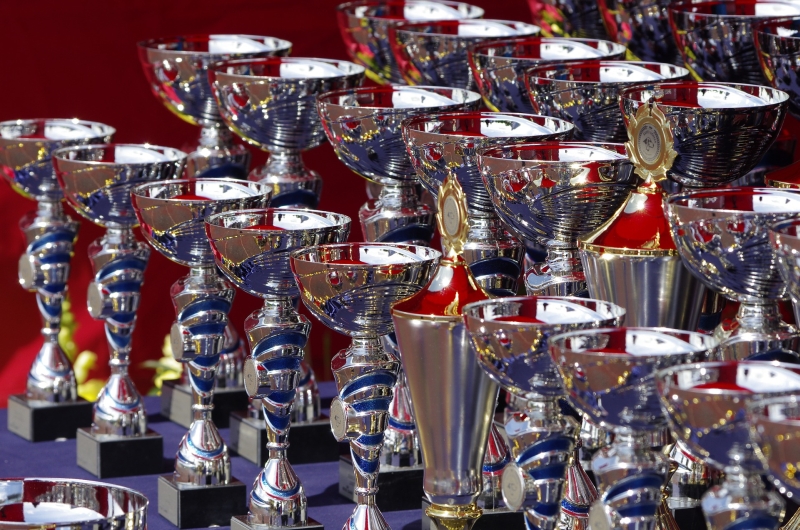 Yearly software refreshes to mobile operating systems like iOS and Android, along with the constant app updates by developers means that there's barely any time to stop and think about the amazing convenience our phones bring to us today. There aren't any formal awards for small features in phones that nonetheless make a big impact, so let's give out some informal awards to some of the greatest features in phones that make these devices so smart.
So, without further ado, here are the picks for software features on smartphones that deserve an award, sorted in the decreasing order of their awesomeness. Some of these features are built directly into the operating systems, and others can be enabled by installing third-party apps.
1) Doze on Android
Android phones have had a spotty record when it comes to battery life, especially the standby times. Over-the-top hardware features can drain even relatively large batteries, while software customisations by phone-makers, and apps that keep sipping power even if you're not using them, all steadily empty the battery.
Google's previous attempt at solving this problem, dubbed Project Volta, which rolled out last year withAndroid 5.0 Lollipop, was ineffective because it relied on developers to implement power-saving features in their apps. The results were barely seen, considering the general perception that battery life on Android phones got worse with Android Lollipop, not better.
This year Google has tried again with Android Doze as part of Android 6.0 Marshmallow. This feature wasn't portrayed as a magic pill that would double up battery life, but rather as something that would prevent wastage of battery when the phone is not in use. The beauty of Doze lies within the implementation of this feature – principally what Doze does is not very different from what Sony had introduced with Stamina mode, or what 'low-power modes' on other phones do, which is basically to turn off background app activity. Most of those solutions were too drastic however, and basically turned your smartphone into a featurephone.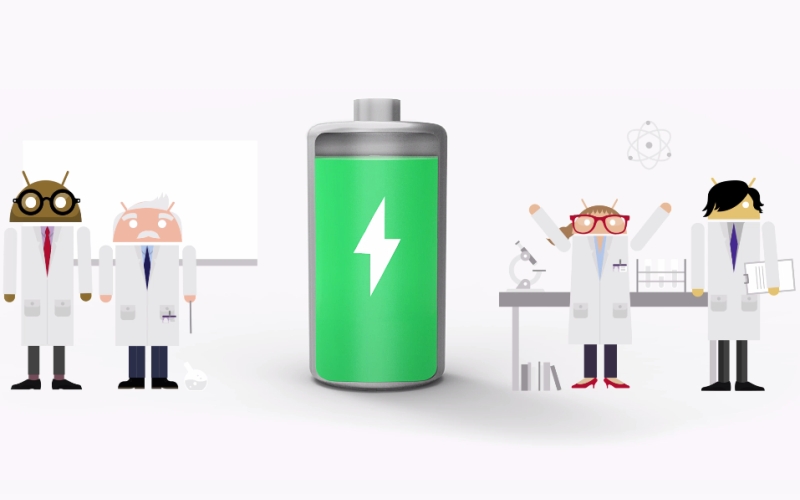 The 'special sauce' of Doze is its reliance on motion sensors to minimise background app activity. Doze isn't going to save your battery when you're on the move, but cuts in when the phone is resting unused, on your table. Doze does allow apps to update themselves at set intervals, but it keeps them from all waking the CPU one by one throughout the day.
In real world scenarios, people with Nexus 5 running Android 6.0 Marshmallow have seen just 2 to 3 percent drop in battery levels, after seven hours of not using the phone. In contrast, a Lollipop phone dropped two to three percent in battery levels every hour, even when the phone was not in use. Doze is seamless, and brings the standby time for your phone to par with what iOS users have experienced for years. You can even make it more aggressive with a simple hack that makes Doze kick-in more quickly.
2) Actionable Notifications for third-party apps in iOS 9
Actionable notifications was a tiny feature addition in iOS 8 that got little attention last year, possibly because it was limited to default apps like iMessage. In iOS 9, Apple thankfully opened this hidden gem to developers using an API, many of whom implemented it within a few months of the iOS 9 release.
(Also see: 15 iOS 9 Features That Make Your iPhone and iPad Better Than Ever)
Imagine this scenario – you're using your phone and somebody sends you a message on a chat app like WhatsApp. Instead of having to tap on the notification to launch the app, then reply, and finally return to what you're doing, with actionable notifications, simply pulling down on that notification shade reveals a reply box, where you can just type and hit send. There's no need to juggle between apps while simultaneously chatting with people and using your phone anymore.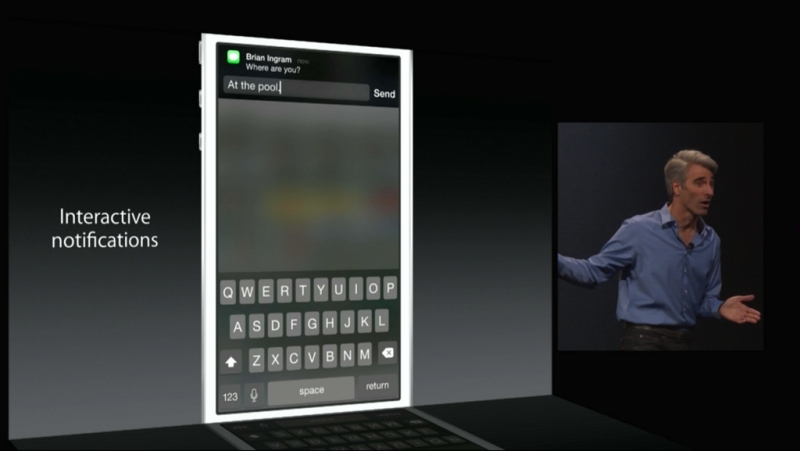 Actionable notifications are not restricted to just quick replies; app developers can put commonly-used app actions there as well. For example, FB Messenger has the popular 'thumbs-up' as an action item when you pull down a chat notification.
3) Multi-user fingerprint Authentication on CoolOS (Android)
With Touch ID in 2013, Apple paved the way for fingerprint scanners to become one of the most convenient hardware features to have in a smartphone. The next year, Android 5.0 Lollipop introduced multi-user mode which, like a computer, would compartmentalise your data to your account. This year, Android may have brought out-of-the-box support for fingerprint scanners with Android 6.0 Marshmallow, but it missed the boat on this unbelievably-incredible use case that CoolOS, a customised variant of Android found on Coolpad smartphones finally delivered.
The Coolpad Note 3 is an inexpensive phone with a fingerprint scanner that works well. But more importantly, hidden inside the settings menu is an option to bind a user profile to a fingerprint. Consider this scenario – you as an owner of the device, can tie another user (such as your child perhaps) with their fingerprint.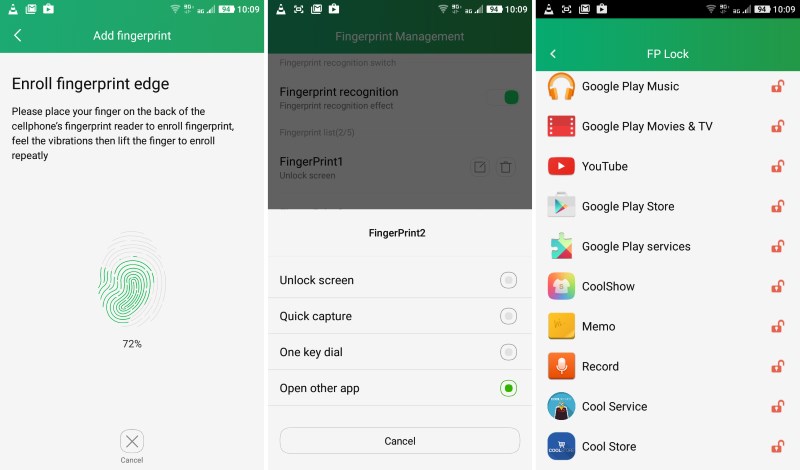 When you unlock the phone with your fingerprint, you will get to see your data, but when the other person unlocks the phone using theirs, the OS seamlessly switches to that user's profile, so you could let your children play games on your phone without worrying about them sending an email to your boss.
Effectively, this becomes the easiest way to allow others to use your phone, without exposing your data (like emails, photos, chats etc). If you don't want to create separate users, you can also lock individual apps with a fingerprint; much like app-locker apps, but built-in and convenient to use.
4) Google Photos App
Google's Photos app already deserves a pat on the back for letting people back up as many photos as they want, as long as they're okay with them being reasonably compressed. This takes a big headache off from manually backing them up, in case you know, your phone is lost, broken, or tampered with.
But there are two beautiful features of this app that make discovering photos extremely simple. First is the Assistant feature, which intelligently creates photo books using the time and location data embedded in your phone, along with algorithms that pick out good photos from the lot. It is fantastic to reminisce over old photos that you probably wouldn't have seen otherwise.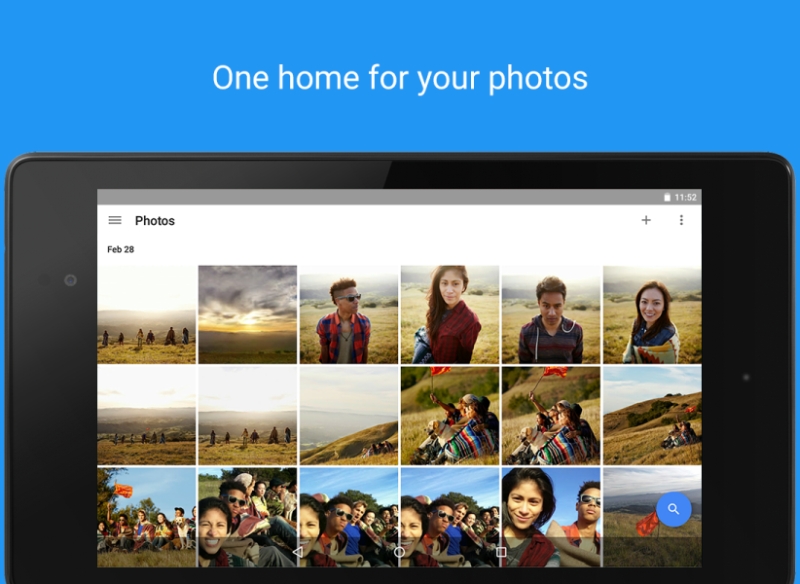 The next is in Google's ability to interpret content within photos. The search box in the Photos app is mad accurate! I've searched for "Photos of car", "Photos of dogs", "Photos of dogs and cars", "Photos of dogs on the street", "Photos of cars in Pune", "Photos of cars in 2013", and each time, the app served the correct results (with a few forgivable exceptions here and there).
The only thing it can't automatically tag is people's names. It is very good at finding similar faces and lets you see all pictures of a specific person, but it doesn't identify via Google+ what the name of that person is. You can manually fill it in for now, though. Still, Google Photos is a powerful tool to find just the right photo you're looking for.
5) Google Now on Tap
The highlight feature of the new Android 6.0, Now on Tap deserves an award for being able to understand context within text in any app, automatically showing you relevant results that you otherwise would have had to look up manually. Right now, Now on Tap's usefulness is hit-or-miss, but it will only get better with time. But when it works, it works!
(Also see: Hands on With Now on Tap – Android 6.0's Best Feature Has Apps Dancing to Its Tunes)
So the next time you and a buddy are texting about which movie to watch, or which restaurant to catch up at, a simple press and hold of the home button makes Google go through the text on the screen, and serve the same knowledge cards you're used to seeing on Google search results. If you're talking about movies, you'll see IMDB ratings, an option to quickly play trailers on YouTube, and even app-integration to book tickets. If you're talking about places to eat, it'll show their distance from your current location and a button to call the restaurant.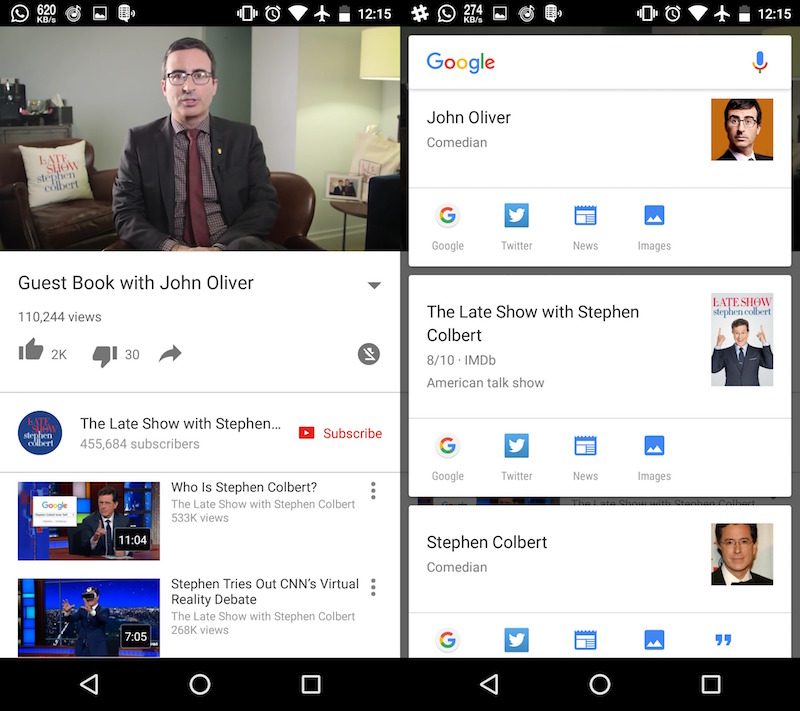 Tapping any word in the Chrome browser also shows up the search results as a card below. Now on Tap has huge potential and this feature is award-worthy indeed!
6) These (Really) Smart Calling Apps
There are some great innovations that make calling (which yes, people still use their phones for) much easier. Let's start with TrueDialer – other than populating crowdsourced names on unknown phone numbers in your call list, it has also recently introduced a status feature.
This lets you know if the person you're trying to call is available for conversation. The status is decided depending upon if they're already on another call, or if their calendar has them marked as busy at the time, or their phone profile is set to 'no interruptions'.
The app can let you know when this status changes, so you can get in touch at a more appropriate time. Its usefulness is limited by the fact that the people you're calling also need to use Truedialer, butApple has a patent for a similar sounding system. If Apple or Google were to implement it in the dialers of tomorrow then it could really improve the way we communicate.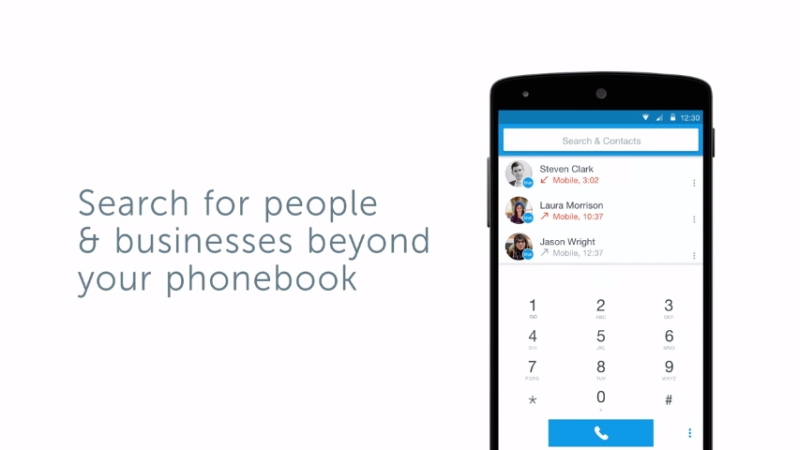 Another app that deserves praise is an Android app called SpeakerPhone Ex, and its Windows Phone equivalent, Lumia Gestures. The app uses the proximity sensor to switch between the speakerphone and the earpiece, and it's an incredibly convenient tweak that makes using the phone much easier.
7) Apple's Continuity on iOS and OS X
Taking advantage of the tight control over their software ecosystem, Apple's Continuity has enabled features that Android hasn't been able to replicate. Continuity gives you the ability to make and receive your iPhone calls and SMS on a Mac, iPad or iPod Touch, the use of iPhone's WiFi hotspot in a single click, wirelessly transferring files from one Apple device to another (AirDrop) and restoring the state of apps from one device to another (Handoff).
(Also see: How to Make and Answer Calls, Send and Receive SMS From Your iPad, Mac)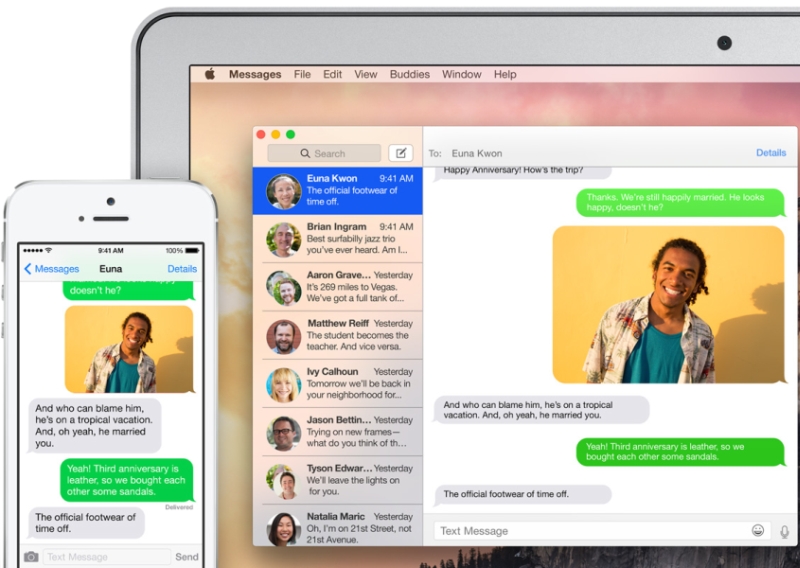 Someone told me he gets poor connectivity at his home, so the ability to take calls on his Mac or iPad while his iPhone rests in another room (which has better reception) is a boon. Instant Hotspot also saves you the step of turning it on in Settings on your phone, before you can use a Wi-Fi Hotspot. Handoff is useful too, provided you're using apps that support it (such as Safari or Mail). There are also a reasonable number of third-party apps that support it too, but most people said Handoff was second of the least useful new feature to them, after AirDrop.
8) Third Party App Integration with Cortana on Windows Phone
Cortana was a few years late to the party after Siri and Google Now opened up the possibility of controlling your phone using your voice. But it has one trick up its sleeve that the latter two haven't been able to crack yet – third-party app integration. What this means is developers can create commands that Cortana will parse, so that you can also perform actions within apps using the voice assistant. So, you can ask the Wikipedia app to search something within it directly, or say, ask the Dictionary.com's app for the word of the day, all with your voice.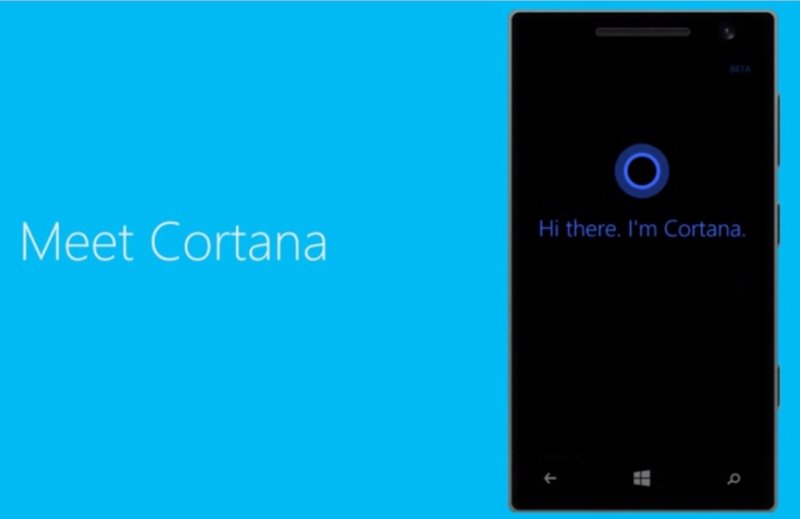 At the moment, Google Now supports a few third-party apps like WhatsApp so you can say "Send a WhatsApp message to…", but it isn't open to just about anybody. Siri on the other hand can launch third-party apps when asked, and actions are limited to the built-in apps like Apple Music – so you can say "Play the best hits from the last decade" to Siri and it will start playing.
These were some of the features that blew my mind. What features have brought you such happiness? Sound off in the comments below.
Rohan Naravane heads the Content & Product at PriceBaba. He's usually found rambling mostly about tech on Twitter @r0han.
Disclaimer: The opinions expressed within this article are the personal opinions of the author. NDTV Gadgets is not responsible for the accuracy, completeness, suitability, or validity of any information on this article. All information is provided on an as-is basis. The information, facts or opinions appearing in the article do not reflect the views of NDTV Gadgets and NDTV Gadgets does not assume any responsibility or liability for the same.
["Source-Gadgets"]