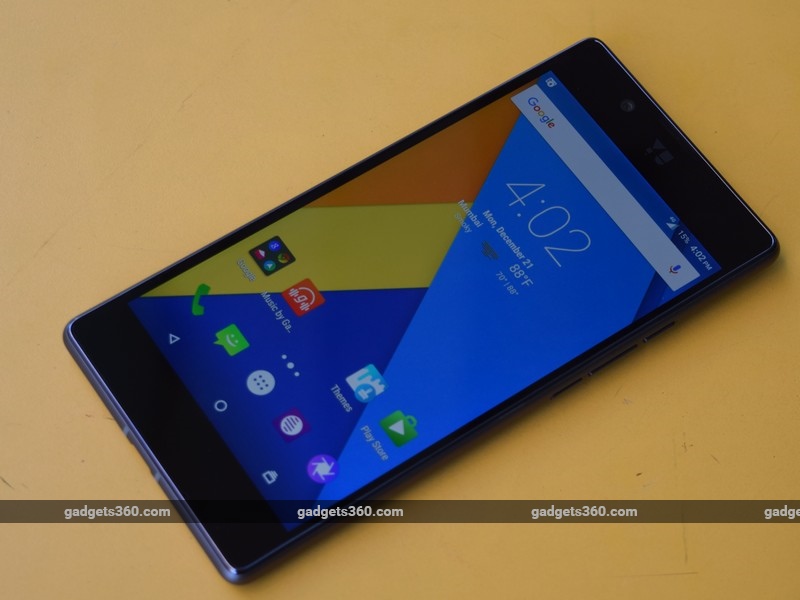 The brand new Yu Yutopia is being touted as "the most powerful phone on the planet", which is a bold claim from a company's debut entry into the big leagues. Yu Televentures CEO Rahul Sharma seems mighty confident though since the company's marketing department had no qualms about taking digs at Apple and Samsung in the teasers that led up to the phones' debut last week.
Pot-shots aside, it's clear that Yu is going after the Chinese manufacturers like OnePlus, Xiaomi, Gioneeand Oppo who have long been offering "flagship killers" without having to empty your bank account. The aptly named Yutopia is an imagining of what a perfect smartphone should be like, while still being affordable to the masses.
Yu has certainly got the ingredients right but how it all comes together in the end, is what really matters. Is the Yutopia every bit as good as it looks on paper? Let's find out.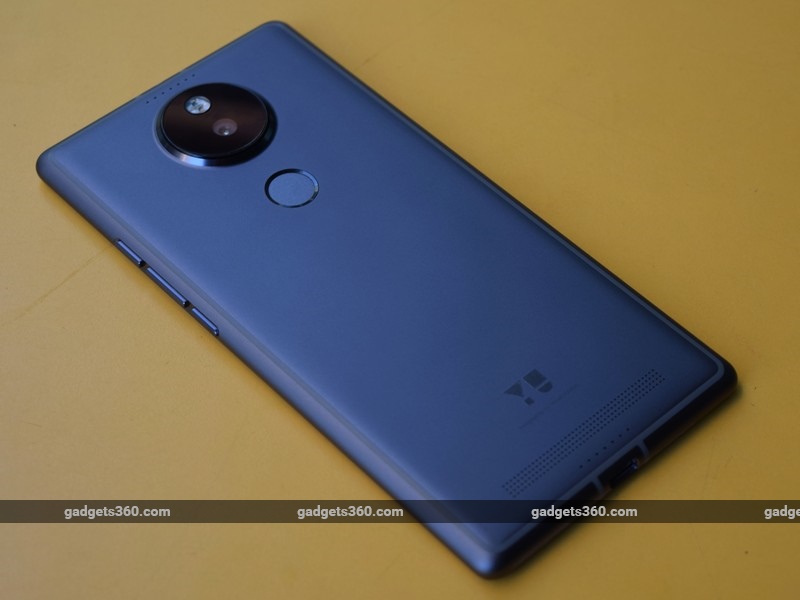 Look and feel
The aluminium and magnesium chassis is one of the highlights of the phone. It feels incredibly premium and has good ergonomics. The phone is also comfortably slim and heavy enough to not feel like you're holding a toy. The satin texture does make the phone quite slippery though and we wish Yu had bundled at least a bumper case along with it.
The primary SIM tray and secondary hybrid-SIM tray are accessible via a common flap on the left. The right side houses the volume and power buttons, which have good tactile feedback and are easily accessible. The headphone socket and Micro-USB 2.0 port are placed on the top and bottom respectively.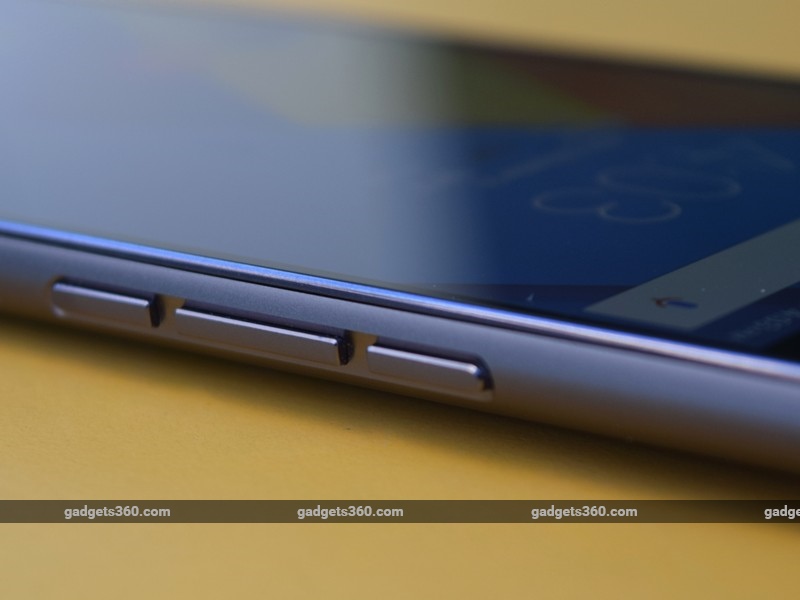 Around the back, we have a circular protruding dial which houses the 21-megapixel camera and dual-tone LED flash unit. Below it, is the fingerprint sensor followed by the speaker grille placed at the bottom. As expected, the glass cover for the camera isn't scratch resistant and we noticed scuffs developing after just a couple of days of usage. This is another reason why you desperately need a case for the phone.
The front is dominated by an excellent 5.2-inch, Quad HD IPS display along with Corning's Concore glass. The latter has similar scratch resistant properties as Gorilla Glass, except here, the protective glass and touch screen are a single panel. Colour reproduction and viewing angles are very good and so is sunlight legibility, thanks to some nifty software tricks, which well get into in a bit. The touch response can get a little iffy at times as we noticed intermittent unresponsiveness during our usage. It's not a consistent issue but every now and then, it fails to register an input. The notification LED is placed at the bottom.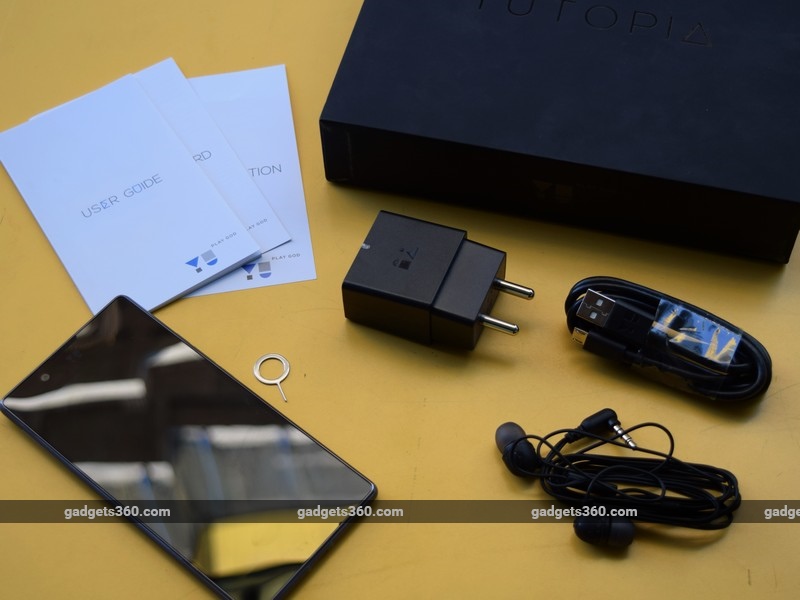 The Yu Yutopia comes bundled with a transfer cable, a charger which supports Qualcomm Quick Charge 2.0, Little Bird in-ear headset from House of Marley, and some instruction booklets. The quality of the accessories are good and feel like they will last you in the long run. Overall, the Yutopia is a handsome looking phone that's well built and ergonomically large for some single handed usage. We would have liked some scratch protection for the camera bump, a bundled case of some sort to protect the body and for grip, and perhaps, oleophobic coating for the display, since it easily catches fingerprints.

Specifications and software
Yu has gone all-out when it comes to specifications, well, at least the core components. We get Qualcomm's finest Snapdragon 810 SoC, 4GB of LPDDR4 RAM and 32GB of onboard storage. The latter can be expanded via a microSD card up to 128GB. There's also dual-band Wi-Fi b/g/n/ac, Bluetooth 4.1, GPS, USB OTG and FM Radio. We're still missing NFC and unfortunately, there's no wireless charging either. Apart from the usual suite of sensors, the Yutopia also gets a barometer sensor. Last but not least, we have a 3000mAh non-removable battery with support for fast charging.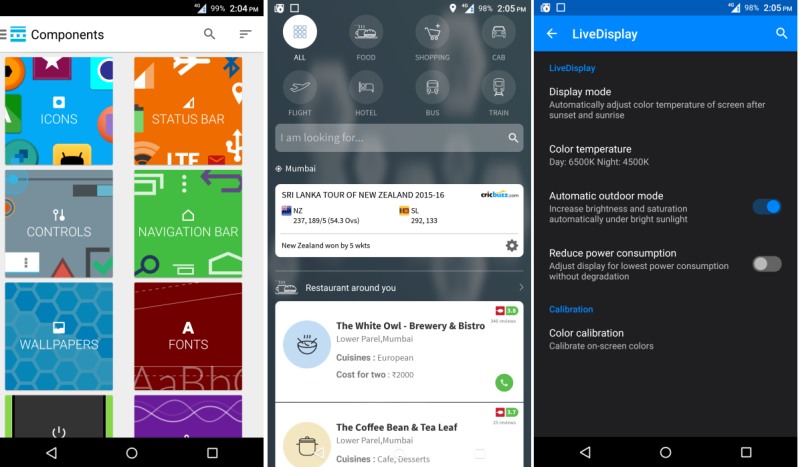 The Yutopia runs on Cyanogen OS 12.1 which is based on Google's Android Lollipop 5.1.1, and is slated to get Marshmallow-based update sometime next year. The default theme upon first boot is quite buggy and causes random freezes during usage so we recommend switching to something else immediately. The Yu theme from Cyanogen is a lot better as Wi-Fi and cellular status are accurately represented and the random freezes have almost gone away. Despite this, the OS doesn't feel Nexus-smooth or look as refined as say, Oxygen OS from OnePlus, but perhaps we'll get there in future updates.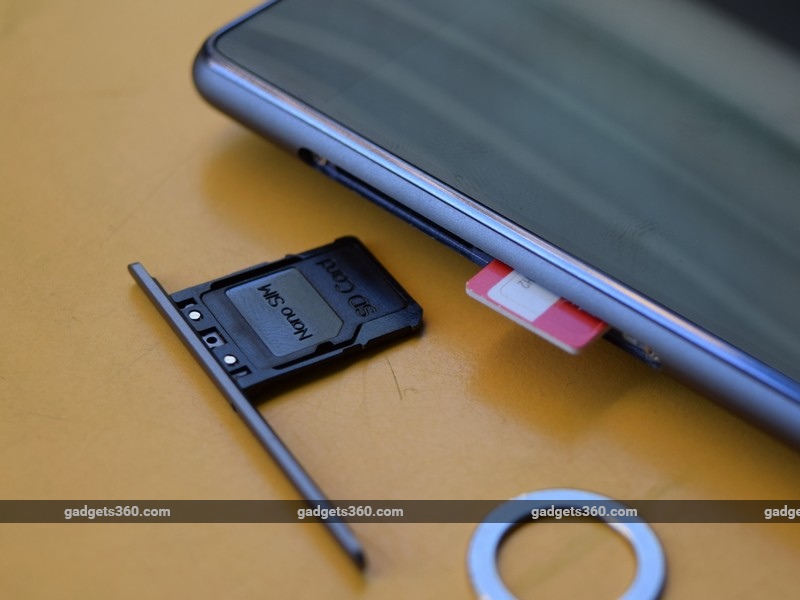 The beauty of Cyanogen is the tonne of customisation that's on offer and the additional features integrated into stock Android apps. Theming is big here and you have options from a theme pack to only customising individual components like the icons, status bar, toggle switches, etc. Truecaller is integrated into the dialler which can be enabled if you choose to; LiveDisplay will automatically adjust the screen's colour temperature depending on the type of ambient light; you can set system profiles; Privacy Guard lets you control which apps have access to your personal data; and there's integrated WhisperPush service for sending and receiving encrypted SMSes.
The Yutopia also debuts Yu's brand new software service called Around Yu, which lets you shop, book a cab and much more, all in one place. Yu has tied up with Zomato, Ixigo and Ola currently and we expect many more to jump onboard soon. The services are actually well integrated and easy to use. This is a good value added feature which will be genuinely useful once more partners are on board.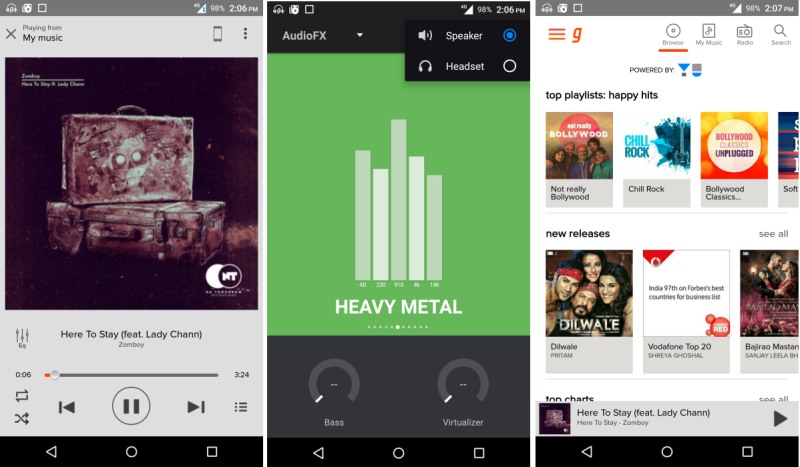 In addition to this, there's a YUniverse app, which is a customised Opera Turbo for the Yutopia, a file manager, and a screencast app. Audio is another area where Cyanogen has done a brilliant job. The AudioFX app lets you toggle between sound profiles for the speaker and headset, individually or create your own custom preset. In addition, you get DTS Sound too but this can simply be toggled on or off. The stock music player has also been integrated with the Gaana music streaming app and the result is surprisingly well done. AudioFX can also be accessed from within the music app, which is great for switching profiles on the fly.
Performance
Once you to get rid of the buggy default theme; the Yutopia performs as it should. App performance is good and so is multitasking. On average, there's always about 2GB of free RAM for apps so that's one thing you'll rarely fall short of. However, it doesn't take long for the 810 SoC's achilles heel to rear its head. The phone warms up pretty easily even with simple tasks and gets really hot around the rear camera area when gaming or shooting videos. Unfortunately, this issue is unavoidable, especially when you have a chip that's prone to heating. Call quality is good though and the 4G support is present on both SIM slots.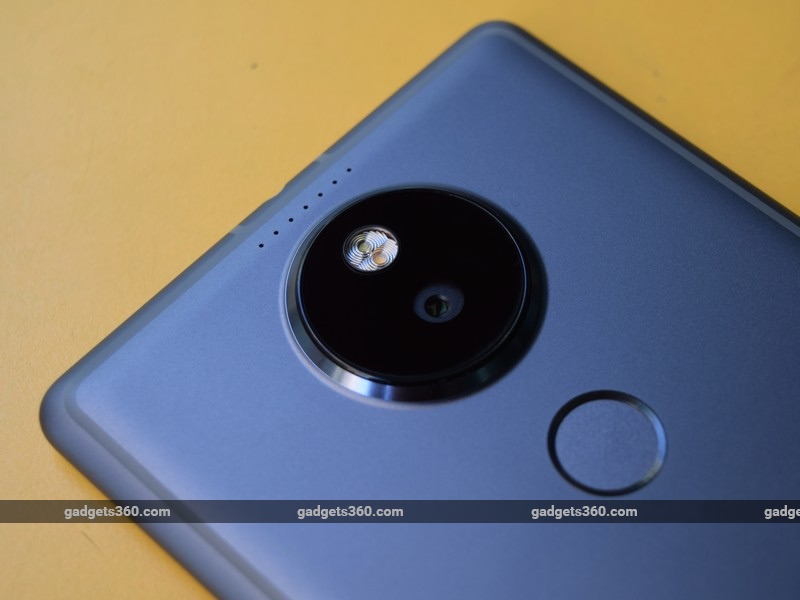 You can store up to five fingerprints and use to instantly unlock the phone, without hitting the power button. It can also be used to take a selfie from within the camera app. The trouble is, the sensor isn't very accurate and often rejects your fingerprint in the first attempt, prompting you to try again. At times, it doesn't register it even when you place your finger perfectly on the dial while at times, it will unlock the phone when used even at an obscure angle.
The phone is also very benchmark-happy, posting impressive numbers across the board. We got a good score of 69036 in AnTuTu, 40fps in the T-Rex test of GFXbench and 10284 in 3DMark Ice Storm Extreme.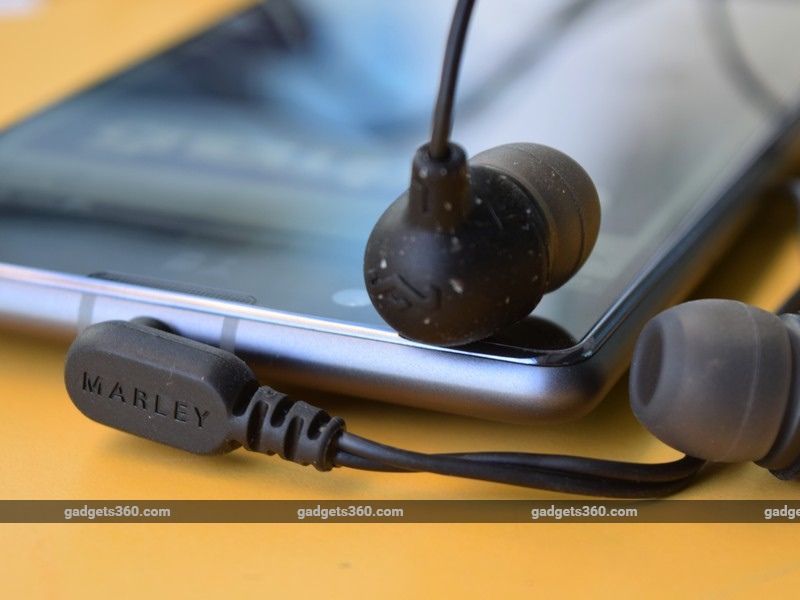 The Little Bird headset from House of Marley is a great addition to the Yutopia's bundle. The in-ear buds provide excellent ambient noise isolation and produce tight bass, with decent reproduction across the rest of the frequency range. The phone also handles UHD video playback well. Unfortunately, the video player app is a little too barebones for our taste and could use an overhaul. The rear speaker is not the most powerful and tends to drown out when used outdoors.
The 21-megapixel main camera manages well detailed close ups and landscapes shots, provided there's ample natural light. You swipe up or down on the screen to cycle between shooting modes while options for flash, front camera, white balance and even more shooting modes are placed in front for easy access.
HDR mode adds a white haze which makes the picture look very unnatural (click for full-sized image)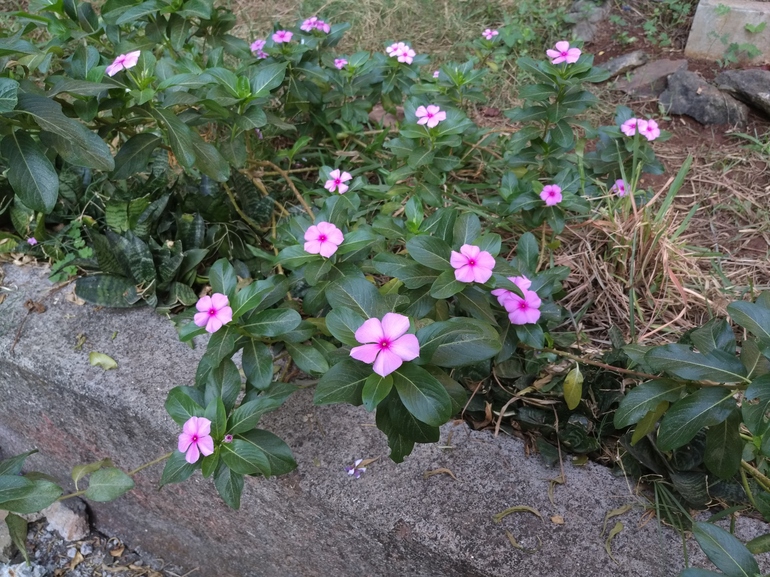 (Click for full-sized image)The focusing system is not the quickest and tends to slow down even further under low-light. Capturing speed isn't the quickest either, although this can be remedied a bit by enabling 'Zero shutter lag', at the cost of some sharpness and detailing. HDR didn't seem to work well at all as the resulting picture looks hazy and very unnatural. There's also no burst mode, pro mode or any option to save as RAW.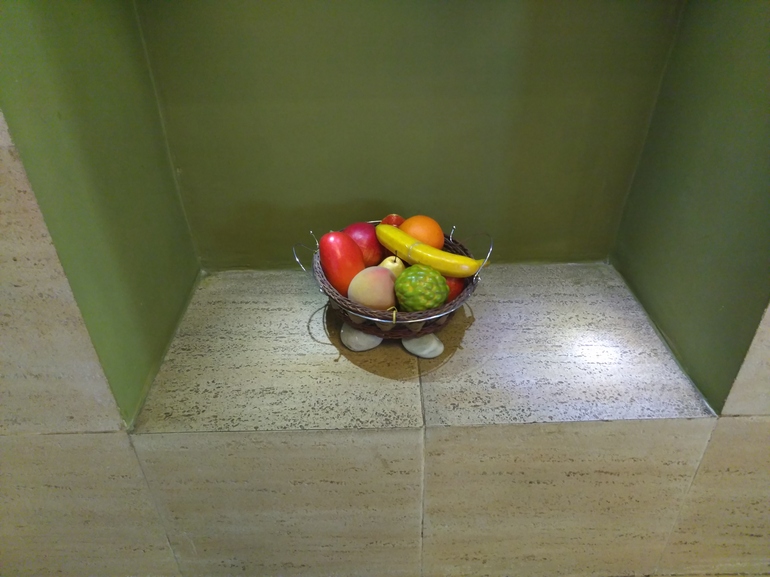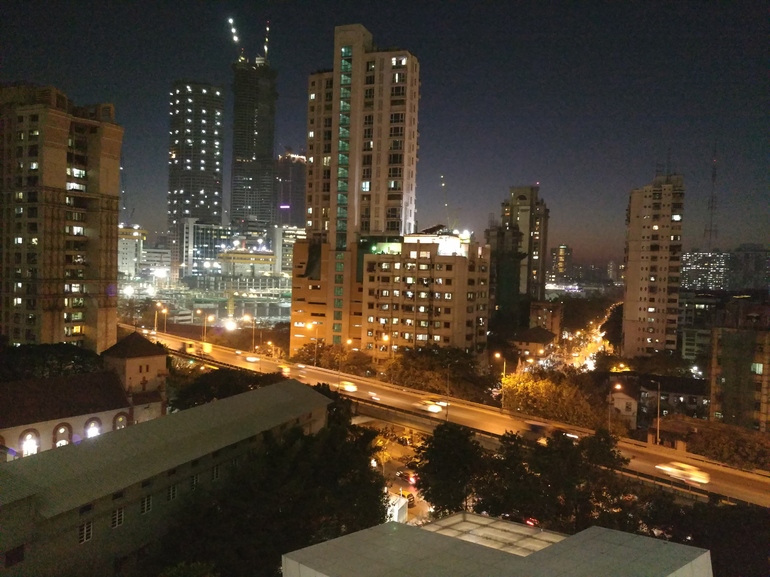 (Click for full-sized images)The Optical Image Stabilisation (OIS) helps getting smooth video but we noticed a hint of frame drops when panning. This issue was present while recording in 4K as well as 60fps mode. In low-light, 1080p mode works best as 4K introduces way to much noise in the video. However, no matter the lighting, the sensor is always hunting for focus, which doesn't look too good in the end result. Surprisingly, the front 8-megapixel camera is actually good, producing fairly detailed selfies, both outdoors and indoors.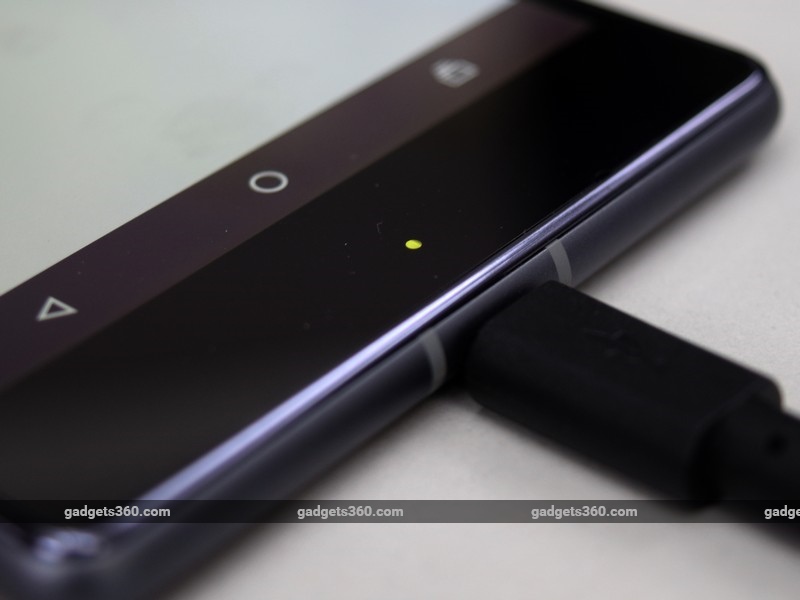 The 3000mAh battery lasted us for 8 hours and 57 minutes in our video loop test, which is not bad but could have been better. During regular usage with a mix of camera, calls, music and gaming, we got an average of about 18-20 hours, before the battery saver kicked in. Thankfully, the phone does support Quick Charge 2.0 and in our tests, we were able to charge it from bone-dry to 35 percent in half an hour.
Verdict
The Yutopia is certainly a good first premium effort from Yu but it's far from the utopian smartphone that the company envisioned. Simply cramming in top-end components to fit a desired budget doesn't necessarily guarantee the best product. The Yutopia does have its share of redeeming qualities like the excellent 2K display, very good build and finish, quick charging, great multimedia and services integration in the OS and quality bundled accessories.
However, there's plenty of scope for improvement for the next version. The current fingerprint sensor is a bit of a hit-or-miss affair, battery life could have been better, overall camera performance feels underwhelming and there's really nothing new to say about the heating issue from the 810 chip. We would also like to see NFC and maybe wireless charging included in the next iteration.
At Rs. 25,000, the OnePlus 2 (Review | Pictures) is still a good option. If a higher resolution screen is what you're after, then the slightly older LG G3 (Review | Pictures) is still a good candidate at around the same price, and it is expected to get the Marshmallow update sometime next month.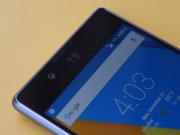 Yu Yutopia in pictures
Missed the news? Here's a list of all phones launched at MWC 2016 on one handy page – or catch our full Mobile World Congress coverage.

Yu Yutopia