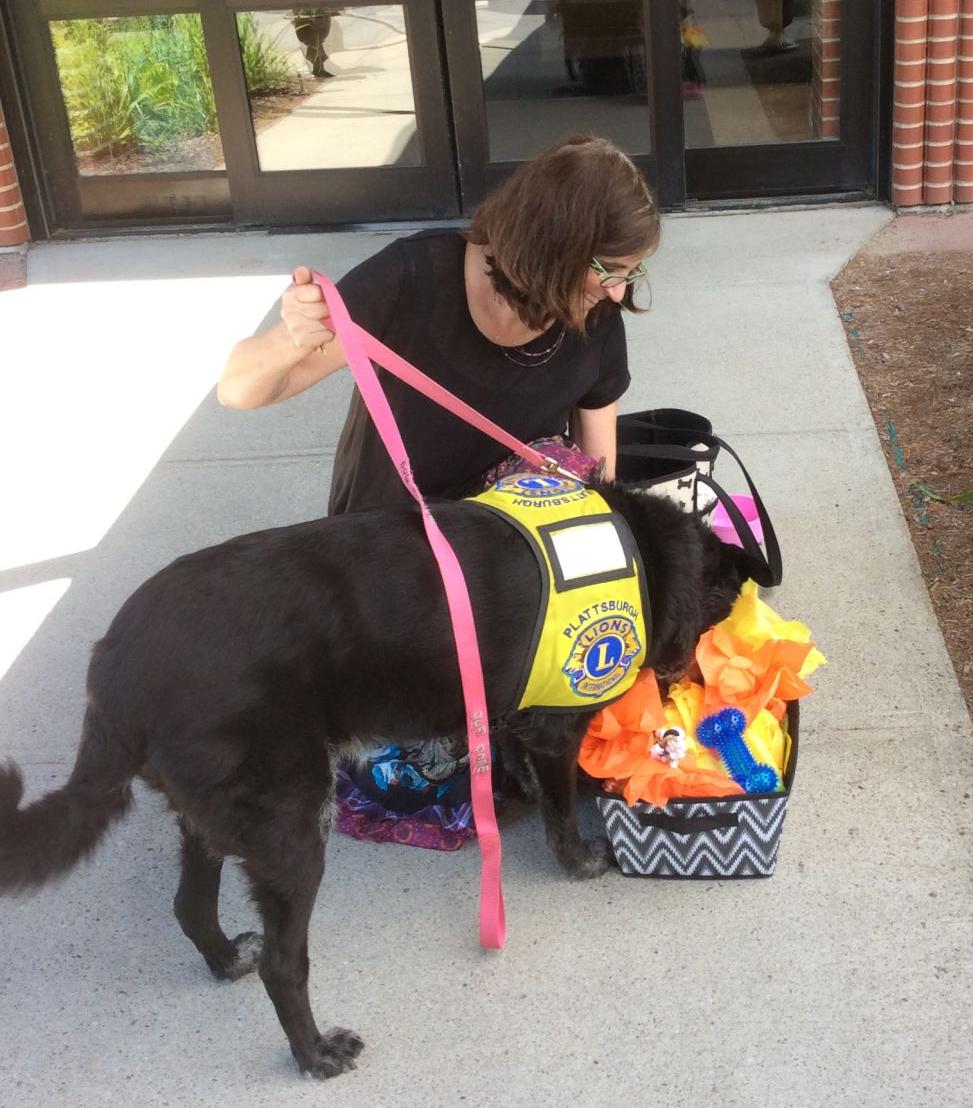 Mom is not her disability — she is Mom.
Sometimes I have to remind myself of that.
Say we are on a walk. I hear Mom say, "Look! There's a bunny on that lawn."
Heck, I'm a blind pup, but with my super nose on the job, I knew the rabbit was there 29 seconds ago — and two others Mom hadn't spotted.
Then, a little farther down the road, she speaks up again.
"Must have been a pretty big animal coming out of the field here."
I already have my nose to the ground where the tall grass has been flattened.
A fox had made itself a trail, my nose tells me. Cool! Too bad I can't tell Mom, because she doesn't have a clue.
Mom has the power to discern what I want her to write in my blog, she jumps up in the night if I seem uncomfortable on my bed beside her bed, but she's got a heck of an olfactory disability.
BURNING COOKIES
It must be tough, in a world full of smells, to be aroma-impaired.
Even before I lost my sight, I delighted in the plethora of fragrances my nose pulled in and analyzed every second of the day.
Mom can smell chocolate chip cookies baking in the oven, but I know they are starting to scorch long before — too late — she runs into the kitchen shouting, "The cookies! The cookies!"
VENGEFUL CAT
And even when Mom can detect an odor, it seems too much of it gets her nose confused.
For example, she frequently shoves her shirt at someone else's nose, asking, "Does this smell like dog?"
She says it like it's a bad thing; but then again, sometimes people don't smell all that good to me.
Then there was the cat we had that, so rudely, would retaliate for the smallest slight by peeing somewhere other than her litter box.
I solemnly swear here that I never prompted that revenge by teasing her or stealing her food.
Anyhow, it was absolutely sad to see Mom sniffing frantically to locate the site of the cat's latest "accident."
"Here it is," she'd cry. Then, "Nope. Is it over here?" Then, after finally pressing her face right on the spot: "Eeew! I found it."
DEAD MOUSE
Once in awhile, Mom's disability becomes my advantage — like when I detect the irresistible scent of dead mouse deep in the grass in the backyard.
I flop down on it, and while she suspects there may be a disgusting scent there, she doesn't know for sure, so I get to roll to my heart's content.
It's only when we're back in the house and she bends down close to unhook my leash that l'odeur de rat at last gets translated by the "challenged" receptors in Mom's nose.
And then she gets out the Clorox Wipes and scrubs away at the fur I just worked so hard to imbue with that delectable mousey smell.
SO BRAVE
It might seem like I feel a bit superior, what with a nose that has roughly 290 million more olfactory receptors than Mom's does.
But I actually admire her for the way she rises above her disability.
I have never once heard her lament her nasal insufficiency. Mom takes me to my gigs at schools and libraries and talks about how I never stopped wagging my tail through all my surgeries and losing my sight and learning not to smack into doors and walls.
On my behalf, she recites my motto: "I'm not my disability; I'm me," and never applies it to herself.
She probably doesn't want me to feel bad, since my physical challenge is so much less severe than hers.
My mom is so brave, living life to the fullest despite all she's missing.
I hate to say it, but I don't think her ears work all that well either.
Pepper is the Press-Republican's ambassador for unwanted animals — she promotes their adoption through the feature Pepper's Pet Picks in the paper. She is also official mascot of the Plattsburgh Lion's Club, helping to promote the club's vision and diabetes education programs. Her other message as she travels around the region is: "When life gets 'ruff,' keep wagging your tail."
To learn more about her Blind Pup Project presentations, email Pepper at [email protected]; call Suzanne Moore, 570-2052; follow Pepper's tweets, @blindpupproject; or search for BlindPupProject on Facebook.
["Source-pressrepublican.c"]