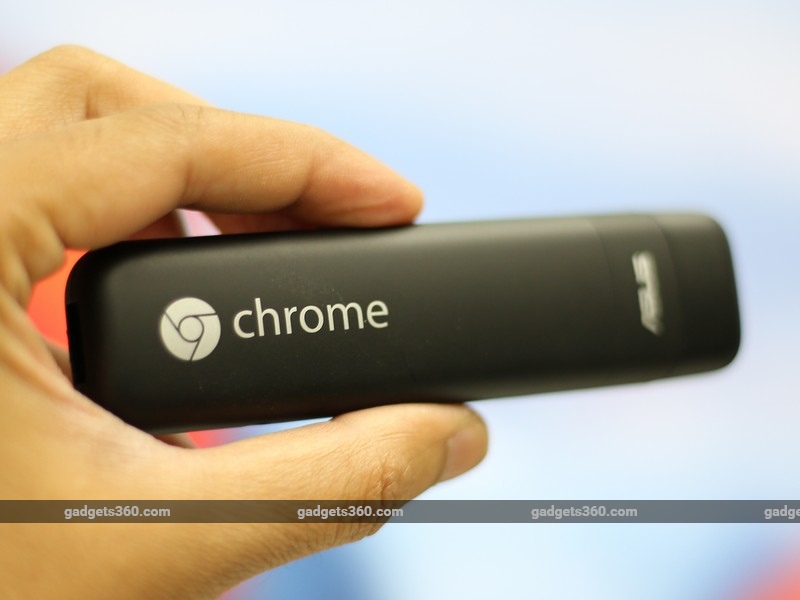 Chrome OS has been with us for about six years now, and has not really caught on outside of a few niches. With Android rapidly evolving, there's been a lot of murmuring around the Web that perhaps Chrome OS will be killed off and its features will be integrated into Android, but this rumour was quashed when Hiroshi Lockheimer, SVP of Chrome OS, stated that the platform will live on. Instead, what we can expect is a much tighter synergy between mobile and desktop platforms, similar to what Apple is doing.
(Also read: Why Google Should Merge Chrome OS and Android)
So far, we've seen Chrome OS on laptops like the Xolo Chromebook and as a mini-PC like the Asus Chromebox CN60. Today, we'll be taking a look at a third type of computing platform which has garnered quite a bit of interest ever since Intel announced the Compute Stick last year. This "PC-on-a-stick" concept was also used by Android TV sticks couple of years ago, which were essentially devices a little larger than thumb drives that ran Android and plugged directly into a TV's HDMI port.
Google announced the Chromebit at the Google for India event last December, and it is similar to Intel's offering in terms of concept. Made by Asus, the device is meant for someone who wants to smarten their TV or have a second PC without the cost, bulkiness or wire mess.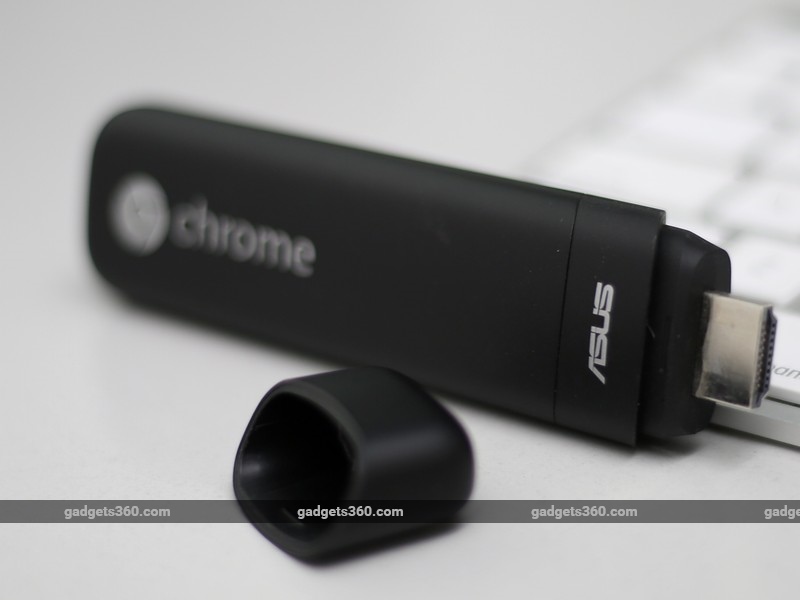 Priced at Rs. 7,999, it competes head-on with Intel's Windows solution and creates a bit of a dilemma for the consumer as to which one to pick. Let's find out.
Look and feel
The design of the Asus Chromebit resembles that of a slightly melted-down chocolate bar. It's fairly light at 75g and the plastic used for the body feels sturdy enough to take a tumble or two. The top cover sits securely over the HDMI plug but we wish it was connected in some way to the main unit as it's easy to lose. There's a DC-in port on the side for power, which is supplied by the bundled 18W adapter.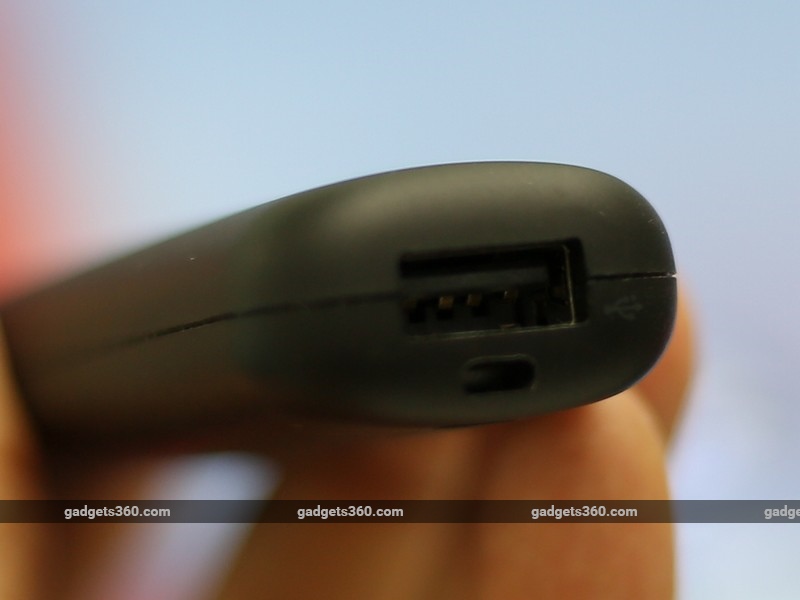 At the opposite end is a USB 2.0 port, which is the only means of physically connecting peripherals to the Chromebit. Beside it, we also have a lanyard eyelet. If you remember, the original design had a swivelling head so you could change the angle of the unit to accommodate other connections behind your TV. That didn't make it to the final production unit, though Asus ships an HDMI coupler (female to female) so you can use a standard HDMI cable in case you can't plug the Chromebit into your TV directly.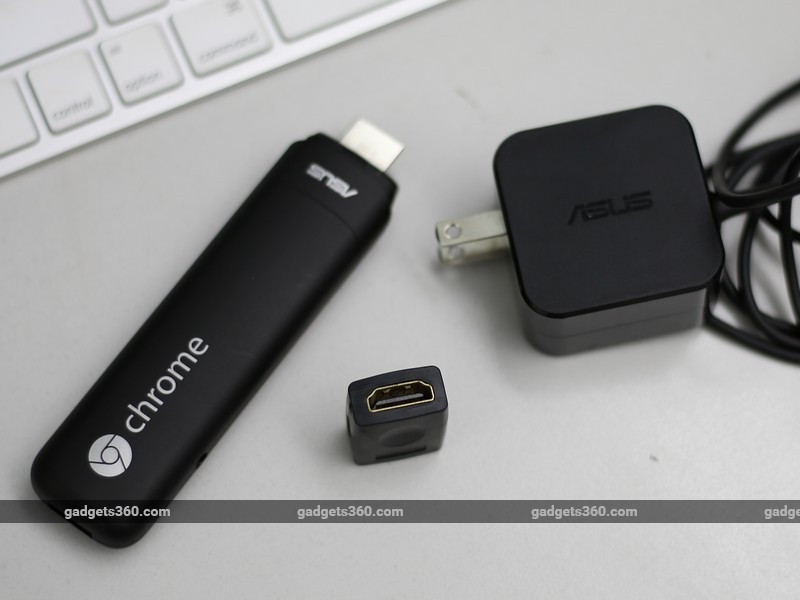 The device is completely sealed and apart from the cutout for the USB port; there aren't any vents or openings for cooling. We do wish there was an option to expand the storage with a microSD card, but there isn't.
Specifications and setup
Keeping in mind that this is the smallest Chrome OS device in the market, Asus has gone with a quad-core SoC from RockChip. The RK3288 SoC packs in four ARM Cortex-A17 CPU cores running at 1.8GHz, and a Mali-T764 GPU for graphics. There's also 2GB of RAM, 16GB of eMMC flash storage, dual-band Wi-Fi b/g/n/ac, and Bluetooth 4.0. It's nice to see Asus throw in the current-gen Wi-Fi standard, which should help if you plan on streaming content to your Chromebit.
There's very little to do in terms of setting it up. Simply plug it into your TV or monitor, either directly or using the coupler, and you're good to go. Since there's no power button or LED indicator on the device, the Chromebit boots up as soon as you plug in the power cord.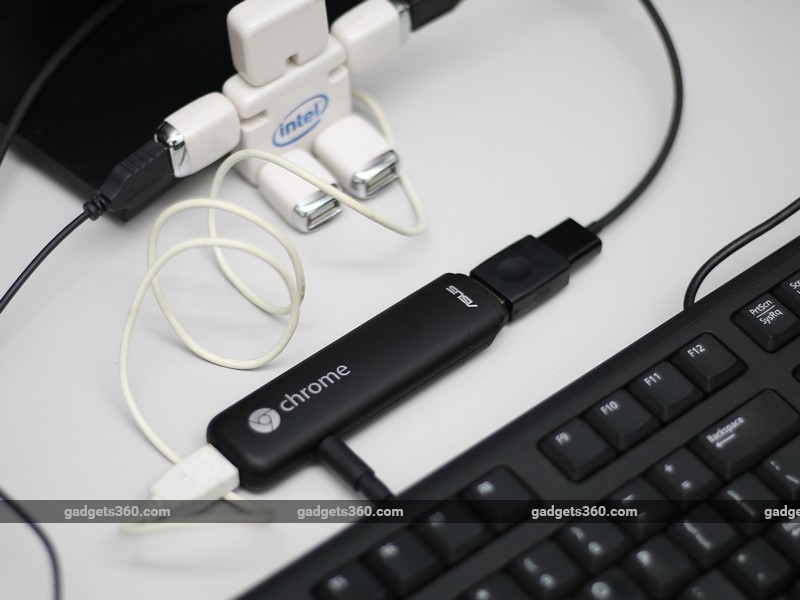 Upon first boot, it will try to find wireless input devices and then move along to setting up the Wi-Fi and your Google account. We recommend using a USB hub with the Chromebit as it just makes life easier when you want to add peripherals like a webcam or a pen drive. The downside to this is your setup will not look as slick as it does in Asus's marketing pictures.
If you haven't used Chrome OS before, it will take a bit of getting used to. The desktop is an empty space with just the wallpaper and a bar at the bottom called the shelf. At first, you only have the a few apps pinned to the left side, an empty space in the middle, and then your profile picture and notification icons all the way to the right. You can reposition the shelf and choose to auo-hide it as well. Apps you download can be pinned to the shelf for quick access.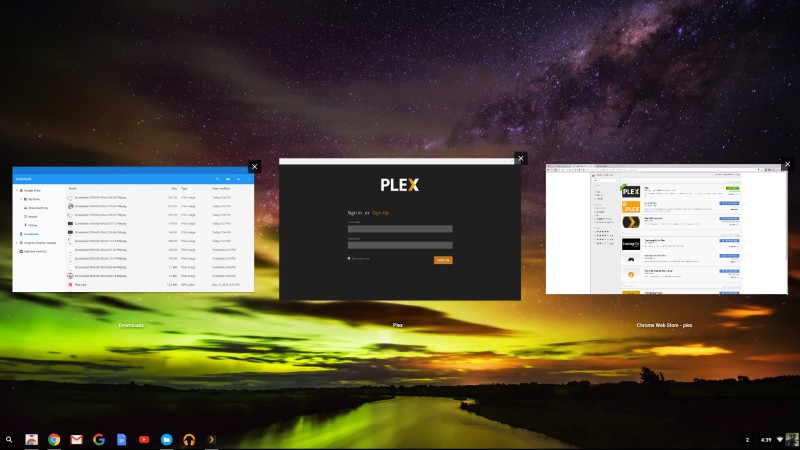 As you would expect, your Google account is the hub of all activity here. It lets you access the whole ecosystem of Chrome OS apps. If you already use Google's products extensively then you'll be right at home as all your browser preferences and extensions will automatically sync from your other devices. You'll also find updates for the OS coming in constantly, and we received one almost daily during the course of our review period.
Google has added some new features since the last time we tested a Chrome OS device. The Files app now lets you link to cloud services including Dropbox and OneDrive, and can also work with file systems though the SFTP and WebDav extensions, allowing you to link to a network drive in your home network.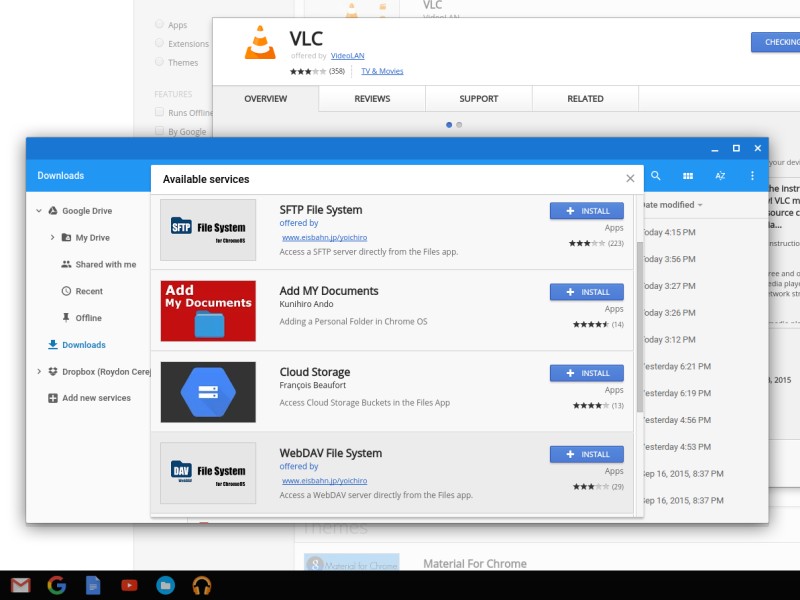 In terms of storage space, you have the option of storing everything in your Google Drive account, but if you're looking for a bit of offline flexibility, you're limited to the 9.8GB of free space on the Chromebit, and USB storage devices. The lack of storage expansion is a bit restrictive but it's a also a clear sign that Google wants you to make the most of its cloud services. You do get 100GB of Drive space for two years when you sign in when you register the device.
Performance
Even with this moderately powerful SoC, Chrome OS is just as snappy as we experienced it on more mainstream hardware. It takes literally just a few seconds to boot to the sign-in page. Powering it off doesn't shut it down entirely as it simply goes into a low-power sleep state so you can pick up right where you left off when you wake it up. There are some familiar Windows functions such as snapping apps to two halves of the screen to use them side by side.
The majority of apps you'll use will run as a tab in Chrome, but there are also games and native apps such as VLC, which is an Android port. You'll need an Internet connection to use most of them, though you can filter search results in the Chrome Web Store to show only offline-capable apps.
Everything runs smoothly, provided you're running one task at a time. Any attempts to multi-task and the Chromebit starts to get bogged down. We noticed this if we had multiple tabs open and tried playing a movie or copying a file from a pen drive to the internal storage, which by the way, takes a painfully long time. Everything feels jerky and sluggish when there are many things running, but the Chromebit regains its composure when you close apps. We even had it crash and reboot on us at one point, when it couldn't handle music playback, Web browsing and file copying at the same time.
We ran a few browser-based benchmarks in which the Chromebit fared decently well. We got score of 809ms from SunSpider, while Octane retuned 7,174 point and Browsermark gave us 2,330 points. This is right up there along with the Qualcomm Snapdragon 808 in terms of browser tests.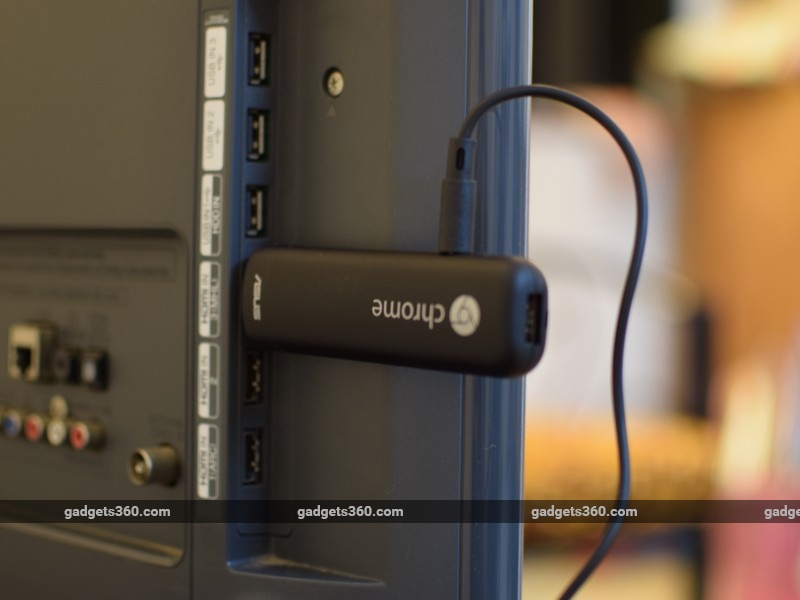 The output resolution maxes out at 1080p so if you use it on a higher resolution TV or monitor, you're at the mercy of the display device to do a good job of scaling. The file system in Chrome OS handles most multimedia formats including MKV videos and FLAC audio files. There's a lot of stutter with 4K video playback with the default player, however, the SoC has no trouble rendering 4K video streams from YouTube. One thing to note is that when copying files to the Chromebit, you don't get a warning if something of the same name already exists. Instead, the OS simply creates a copy of the file.
If you were wondering if you can use the Chromebit as a Chromecast, then you'll be disappointed to know that you can't since it isn't set up for that. However, you can sling media across from your phone to the Chromebit using DLNA apps from the Chrome Web Store. It's also important that the Chromebit be placed in a well-ventilated area as it can get very warm even in an air-conditioned room.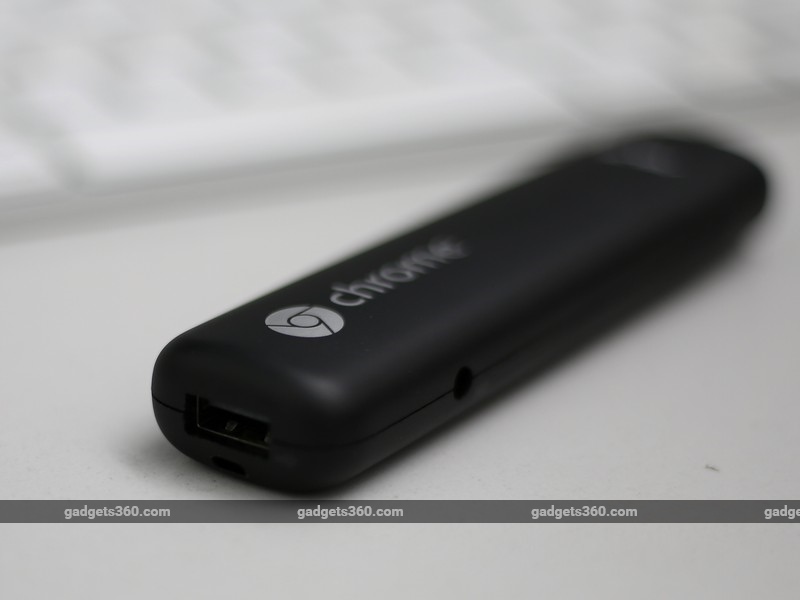 Verdict
The Asus Chromebit is currently the cheapest and simplest way to experience Chrome OS. Google's cloud-based desktop OS makes for an excellent low-cost solution for schools, kiosks or simply as a secondary PC at home, the caveat being that you'll need to be connected to the Internet for most tasks. At Rs. 7,999, it feels a tad expensive given its limited functionality and the fact that you can get a Chromebook for a little more, which would have its own display, keyboard and battery, and also bettter performance.
While the Asus Chromebit can handle a bit of multimedia playback, it isn't the most ideal tool for the job. If all you wish to do is stream media or watch Netflix on your TV then getting a more specialised tool like a Chromecast or even a Teewe makes more sense and would cost a lot less.
Choosing between this and Intel's Compute Stick such as the iBall Splendo really depends on how you plan to use the device. If you spend most of your time on Web-based activities, the Chromebit is the obvious choice. The current crop of Compute Sticks aren't up to the mark for handling Windows, however that might soon change with the second generation coming out later this year, which will be powered by the more efficient Intel Core M chips.
In the end, the Chromebit faces the same challenges as the Compute Stick, which are limited multi-tasking capabilities and the fact that they won't be the cleanest of setups if you wish to use them to their full potential.
Price (MRP): Rs. 7,999
Pros
Compact and well-built
Silent operation
Fast boot times
Cons
Weak at multitasking
Limited connectivity and offline usability
Near-constant Internet needed
Ratings (Out of 5)
Design: 4
Performance: 3.5
Value for Money: 3
Overall: 3.5
["Source-Gadgets"]