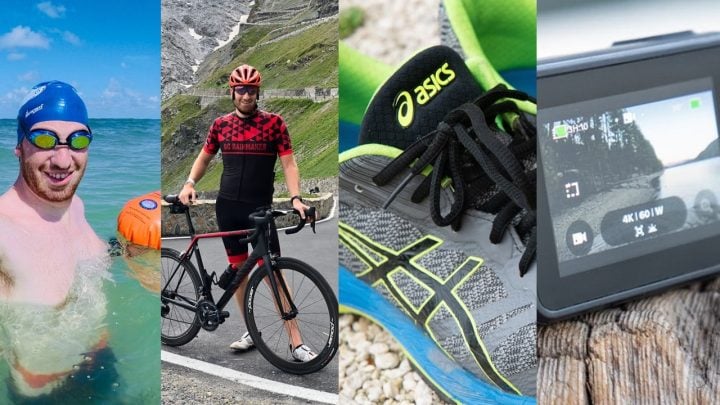 The 2018 Swim/Bike/Run Gear I Use List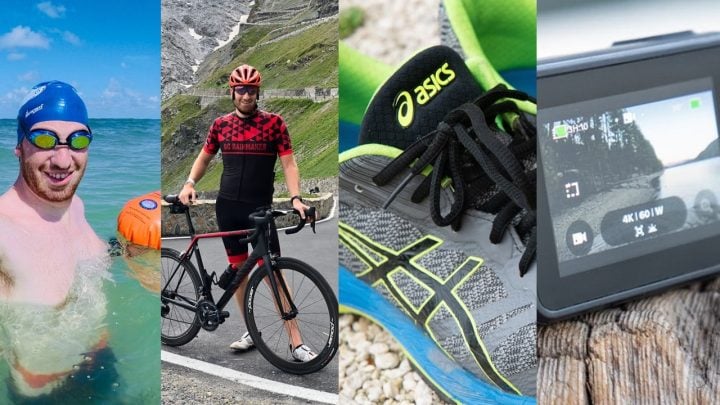 It's that time of year again – the "Swim/Bike/Run Gear I use List!".  Well, ok, it was that time of year like 3 years ago.  Thankfully as part of The Girl's new duties, she prodded me enough to get my list done, and tomorrow you'll see her list. Yup, a daily-double. Actually, that's just a back to back header. Who knows.
It's funny, in many ways the core of my training stuff hasn't changed a ton. The tech has, and even the bike, but there's also a lot that hasn't. I still use the same winter cycling/running gear, and the same swimsuits.  And lots of other things like that.
While there's a lot of gear here (because I'm covering three sports), I think you'll find I'm actually pretty simple when it comes to most of my gear (tech goodies aside).
I've divided it up into the three main sports (swim/bike/run), plus a random section at the end.  Obviously, I don't use all this gear at the same time.  For example, cold-weather swim booties are reserved for those hideous cold weather triathlons that I've succeeded in avoiding in the past half-decade. This year I only did warm-weather triathlons (in Australia).
As anyone will tell you – there's a lot of gear to be had for triathlon, and there's unfortunately simply no getting around that.  I'm typically not one to buy the most expensive piece of fashionable stuff – and brands don't tend to mean a lot to me.  I just buy what works for me.  None of these brands sponsor me or anything here.  It's just what I've bought myself and use day to day.
Note: This is NOT my usual Gadget Recommendations post, that's different. This is simply the gear I use.
SWIMMING: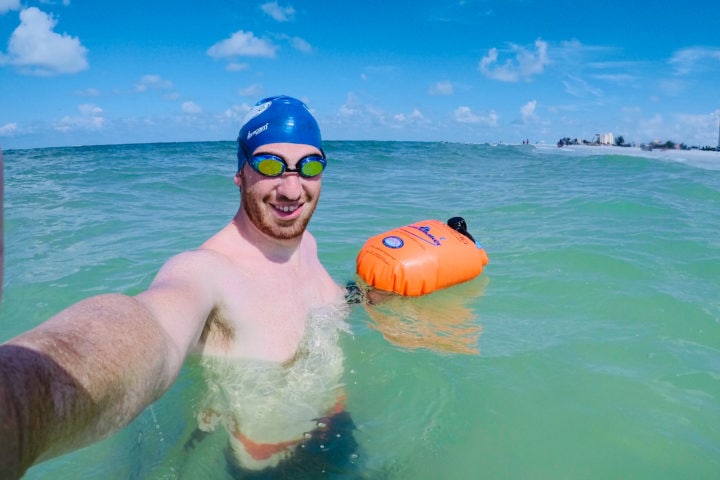 Perhaps the easiest category, simply due to the least amount of stuff on one's body.  At least most of the time.  I start off with the three basics, and then the drill stuff – and then the open water swimming pieces.
Swimsuit: Nike Victory Jammer: I know, I do dabble in the shorter square leg ones as well, but this is mostly my go-to suit – which is basically the same as it's been for years.
Goggles: Speedo Vanquisher:  For the most part, it's whatever I haven't lost recently.  At present, this is what I bought the last time I bought three pairs, down to one left. Goggles are like socks in the dryer around here.
Swim Cap: Random Race Caps – Essentially whatever I pull from the massive Ziploc bag of past race caps.
Swim Watch: Garmin Fenix 5 Plus: I still have a soft spot for the thin Garmin Swim back in the day that didn't need the battery charged, but these days I just want everything in one place – and my Fenix 5 Plus has become that place. I've had some accuracy issues with this earlier in the summer, but hoping to see if those are addressed this week swimming in warmer weather.
Openwater – Wetsuit: Currently Broke-Ass: Why is this broke? Well, because I severely tore my previous Blueseventy Helix and I haven't gotten around to getting a replacement one yet. I managed to get away with doing all warm-water swims this year between being in Australia the first portion and now Europe for the summer.
Openwater – Visibility Buoy: Safer Swimmer – When swimming in openwater by myself, I use this to be seen by boats and the like, for example, during these swims.  I take this all around the world with me on virtually all my openwater swims.
Openwater – Booties: Blueseventy Swim Socks – For 60°F and below water, I use these booties to keep my toes warm.
Openwater – Swim Cap: Bluesventy Skull cap – Again, for super-cold water (looking at you, Boise 70.3), I use this swim cap – but I cut off the annoying chin strap (most people do).
Openwater – Anti-chaff: BodyGlide – To prevent any wrong rubbing of the wetsuit near my neck.  Works well, every triathlete should have it in their swim bag.
Invariably, a strictly pool swimmer will say that's a lot of gear – but if you divide it up (normal vs openwater), it's really not that much stuff…especially compared to cycling.
["source=TimeOFIndia"]
.