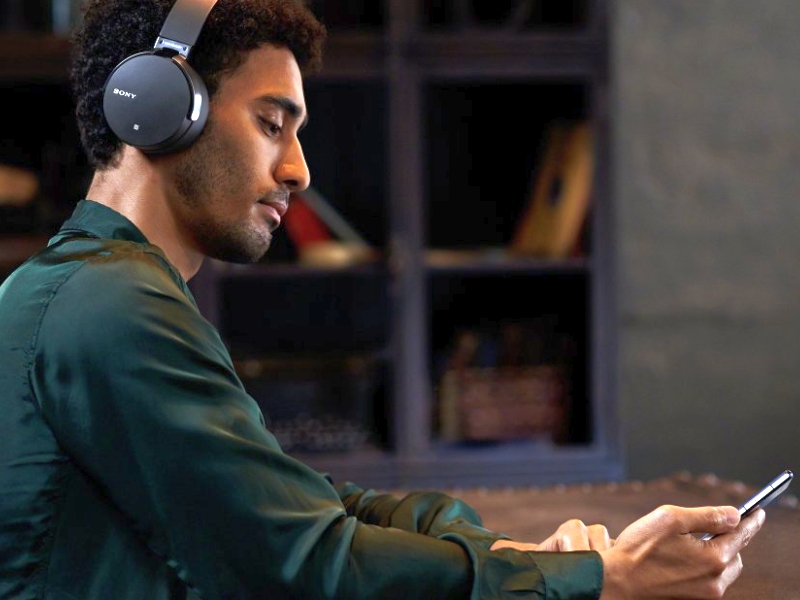 If you're an audiophile who wants the purest and clearest reproduction of the source being played, then it's likely that you're not interested in Sony's XB (extra bass) headphones. We tried out the Sony MDR XB950BT – the top of the XB line, which also supports Bluetooth playback. That's a combination which has probably sent purists running for the hills, but the results are surprisingly decent.
Available only in bright red, and at Rs. 12,990, these headphones are clearly not for everybody, but all things considered, they are actually pretty reasonably priced. If you're not interested in bass-focused headphones, then the XB950BT doesn't really offer anything that will change your mind, but if you've heard and liked any of the headphones in the XB family before, then you'll be pleased to know that this is one of the better offerings from Sony within this line.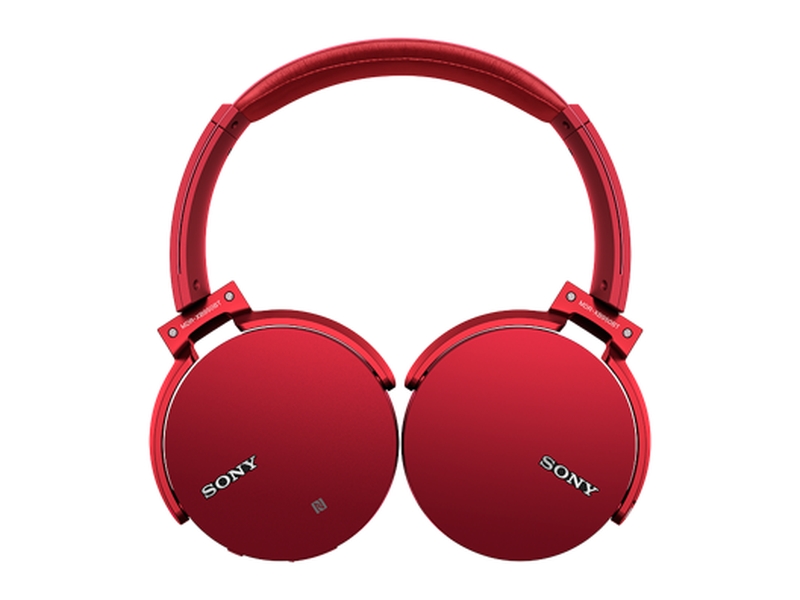 Design
The Sony MDR XB950BT looks eye-catching – some would call it tacky, with its bright red metallic paint and oversized, angular and bulky shape. It's clearly a case of Sony trying to stick to its classic design identity, while also being "contemporary" and "cool", and frankly, the result is something that doen't really work for us; it's a subjective choice though, so perhaps you'll love how the headphones look. The black version of this headphone looks much nicer to us, but unfortunately, has not been released in India.
The body of the headphones uses a mixture of metal and plastic – the headband itself is made of metal, and is durable and springy, so you can wear it quite comfortably. The rest of the body is made of plastic, which sounds reasonable giving the pricing of the headphones. While the overall look is very typical of Sony's MDR family of headphones, the ear pads on the MDR XB950BT are different, more recessed and more comfortable than other MDR headphones.
The cups have a limited amount of mobility which allows you to stow them flat, but they don't fold in the way the previous generation headphones all did. It's not a major loss, but can be a little awkward if you're already used to an XB headset.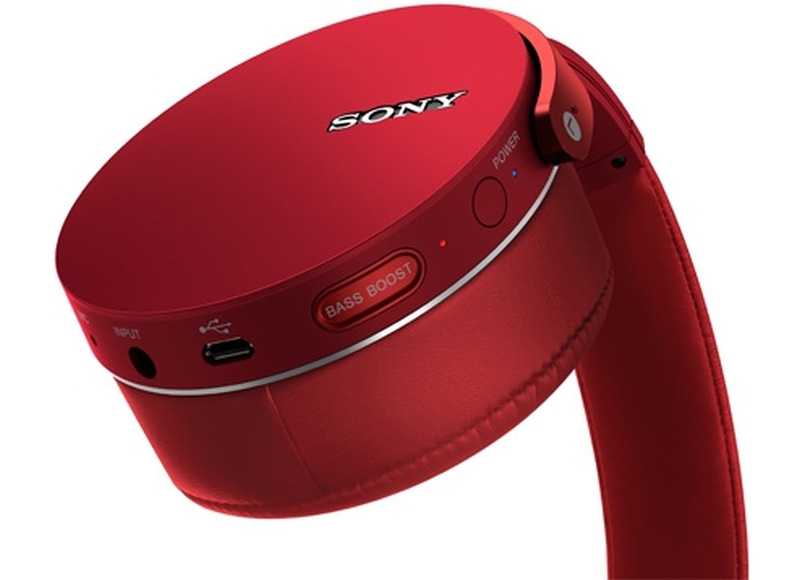 Buttons and ports are lined up along the edge of the cups, and are easy to find and use. On the right ear, you have a volume rocker, and a toggle switch to control your playback and answer calls. The left cup has an inline omnidirectional mic, a 3.5mm input, USB port, and two recessed buttons – a long one for the bass boost (which works only in active mode – more on that in a bit) and the power button.
Performance
Using the headset is pretty simple – in passive mode, you can simply use the 3.5mm cable to connect it to your phone or PC, which is simple enough. Otherwise, you can use it in active mode, which also allows you to use the bass boost button.
Hold the power button down to switch the headset on, or if you have an NFC device, hold that against the right cup. Keep the power button pressed if you need to pair another device, and later the button down to power the headset off.
In terms of specifications the headphones check various boxes: frequency response from 3-28,000Hz, impedance 40ohm at 1Khz, and sensitivity of 106 dB/mW, with a 40mm dynamic dome type driver. Couple that with battery life of around 15 hours, and aptX and NFC for Bluetooth, and you've got a pretty compelling package; assuming of course, that the bright red design appeals to you. The only thing missing from the checklist really is active noise cancellation, but the cup fits tightly around your ears and does a pretty good job of isolating you as long as something is playing, even at fairly low levels.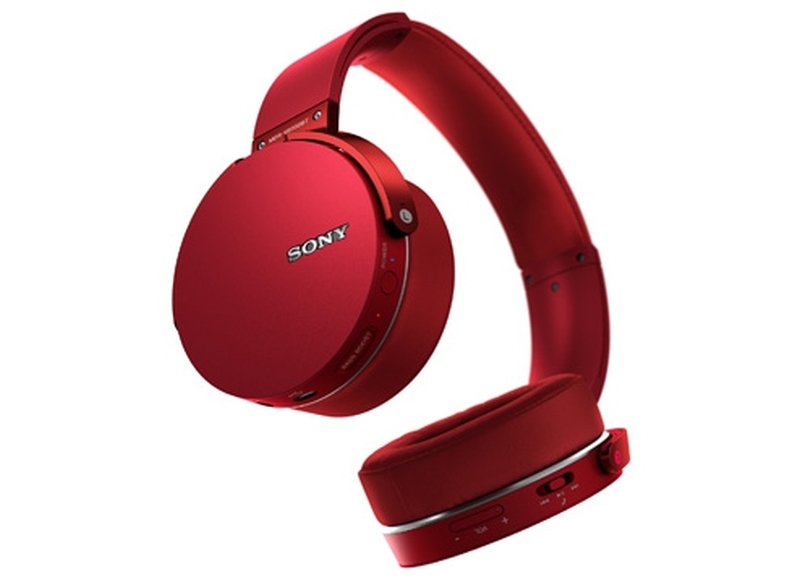 As you'd expect from this headset, given its size and its price, the playback can get really loud. There's very little audio leaking from the headset though; we were able to listen to music with the levels turned fairly high up, and not annoy the people sitting next to us as long as we kept wearing the headphones.
The headset definitely emphasises bass, but the rest of the spectrum isn't thrown out of balance, unless you've hit the bass boost button while listening wirelessly – in which case you've actively chosen that particular sound. The earlier generation XB800 wired headset had a bigger bass signature, but it tended to overpower the rest of the spectrum, so having the ability to decide how much bass you want is a nice touch here. The two sound fairly similar, once bass boost is on.
The XB line has wildly varied performance across devices, and this is one is pretty good, but the sound stage is not very wide. Once again, this isn't a purists headphone, and listening to acoustic guitar with the bass boost on is a disaster. Modern pop music, or hip-hop songs on the other hand sounded clear and punchy, which is exactly what some people are looking for. The sound does lack some clarity in the higher ranges, but the headphone does seem to get better with burn-in over time. The bass boost on the other hand feels a little like overkill.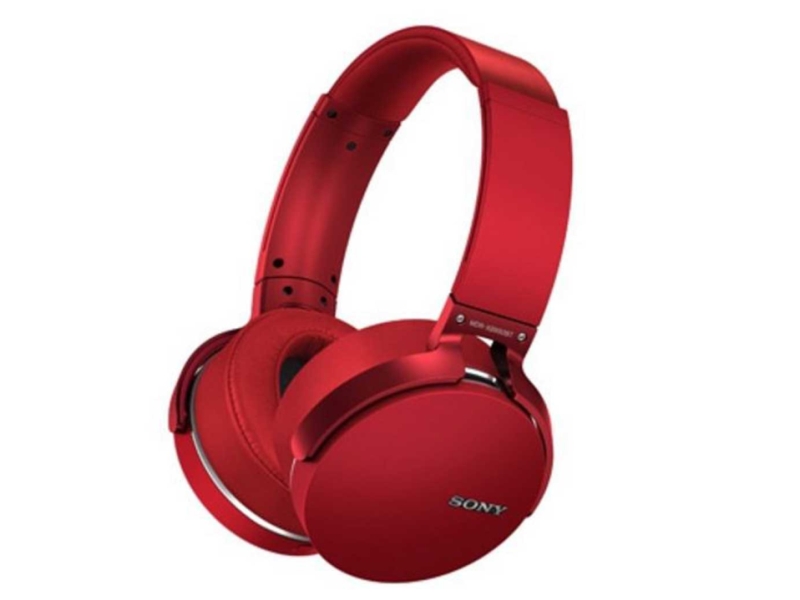 Meanwhile, the headset is also pretty decent for calls – the mic doesn't seem to have too many problems picking up sounds, although this can be a little tricky if you're outdoors as the calls were a little noisy according to the people we were speaking to. Indoors, though, it worked just fine.
Verdict
The Sony MDR XB950BT is one of the better headsets in the XB family – it is clearer than many of its siblings, but it can still turn up the bass with the press of a button if that's what you want. At Rs. 12,990, it's an expensive set if you're not an audiophile; purists are used to paying much more for their gear, but let's be honest – this set is not for purists.
That being said, the comfort, durability, and battery life of this set are excellent, and if you are looking for bass-led sound, then you can certainly do a lot worse than this set.
Price: Rs. 12,990
Pros
Bass heavy, but not muddy
Excellent battery life
Reasonably durable build
Cons
Bass boost drowns out other frequencies
The headphones look cheap and plasticky
Ratings (Out of 5)
Design: 3
Performance: 3.5
Value For Money: 3.5
Overall: 3.5
Download the Gadgets 360 app for Android and iOS to stay up to date with the latest tech news, product reviews, and exclusive deals on the popular mobiles.