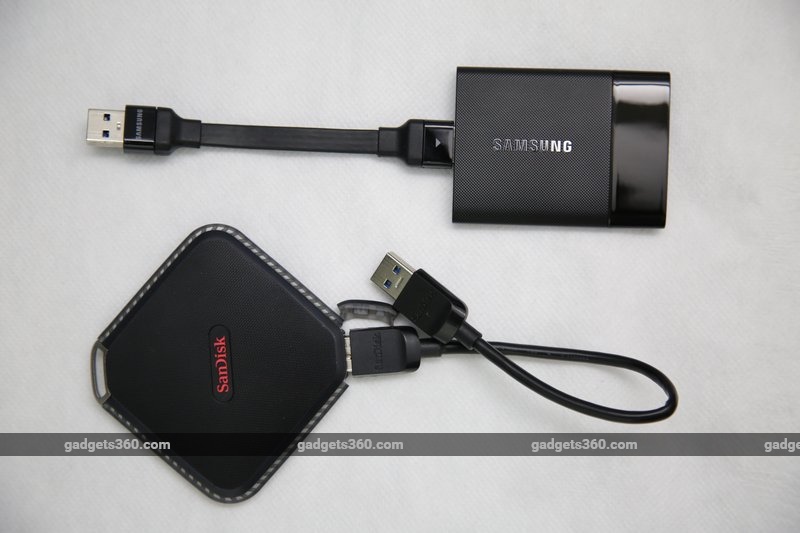 Solid-state storage, once restricted to the most expensive desktops and laptops, has now become affordable enough to be considered mainstream. With improvements in density and manufacturing capabilities, more data can be stored on each individual chip, bringing the cost per GB down and allowing solid-state drives to get physically smaller without compromising on capacity.
SSDs used to be thought of only as hard drive replacements, but as we've seen in our review of the Samsung SSD 950 PRO and examination of the M.2 form factor, the underlying technology is flexible enough to do much more. NAND flash has matured to the point where size, connectivity and cost are not limiting factors anymore. In particular, 3D stacking, which Samsung advertises prominently as V-NAND, allows for unprecedented storage density in each physical chip. Today, SSDs as large as 1TB or 2TB can fit into packages barely larger than today's biggest USB pen drives.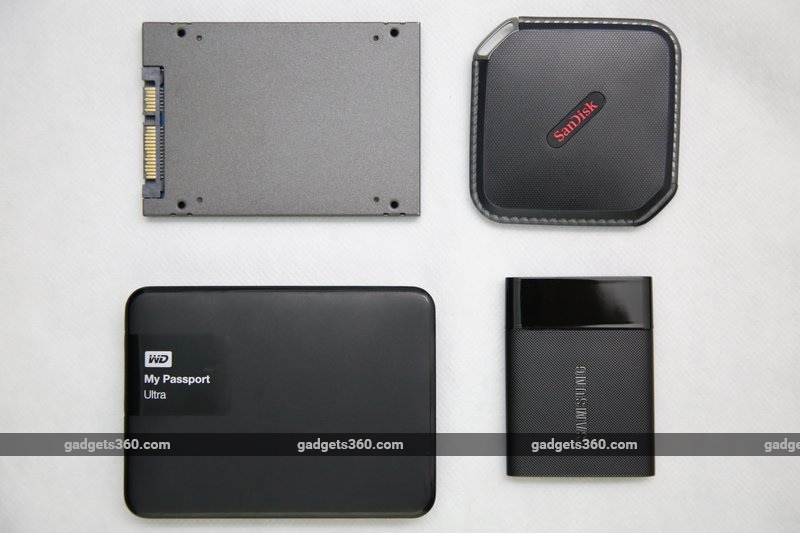 No longer forced to be the same size and shape as old-school spinning hard drives, SSDs have really broken out. Today, we're examining the SanDisk Extreme 500 Portable SSD and the Samsung Portable SSD T1, both of which, as their names suggest, are designed to be carried around but still offer all the speed, capacity and reliability of standard internal drives. Both take advantage of the high-density flash and high-speed USB 3.0 connectivity that now allow for SSDs to be packaged as bite-sized, pocket-friendly, super-convenient external devices.
So what makes these two products external SSDs and not just oversized pen drives? SSDs use a different grade of NAND flash and much more competent controllers. They use different protocols, which means your operating system and hardware can communicate with them faster and more reliably even though they use the same physical connection. They're intended for far more regular use and longer life.
If all you want to do is occasionally transport files from one place to another, chances are a standard USB pen drive will serve the purpose just fine. If, on the other hand, you value speed, long-term reliability and capacity, you have two interesting new options to consider.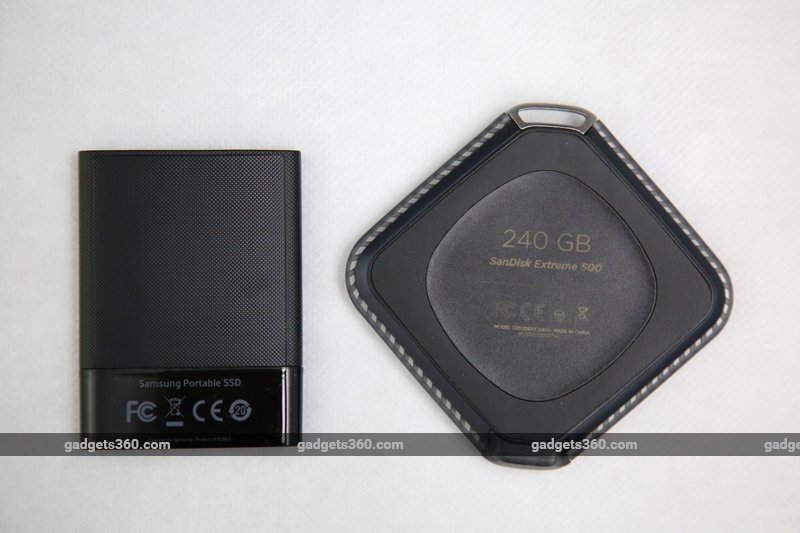 Samsung Portable SSD T1
Samsung's offering looks somewhat like the small MP3 players that used to be popular years ago. It's rectangular, but the top and bottom are very slightly convex, and curve gently around the sides. The body is asymmetrical, with a shiny Samsung logo in the middle of the larger textured segment, and a glossy black "band" at the far end. The Micro-USB 3.0 port is in the centre of one side, with a tiny status LED next to it. The SSD T1 is almost unimaginably light, at 32g. Seeing it for the first time, it comes across as a premium, high-end accessory.
Samsung pairs the drive with a flat, stiff USB 3.0 cable that's only 12cm long – and half of that is the length of the connectors on both ends. This makes placement a little difficult – it's fine for a laptop on a table with a bit of space around it, but it will dangle awkwardly from a desktop tower's USB ports, especially vertical ones. The drive is light enough that it won't put any stress on the cable or port, but it isn't ideal. You can of course use any other USB 3.0 cable (or even a common USB 2.0 one in a pinch, though with that kind of speed drop, you lose the point of an SSD).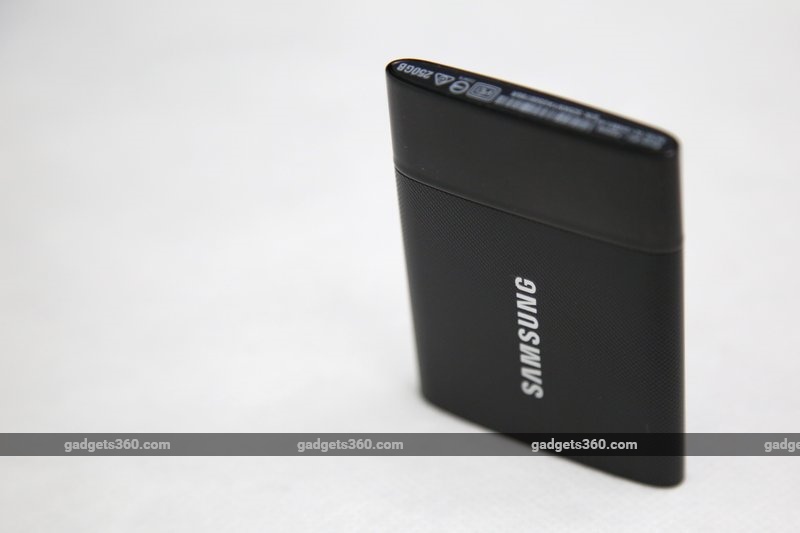 Setup and use are a breeze – there really isn't anything to do other than plug the drive in and follow a few on-screen instructions. You can turn on 256-bit AES encryption if you'd like, and give it a name. You'll need a setup utility from Samsung's website to change your password or turn encryption on or off at any later point.
SanDisk Extreme 500 Portable SSD
SanDisk has taken a slightly different approach with the design of its Extreme 500 Portable SSD. It's a bit bigger than the Samsung T1 overall, and its square shape makes it less easy to slip into a pocket. That said, it does feel like it could withstand more abuse. The bottom has a rubber pad for grip, and there's also a rubbery "bumper" running around the edges. A metal loop in one corner can be used with a clip or strap. The Micro-USB 3.0 port is in the other corner and is protected by a flap, which is a nice touch.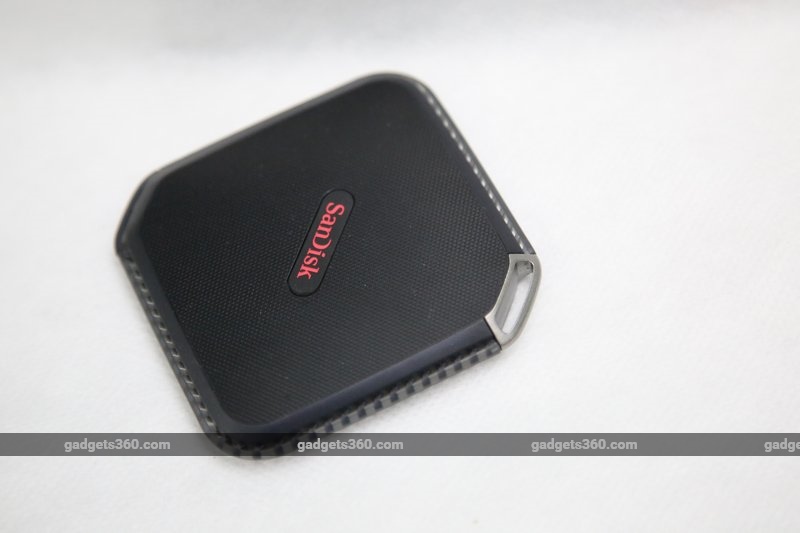 Sandisk ships a regular USB 3.0 cable with the Extreme 500, which is easier to use but also makes this device even less like a pen drive that you can just whip out. It looks and feels like a really small, light portable hard drive.
As expected, the Extreme 500 works just fine when plugged into a USB 3.0 port. You have the option to enable 128-bit AES encryption, and all documentation comes in digital form on the drive itself.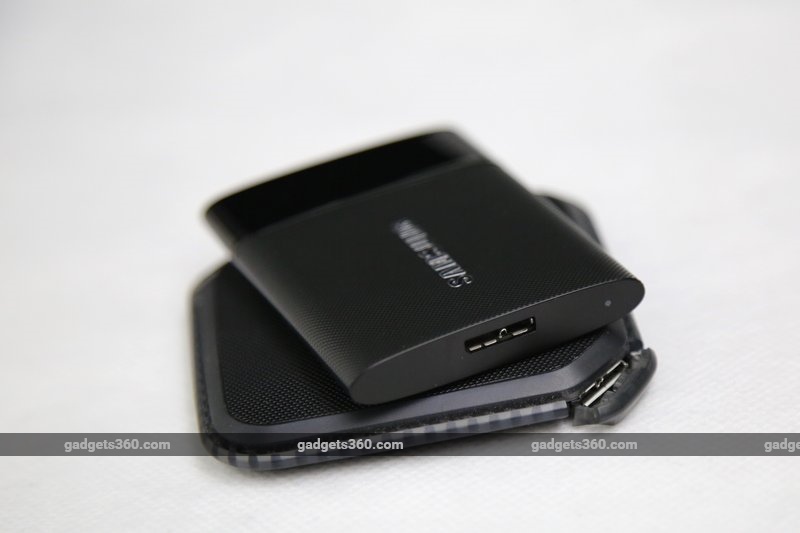 Performance
We tested both, the Samsung T1 and the SanDisk Extreme 500 on the same test bench, which consisted of the following components:
Formatted capacity for the 250GB Samsung T1 was reported as 232.88GB, whereas the 240GB SanDisk Extreme 500 actually has 223.57GB of usable space. We first measured performance using SiSoft SANDRA's File System Bandwidth test. The Samsung T1 showed consistently higher scores, with 440MBps sequential reads and 292.57MBps sequential writes, compared to the SanDisk Extreme 500's scores of 387.35MBps and 192.65 respectively. The random read and write test also favoured Samsung, with the T1 racking up 437.67MBps and 285.79MBps respectively whereas the Extreme 500 managed 323.65MBps and 178.2MBps respectively.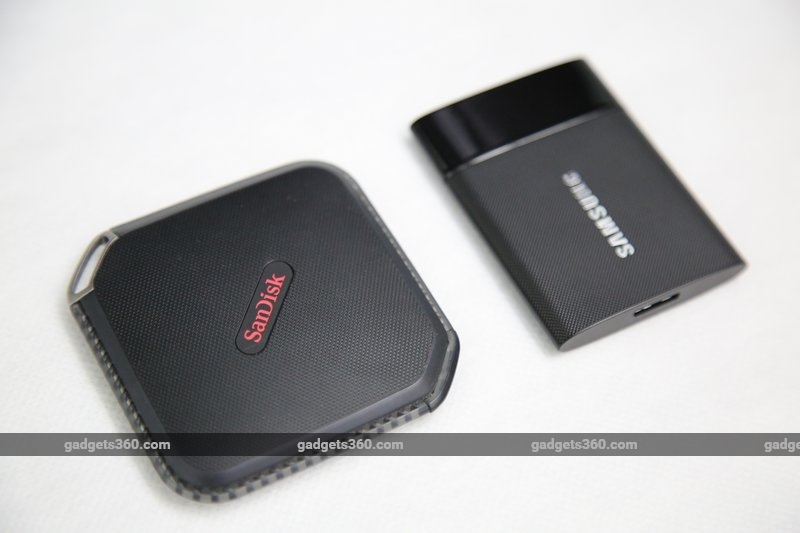 We also ran the two drives through CrystalDiskMark 5.0.3. This benchmark exposes more about how SSDs perform when stressed with multiple simultaneous read and write requests on modern systems. Both products are of course a lot faster than portable hard drives. Basic sequential and random read and write tests backed up SANDRA's findings consistently, but things got interesting when running the same tests with 32 simultaneous requests instead of one. The Samsung T1's sequential speeds increased slightly, but random speeds more than quadrupled. Random speeds are always lower than sequential, but these results show that the gulf can be reduced. On the other hand, the SanDisk Extreme 500 did not hold up well, with sequential speeds actually dropping and random speeds rising by negligible amounts.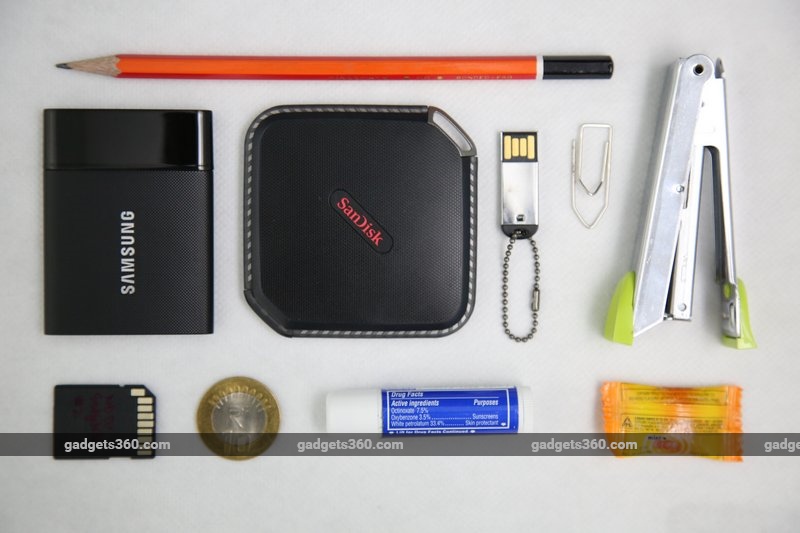 Verdict
The Samsung T1 clearly demonstrated superior performance in terms of data transfer speeds. It's also a little less expensive than SanDisk's offering, but has a less rugged body. Samsung's advantages might stem from its long history of putting out good desktop SSDs, and the fact that it can build and design all its flash memory chips and controllers in-house. SanDisk's Extreme 500 is geared towards those who need to store or transport photo and video files when outdoors. Real-world situations rarely mirror benchmark test conditions so users might not really see much of a difference between the two.
We can expect SSD prices to keep falling, which means higher capacities becoming even more affordable, edging out traditional hard drives. USB 3.1 Gen 2 offers up to 10Gbps of bandwidth and we're already seeing news of similar SSDs with USB Type-C connectors to take advantage of it. Portable storage has gained a new dimension, and those who regularly transport large files from place to place should be very happy.
SanDisk Extreme 500 Portable SSD
Price: 240GB: Rs. 12,490; 480GB: Rs. 22,990
Pros
Cons
A bit bulky
Inconsistent performance
Ratings (Out of 5)
Performance: 3.5
Value for Money: 3
Overall: 3
Samsung Portable SSD T1
Price: 250GB: Rs. 12,000; 500GB: Rs. 18,000; 1TB: Rs. 35,000
Pros
Great performance
Convenient to carry
Cons
Ratings (Out of 5)
Performance: 4.5
Value for Money: 4
Overall: 4
Missed the news? Here's a list of all phones launched at MWC 2016 on one handy page – or catch our full Mobile World Congress coverage.