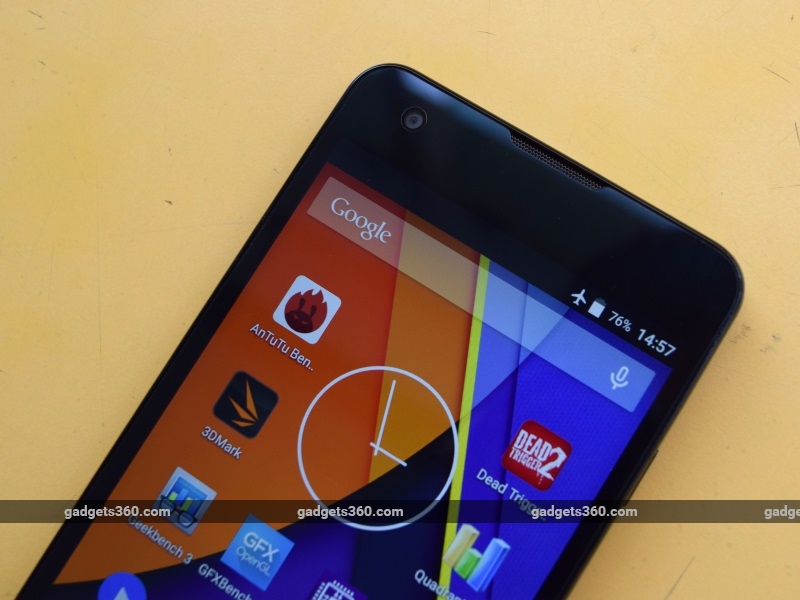 Onida is a well-known name in the Indian electronics market, and one that is highly associated with televisions. One of India's earliest home-grown manufacturers of TV sets, the company started its operations in the early 1980s in Mumbai and has now grown to become a respected name in home appliances alongside its traditional strength base in televisions and home entertainment.
As with any company looking to grow, Onida has made its way into the competitive but highly lucrative smartphone industry. The company's current flagship device is the low-cost Onida i4G1. Priced at Rs. 8,999, the Onida i4G1 hopes to offer budget users a quality Indian option with good specifications. Whether or not it lives up to expectations is the question that we hope to answer with our review.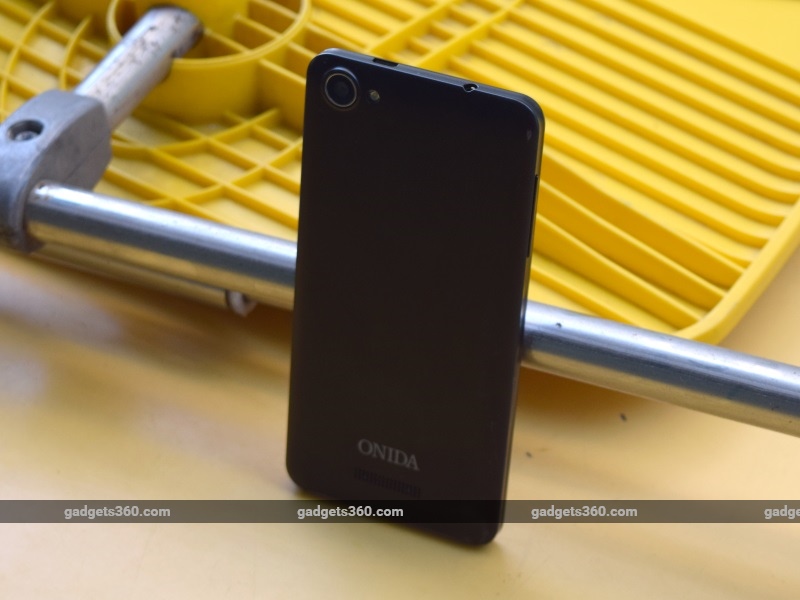 Look and feel
When it comes to looks, the Onida i4G1 doesn't break any new ground and is far outmatched by lower priced competitors. At the front, the phone looks plain and ordinary, with no real styling or form to speak of. The Android keys are off-screen and capacitive, while the front camera sits to the left of the earpiece. We did however like the fact that the capacitive keys are backlit. The device comes with a factory-fitted screen protector film, which had been poorly applied on our review unit. As a result, there was a large air bubble, as well as specks of dust trapped under it.
The sides of the phone are plastic, and look cheap and flimsy. Additionally, the sides curve inwards, which makes the device rather uncomfortable to hold. The power key is on the right near the top, while the volume keys are on the left. The 3.5mm socket and Micro-USB port are at the top. This is a rather inconvenient position for the latter, and makes it a bit hard to use the phone when it's charging.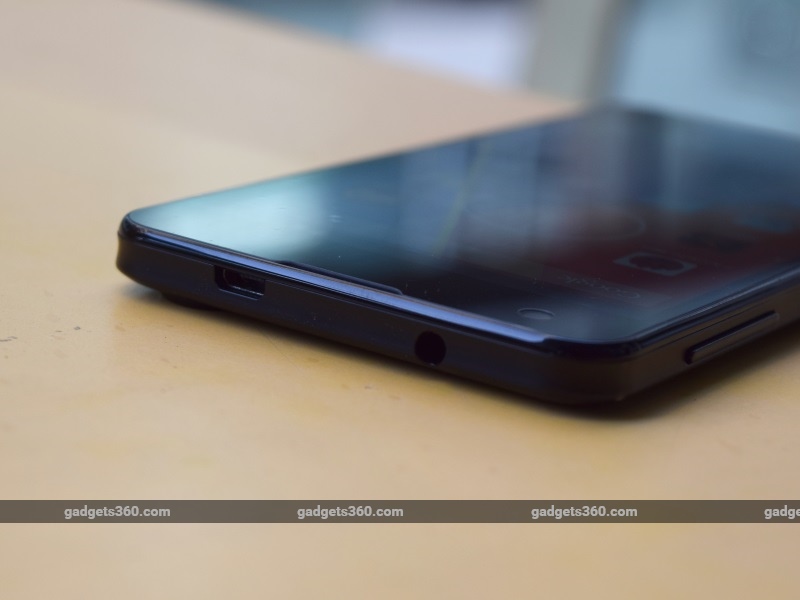 The back is part of the same removable panel as the sides, and as such has the same cheap and flimsy feel. It gives the impression that the phone is much cheaper than it really is, and bends quite easily in your hands. The exterior buttons are attached rather delicately to the panel, and inspire no confidence at all. Under the panel are the SIM slots and microSD slot, as well as the removable 2300mAh battery. Our review unit was black, but the i4G1 is also available in white.
The device has a 5-inch 720×1280 pixel display with a density of 294ppi. It's decent in terms of brightness, colours and sharpness, and offers acceptable performance for watching videos and when navigating around the interface.
The Onida i4G1 also includes a 1A/5V USB charger, a standard cable, and a basic pair of earphones that sit outside the ear and offer no sonic isolation, comfort or fidelity whatsoever. Also included is a plastic protective case, which has a slightly better texture and feel than the back and sides of the phone, and makes it a bit easier to grip. The phone is slow to charge though, and 1.5A/5V chargers should really be the bare minimum offered with devices today.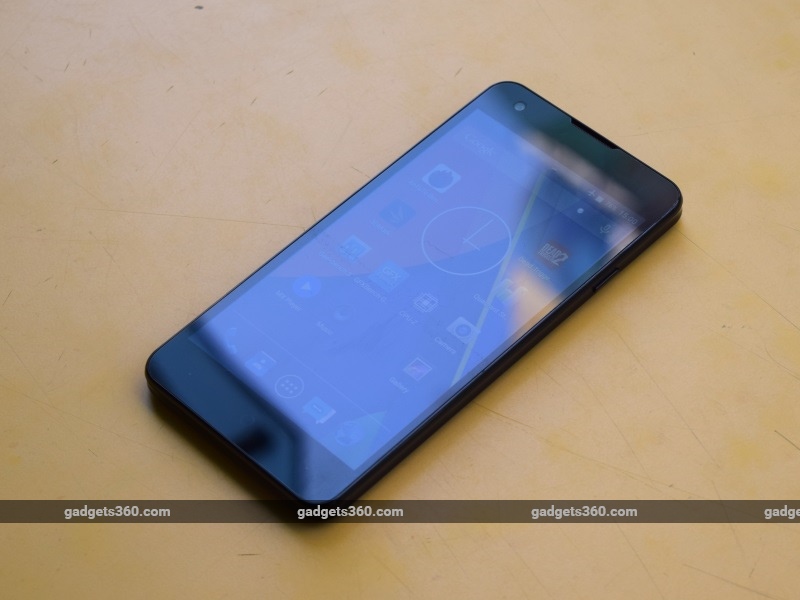 Specifications and software
With typically budget specifications, the Onida i4G1 matches some of the options in its price segment and falls short of others. The phone is powered by the Qualcomm Snapdragon 410 SoC, and has 8GB of internal storage and 1GB of RAM. The device supports expandable storage, and has been tested and guaranteed to work with microSD cards of up to 32GB. It also supports 4G connectivity on Indian bands on both SIMs.
The device features a 2300mAh user-replaceable battery, which when combined with the efficient Snapdragon 410 SoC, is expected to offer good battery life. Although Snapdragon 615 SoCs aren't unheard of at this price point, the Onida i4G1 should still be fairly competent when it comes to performance and usability.
The device runs on Android 5.0 Lollipop, with a user interface that strangely enough resembles stock Android KitKat in many ways. Fortunately, there's very little bloatware pre-installed, and the apps that are present are useful and likely to stay where they are. The Settings app offers plenty of information and options, including customisable capacitive keys, detailed battery consumption data, and system profiles. It's a fairly simple and standard interface that is efficient and easy to use.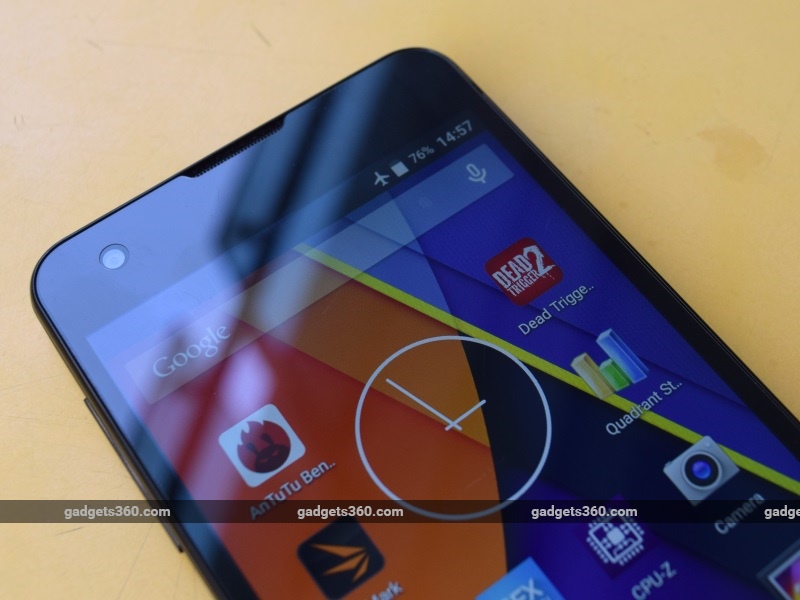 Camera
The Onida i4G1 features an 8-megapixel primary camera with a single-tone LED flash, and a 5-megapixel front camera. Both cameras are capable of recording full-HD video, and while the rear camera has a variable focus lens, the front camera has a fixed focus. The camera app allows you to select the photo resolution and video quality, and there are plenty of capture modes such as panorama, continuous shot, and HDR.
The app also lets you quickly toggle between stills and video, HDR mode, and filters. Other camera modes such as night, beach, backlight and auto are also easily accessible from the main screen of the app. Useful settings such as the flash and countdown timer are accessible through the settings menu, and recording video is a two-step process. On the whole, it's a decent camera app that gives you enough control over the camera and its settings.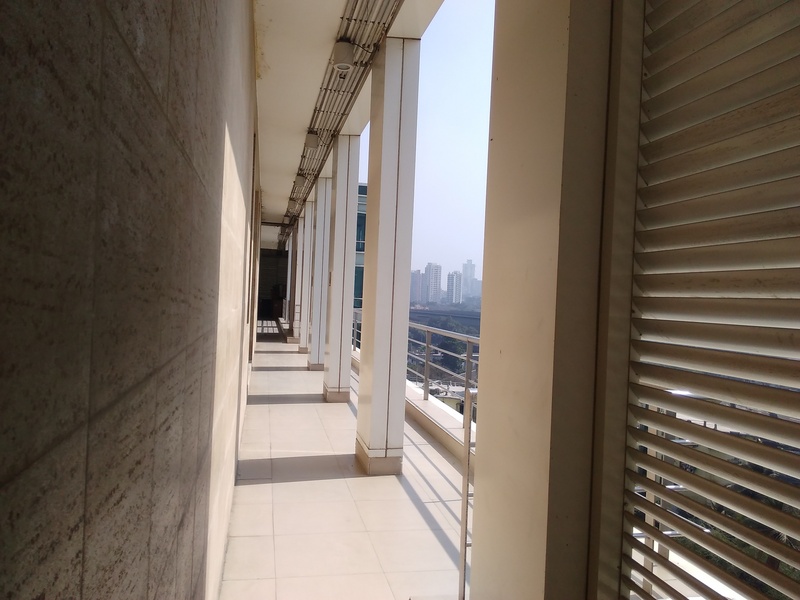 (Tap to see full-sized image)The camera, while not fantastic, is certainly acceptable in quality. Pictures are decent in terms of colour and contrast, while sharpness is just a bit lacking when you zoom in close. The camera is weakest when there are both near and distant elements in the same picture, and tends to focus only on the close objects. Things in the distance tend to lose sharpness in this case, but pictures are not quite as bad when shooting distant objects on their own.
Video is also acceptable, while selfies are just about good enough to be useful. We were impressed with the ability of the camera to capture colour and lighting accurately. Low light photography, while visibly weak, is still satisfactory, and pictures are certainly usable. All in all, the Onida i4G1's camera does a decent job for the price.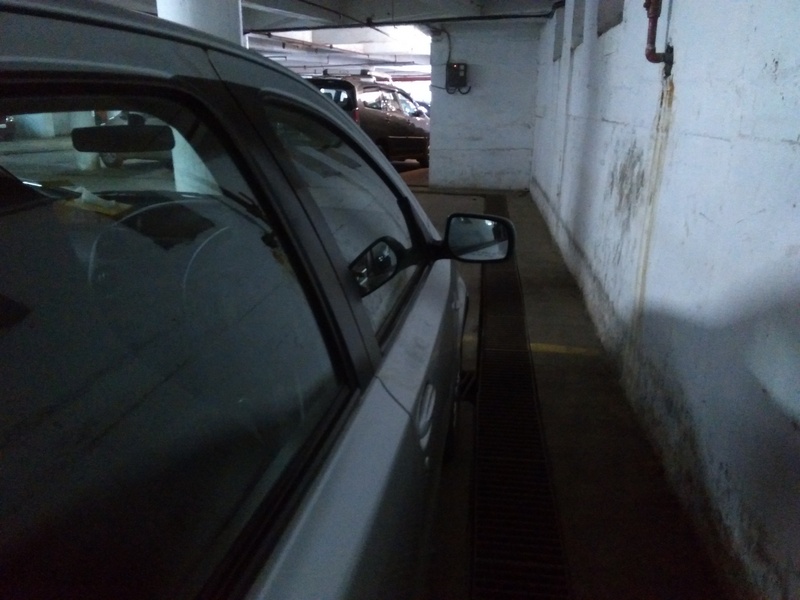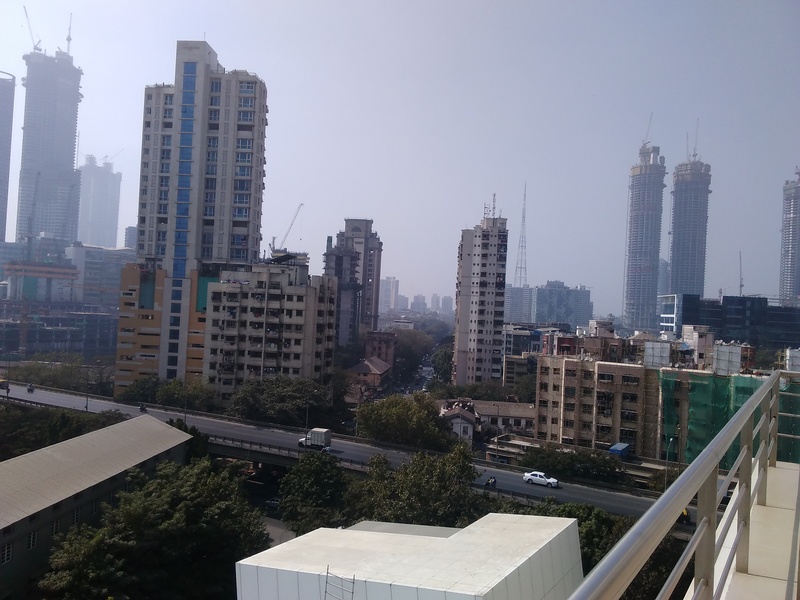 (Tap to see full-sized images)Performance
When it comes to performance, the Onida i4G1 falls terribly short and was a massive disappointment for us. The device failed to play our heavily encoded videos, and showed signs of struggle even with regular video content. Additionally, we weren't able to play Dead Trigger 2 for longer than 5-10 minutes without it crashing. We haven't experienced these issues with any other Snapdragon 410-powered devices, so the experience was rather alarming.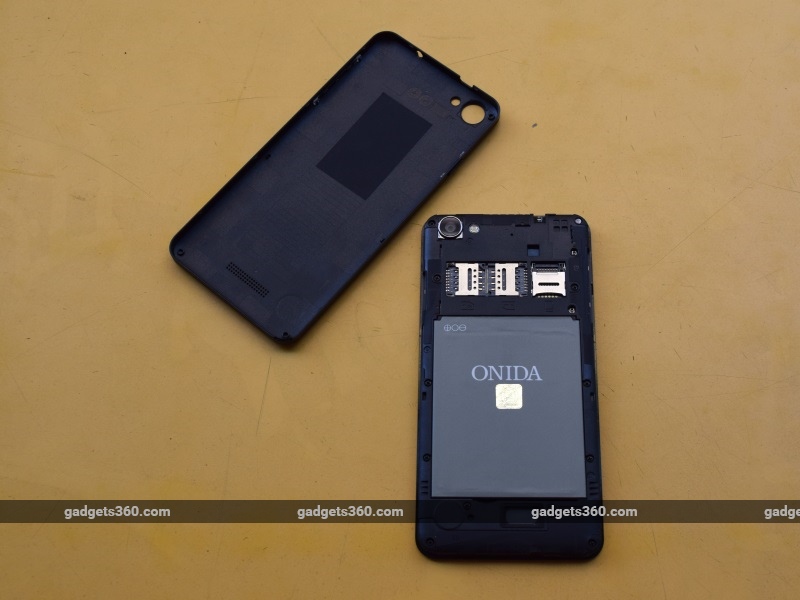 The problems continued when we ran our usual suite of benchmark tests. The device failed in all three of our typical browser-based benchmarks, causing the browser to crash before a score could be generated. Additionally, AnTuTu would simply not run, due to compatibility issues that prevented us from installing the 3D benchmarking companion app. Of the tests that did run, GFXBench and 3DMark Ice Storm returned scores of 9.3fps and 5243 respectively, while Quadrant returned a score of 13709 overall. All of these are fairly low for a Snapdragon 410-powered device with a 720p screen.
Basic functionality was acceptable, however, with the device working fine on 4G networks. Voice quality in calls was also decent, but sound quality from both the speaker andheadphones was poor and also not loud enough. The only silver lining was the expectedly decent battery life, with this phone running for 11 hours, 16 minutes in our video loop test. In ordinary use, the phone easily lasted us through a full day.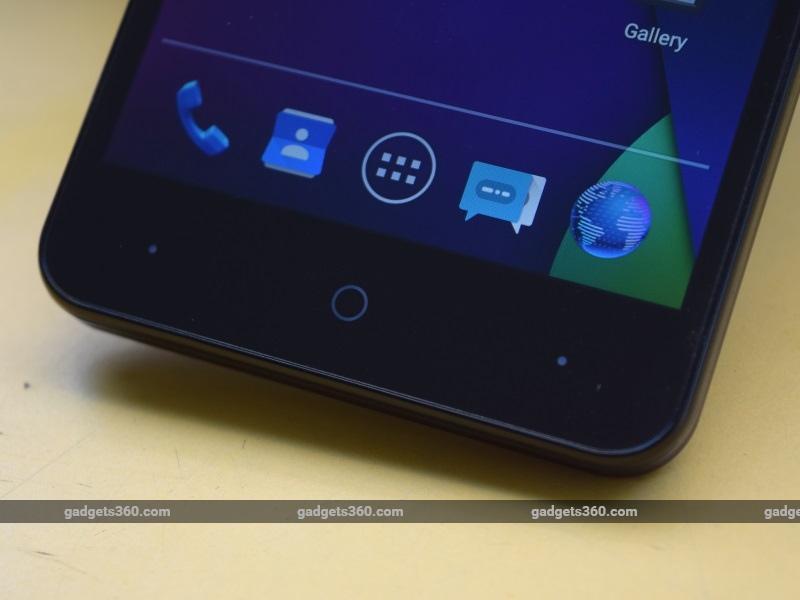 Verdict
The Onida i4G1 has a few things going for it, but is a complete let-down when it comes to some important aspects. While the camera, display and battery life are decent, the phone's looks, design, and performance are all poor. This is an unattractive phone that is poorly designed and inconvenient to hold and use. Most importantly, its unreliable performance makes it hard to imagine using it for even the most basic smartphone tasks.
All things considered the Onida i4G1 is overpriced, and there are better phones available for much less. Options such as the Yu Yuphoria (Review | Pictures) and Lenovo A6000 Plus (Review | Pictures) offer far better value at lower prices, and are recommended over the Onida i4G1. This is an average phone that we can only suggest you consider if your smartphone needs are absolutely basic.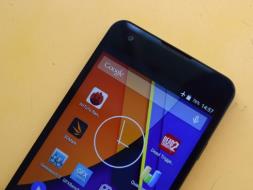 Onida i4G1 in pictures
Missed the news? Here's a list of all phones launched at MWC 2016 on one handy page – or catch our full Mobile World Congress coverage.

Onida i4G1