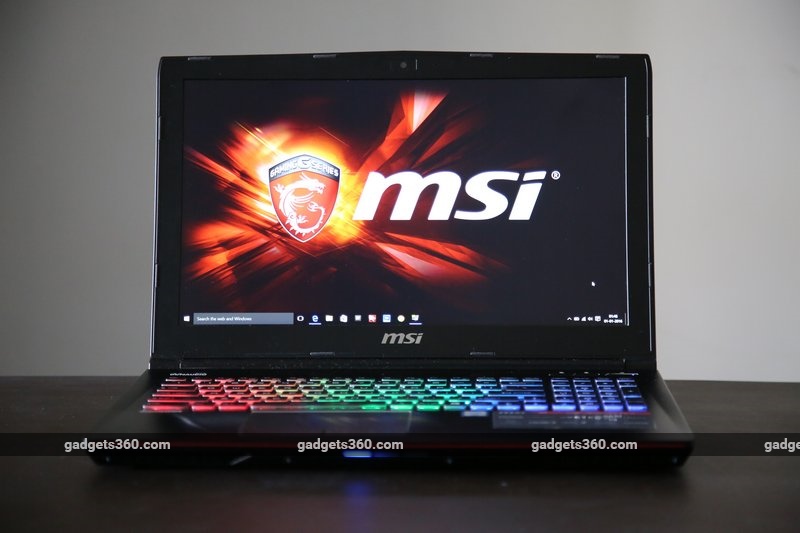 A little while ago, we reviewed MSI's gargantuan GT80 2QE Titan SLI, the kind of machine only a true gaming fanatic with a bottomless bank account would buy. As impractical as that particular model was, there's no denying the appeal of a powerful, portable machine. For those of us with more realistic budgets and requirements, MSI offers several other models including the GE62 6QD Apache Pro, which we're reviewing today.
The Apache Pro is still a big laptop, but it is at least reasonably easy to carry around. While gamers are of course the primary audience, this laptop will fit in almost anywhere. Those who don't have enough space for a desktop PC or don't like the clutter they create will be able to get all their work done and still be able to play modern titles. Let's see if MSI has managed to deliver another knockout.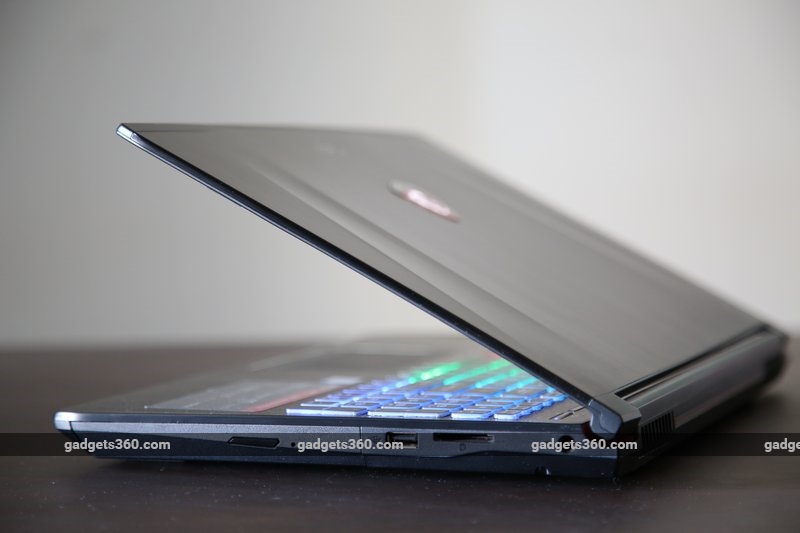 Look and feel
The Apache Pro is actually fairly slick, as far as gaming laptops go. At 29mm thick, it has the proportions of a modern laptop, which helps disguise its overall bulk. Its 2.4kg weight isn't too bad either – this certainly isn't the kind of machine you'd enjoy carrying around every day, but it is actually portable and practical as an everyday computer, unlike the hulking Titan SLI.
MSI has done well with the exterior design, which is all black with subtle red accents. The metal lid has a premium brushed finish and the subtlest contours resembling claw marks. We didn't particularly care for is the company's cheesy "Gaming Series" badge right in the middle, and over the course of a few days we noticed that a lot of smudges and fingerprints had accumulated. The hinge feels pretty solid and the lid wobbles only very slightly when touched, but you don't have to hold the laptop's base down when adjusting the lid.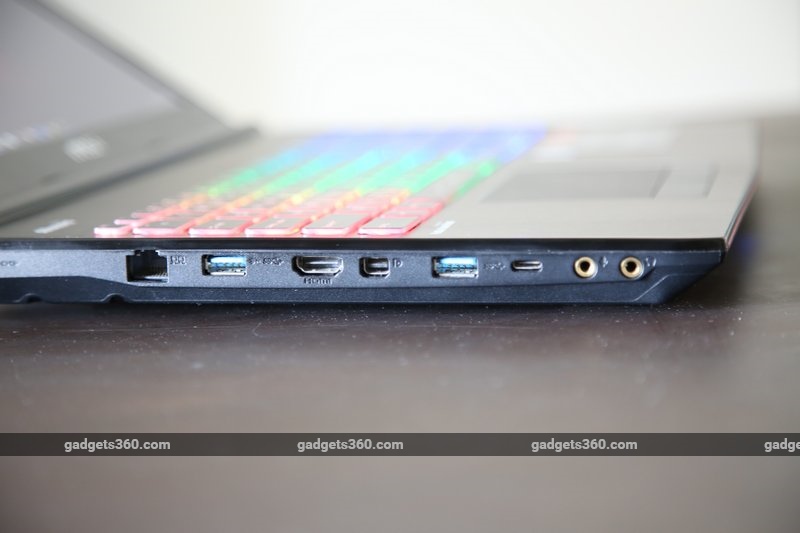 On the left side, you get a Gigabit Ethernet port, HDMI 1.4 and Mini-DP 1.2 video outputs, independent 3.5mm mic and headphones sockets, two USB 3.0 ports, and most interesting of all, a single USB Type-C port. There's another USB 2.0 port on the right, along with the power inlet, SD card slot, and DVD-RW drive. Power, network and hard drive status LEDs are placed just beneath the lip of the front edge, casting their blue light downwards – the flickering reflects off your table and is sometimes a distraction.
The battery is not removable or accessible without unscrewing the entire bottom, which will void the warranty. Even though MSI says the Apache Pro is upgradeable, it appears that you'll have to take it to an authorised service centre to do so – it isn't DIY-friendly.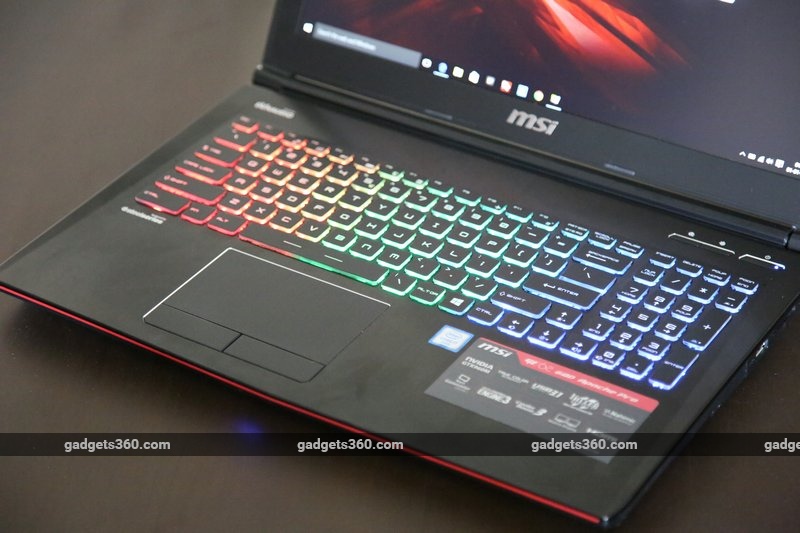 The keyboard deck is done up in the same brushed metal texture. It's all one piece except for the trackpad, with creases and slopes that create a depression for the keybed rather than the usual sunken tray. The keycaps have solid black tops and totally transparent sides. The effect is really cool at first, but the multi-coloured backlight shining through becomes distracting when watching movies, for example. You can even set the keyboard to cycle through colours.
As with the Titan SLI, the keyboard is designed by Steelseries. This time it's the traditional island style and there's programmable RGB backlighting with three levels of brightness. There's just barely enough room for a numeric keypad on the right, and this pushes the paging keys further than usual from the QWERTY area. The keys are surprisingly soft and pillowy, making this laptop a pleasure to type on. The only odd things about the layout are that there's no Windows key to the left of the space bar, and there's an extra backslash key instead of the Windows Menu key, which has been dropped altogether.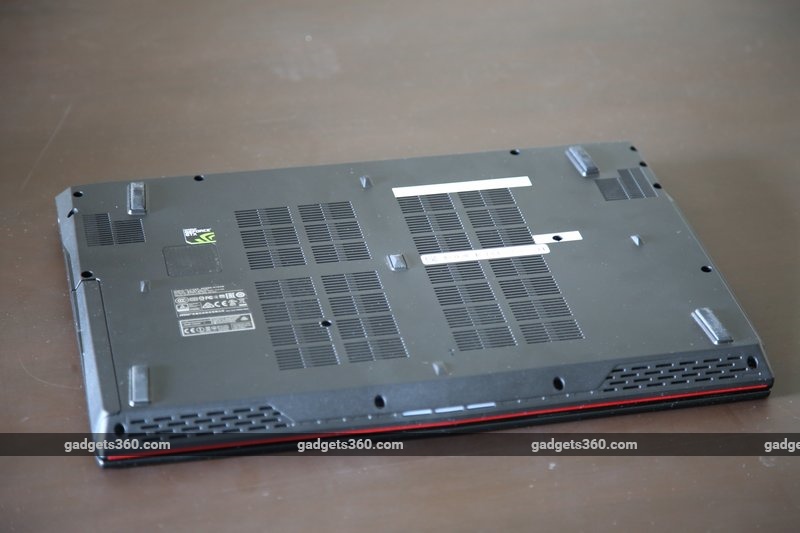 The trackpad is pretty large and slightly off-centre to the keyboard. Purists will love the two independent buttons but the surface is not physically clickable and multi-touch gestures seemed not to work quite a lot of the time. The trackpad also has a rough texture which really didn't work for us after long periods of use – most gamers will use a mouse, of course, but that doesn't mean trackpad quality should be overlooked.
Specifications and software
Our sample unit came with an Intel Core i7-6700HQ processor with four cores and Hyper-Threading support. It runs at between 2.6GHz and 3.5GHz and has a TDP of 45W. The leading 6 in the model number indicates that this is a brand new Skylake-generation chip, so we should see improved scores and battery life. There's 8GB of DDR4-2133 RAM – the company says it can be upgraded, but we would have liked to see 16GB as the minimum.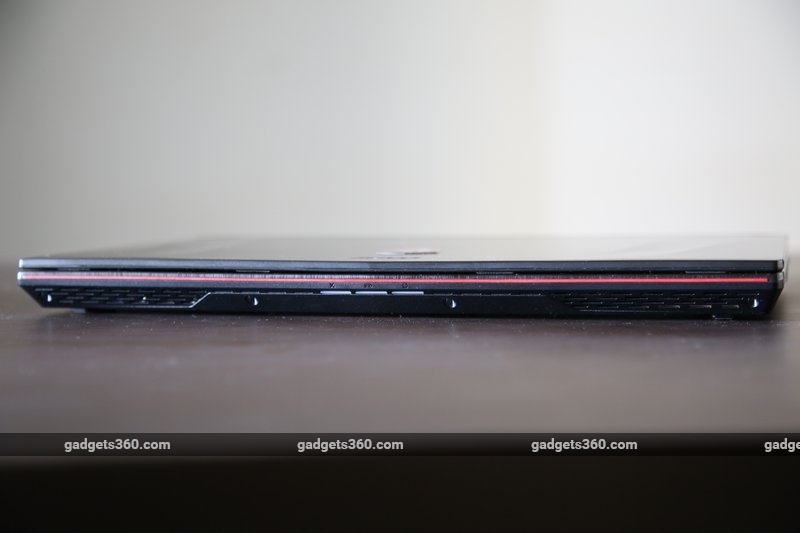 The 15.6-inch screen has a resolution of 1920×1080 which isn't groundbreaking but is perfectly sharp thanks to Windows 10's scaling abilities. You don't get touch capabilities, but that also means there's no glossy reflective glass which we're happy about. The panel is also well suited to the laptop's Nvidia GeForce GTX 960M GPU with 2GB of VRAM, which shouldn't be stressed with a more demanding resolution in games.
There is one glaring flaw, though: storage is entirely mechanical. That's right, there's no SSD on this premium-tier enthusiast-targeted, performance-oriented laptop. It's unbelievable to us, especially since MSI's spec sheet on its official website states that there should in fact be an NVMe SSD (other sections describe it as optional, but even then the fallback should be a regular SATA SSD – you can read all about NVMe in our review of the Samsung SSD 950 Pro). What you do get is an old-fashioned 1TB, 7200rpm hard drive.
MSI has tieups with Killer, Nahimic, Dynaudio and Steelseries for the networking, sound and input capabilities of its laptops, motherboards, and other products. The Apache Pro gains a Killer controller that can prioritise traffic over the Gigabit Ethernet and Wi-Fi connections; Nahimic and Dynaudio for virtual surround and effects; and the aforementioned Steelseries keyboard.
There's one more little thing to note: that fancy new USB Type-C port might be labelled USB 3.1 and described as such on MSI's website, but you aren't getting true USB 3.1 speed. MSI doesn't make it clear that this is USB 3.1 Gen 1, which is just 5Gbps USB 3.0 with a new name. In fact, its website states that you're getting "the latest USB 3.1 SuperSpeed+ interface". For true 10Gbps speed, make sure you see USB 3.1 Gen 2 stated clearly on your products. Either way, data transfers will be bottlenecked by the hard drive.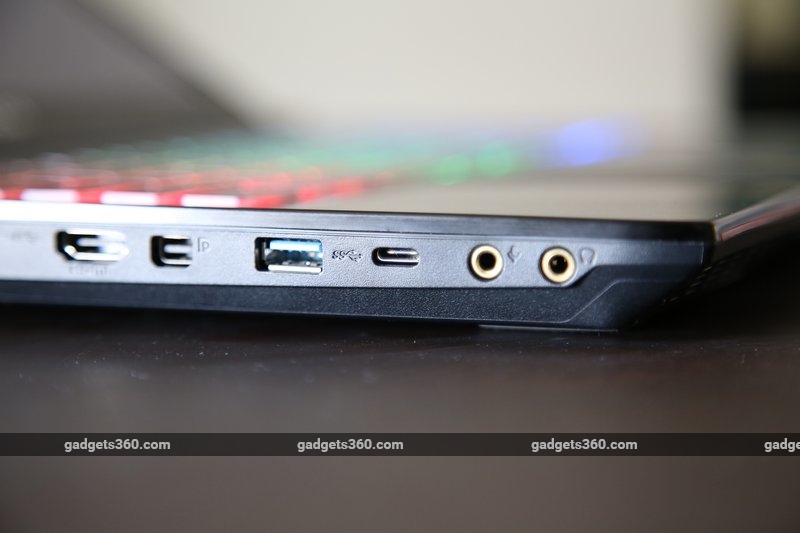 On the software side, we're happy to see Windows 10 pre-installed. It seems that the overabundance of software on the Titan SLI has been carried over to this model too, including the SHIFT utility to tweak performance between Sport, Comfort and Green modes (not to be confused with Intel's SpeedShift feature). You can read about the software in more detail in our review of the Titan SLI, but it should suffice to say that there are a lot of annoying popups and it takes forever to boot into the Windows desktop.
We did also have an odd issue with the keyboard backlighting. Custom settings only kick in after you're fully booted to the Windows desktop and the Steelseries utility loads in the background. However, the pre-installed Steelseries Engine utility refused to recognise its own keyboard, claiming no compatible products were plugged in. As a result, we were unable to configure the backlight, macros, and other settings. MSI's website didn't offer any software update, but we found one on the Steelseries site, and sure enough, things worked fine after that.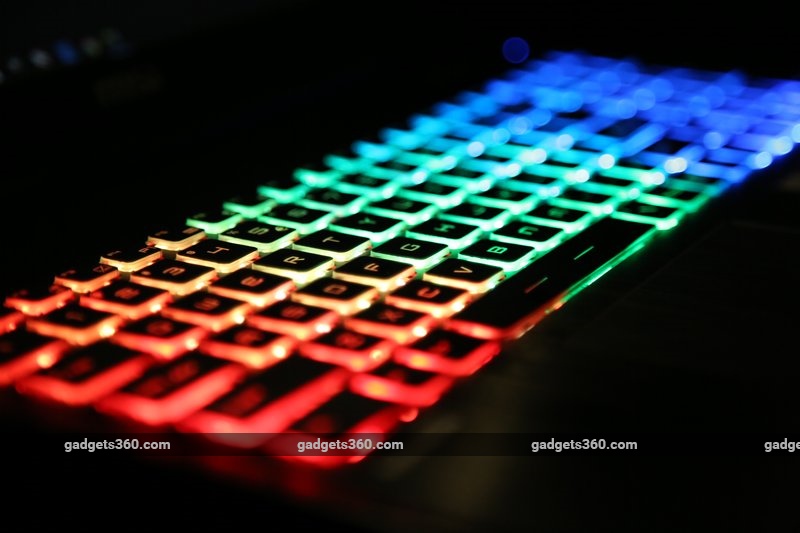 Performance
It was almost completely smooth sailing with the MSI GE62 Apache Pro, though of course there were times when it was blindingly obvious that the hard drive was throttling something or the other. Games in particular showed this a lot, and we haven't seen such long load screens in a while. We did also have a few moments of unresponsiveness when multitasking between heavy apps with file system operations going on in the background.
We noticed a soft, intermittent mechanical chirping noise coming from the laptop, even when idle. This could be because of the hard drive or cooling fans, and it could be specific to our review unit. With games or heavy tests running, the fans produced a dull thrum. The left palm rest area and the surface of the trackpad became hot enough to be uncomfortable after just 15-20 minutes of gaming.
Performance was fairly strong, though in many cases the Apache Pro lost out to the older HP Omen. HP's offering is more expensive and doesn't have a brand-new Skylake CPU or DDR4 RAM, but it does have an SSD and more VRAM, so it was no surprise that tests involving the multiple subsystems favoured the Omen. We managed 2007 and 3072 in PCMark 8's Home and Work tests respectively, which were both quite a bit less than the Omen's scores.
SiSoft Sandra showed gains in CPU performance, especially multimedia handling. Surprisingly, the memory subsystem reported lower scores than we've seen with several DDR3 laptops. Cinebench's CPU score was 555. HyperPi ran its calculation in 20.694 seconds. POVRay ran its internal benchmark in 3 minutes, 2 seconds, finally besting the HP Omen's score.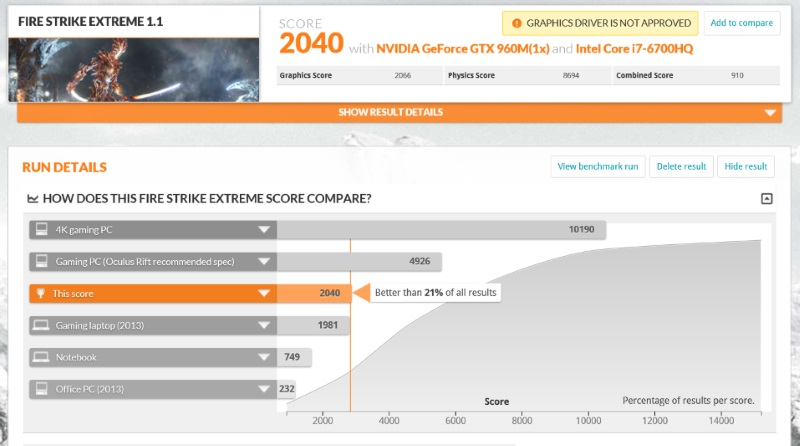 We started the graphics and gaming tests with 3DMark Fire Strike, which gave us 4093 points, beating the Omen. The Extreme version of the same test, which is scaled up for more demanding hardware, returned 2040 points. Unigine Valley gave us an average of 21.1fps while Star Swarm ran at 29.06fps.
Tomb Raider is a nice low-impact game, and it ran perfectly well on the Apache Pro at 1080p with the quality set to Ultra. We got an average frame rate of 52.7 with a minimum and maximum of 41.4 and 60.2 respectively in the built-in benchmark. We then moved to Battlefield 4, which also scales well to different classes of hardware. With graphics set to Ultra at 1080p, we used FRAPS to record a manual run and were pleased to see an average of 39fps. Frame timing is a measure of consistency as opposed to just an average frame rate, to account for stuttering. We were able to measure a tight average time of 25.3ms with little variation which is good news.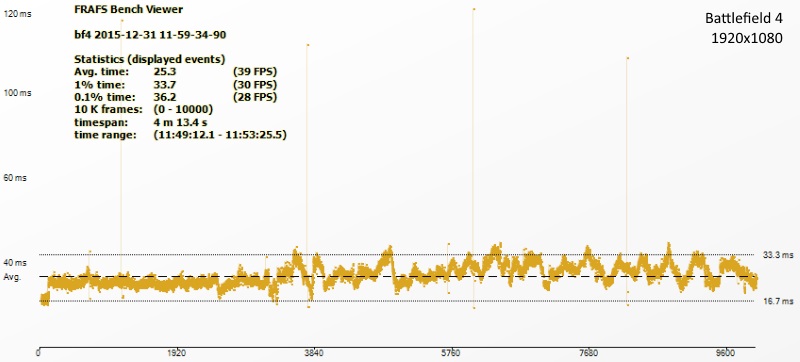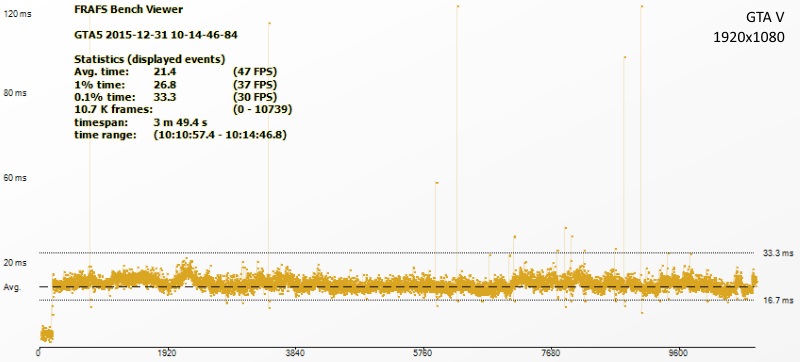 GTA V is one of the year's most popular games and it would be disappointing not to be able to run it on a new machine. We had to pull settings down so that most effects were set to Normal or at best High, with all advanced settings disabled. We saw an average of 51.44fps in the internal benchmark but there was terrible stuttering. When recording a free run with FRAPS, we saw an average of 47fps and 21.4ms frame time.
As far as scores go, nothing really seems wrong. However, load times are abysmal and we even installation takes much longer than usual. One other disappointment with the Apache Pro was its battery life. You aren't likely to be using this laptop on the go a lot, but it would be nice to know that that was possible. We felt that battery life was way too poor – we managed just about four hours of Web surfing and ordinary usage, and Battery Eater Pro ran its 3D simulation for just 1 hour, 2 minutes before calling it a day.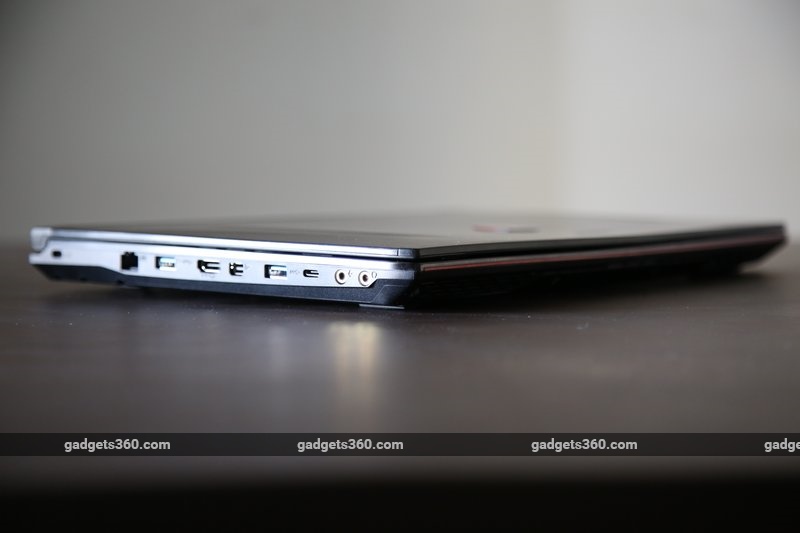 Verdict
The GE62 6QD Apache Pro is by no means a perfect machine, but it has a lot of modern hardware and thus a lot of potential. Some of the annoyances, such as the overabundance of annoying software and the mechanical noises, could be easy for the company to fix. The biggest problem is in fact one users can take care of themselves: adding an SSD. However, none of these problems should have come up in the first place.
No modern desktop or laptop should be built without an SSD – okay, maybe the absolute bargain-basement models, but not a high-end gaming rig with the latest processor on a brand new platform. No way. MSI's decision to not even offer it as an option despite the machine apparently having an M.2 slot is not just an inexplicable anachronism; it reflects a lack of understanding about what a gaming machine is and what it should be able to do.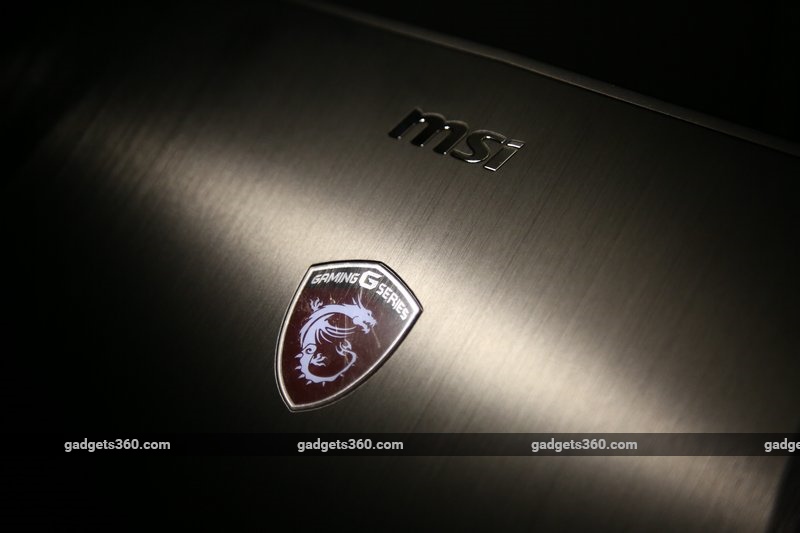 Just to be clear, the specs on MSI's website state "1 x 2.5″ HDD + 1 x NVMe M.2 SSD by PCIe Gen3 X4 / SATA-SSD Combo" under storage, and its product listing on Amazon.in reads "Get in the game before everyone else with the latest PCI-E Gen 3.0×4 bandwidth utilsing NVMe technology on single M.2 SSD. Harness the full performance potential of the Gen 3.0 SSD through the optimization of the hardware and software outputting extreme read speeds up to 2200MB/s, 5x faster than SATA3 SSD's [sic]". It appears that a version with an SSD is sold in some parts of the world and that this text has been copied and pasted carelessly. We checked this with MSI via email, and a company rep did not see any problem with it.
It isn't enough to say that the Apache Pro is still a whole lot faster than mainstream notebooks because it's also that much more expensive. It isn't enough to say that India gets customised variants of products with features shaved to save costs. MSI should not be selling this laptop without at least a basic SSD, no matter if it would raise the end-user cost a bit. This is an otherwise fantastic device in a beautiful package – it just doesn't deliver the full experience you're paying for. If MSI could take care of this one big issue and the few other smaller ones, the Apache Pro could be an unbeatable machine.
Price (MRP): Rs. 1,15,000
Pros
Relatively portable and looks great
Modern CPU and RAM; USB Type-C
Customisable RGB keyboard backlighting
Cons
No SSD; only mechanical storage
Lots of software bloat
Loud fans
Ratings (Out of 5)
Design: 4
Display: 4
Performance: 3.5
Software: 3
Value for Money: 3
Overall: 3
["Source-Gadgets"]