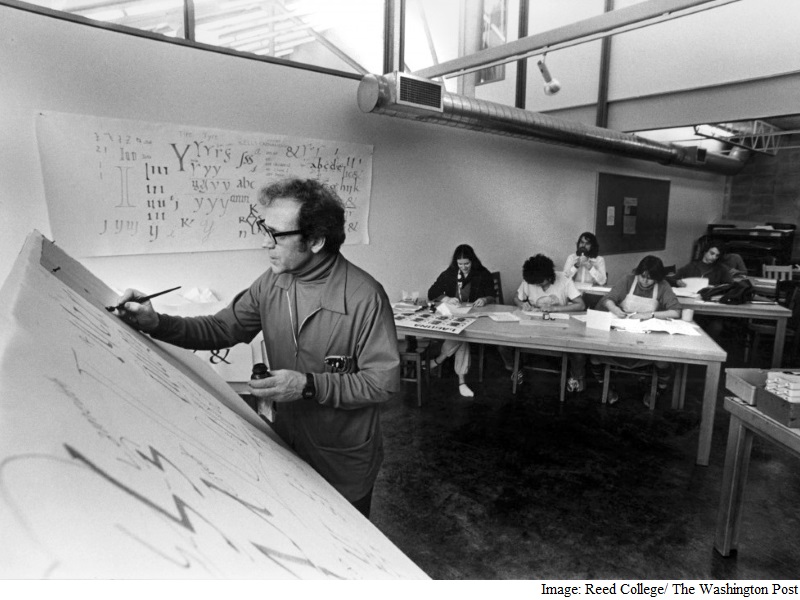 Robert Palladino's name appears nowhere in Steve Jobs's lengthy authorized biography, but he had an enduring influence on Jobs and the business empire he erected.
Jobs sat in on Palladino's calligraphy class at Portland's Reed College, which eventually inspired the elegance for which Apple computers are renowned, the tech icon recalled in his famous 2005 commencement address at Stanford University.
"It was the first computer with beautiful typography," Jobs said. "If I had never dropped in on that single course in college, the Mac would have never had multiple typefaces or proportionally spaced fonts."
Palladino's legacy will forever be tied to what he taught Jobs during his brief, aborted stint in college, a craft the professor honed over nearly two decades of monastic life.
Palladino, who died in late February at 83, joined the Trappist order of monks in New Mexico in 1950, according to a 2003 profile in Reed Magazine.
Just 17 at the time, his handwriting attracted the attention of the monastery scribe, who worked with him on his art.
Five years later, Palladino moved to Lafayette, Oregon, where local artists brought news of a skilled amateur to Lloyd Reynolds, an icon in the field and the creator of Reed's calligraphy program.
"We corresponded a bit, and one day he came out and spent the entire day helping me to improve my writing," Palladino recalled in 2008 for a Reed College oral history project.
He left monastic life and began studying under Reynolds in 1968. A year later, Reynolds retired, leaving the program in Palladino's hands. That same year, 1969, Palladino married his wife, Catherine. In 1970, they had a son.
Then, in 1972, Jobs came to campus.
The future Apple co-founder enrolled in Reed College that year, but dropped out after a single semester. He remained on campus, however, to attend classes that interested him, as he explained in that 2005 commencement address at Stanford.
Palladino's calligraphy course was among them, he said:
"Throughout the campus every poster, every label on every drawer, was beautifully hand calligraphed. Because I had dropped out and didn't have to take the normal classes, I decided to take a calligraphy class to learn how to do this. I learned about serif and sans serif typefaces, about varying the amount of space between different letter combinations, about what makes great typography great. It was beautiful, historical, artistically subtle in a way that science can't capture, and I found it fascinating.
"None of this had even a hope of any practical application in my life. But 10 years later, when we were designing the first Macintosh computer, it all came back to me. And we designed it all into the Mac. It was the first computer with beautiful typography. If I had never dropped in on that single course in college, the Mac would have never had multiple typefaces or proportionally spaced fonts."
Just as Jobs never forgot that course, Palladino never forgot his student.
"My first impression was that all the other students really liked him," Palladino told the Hollywood Reporter's Tim Appelo, a Reed graduate himself, for a 2011 story. "That surprised me, because there were all these geniuses floating around, and Steve was a dropout. But they detected greatness even then."
In that interview, Palladino described Jobs as being "as nice a guy as you could meet," despite the reputation he would later develop as the mercurial and incisive head of Apple.
Their relationship outlasted the class, too, Palladino recalled in the 2008 oral history interview.
"He came back afterwards and consulted me about Greek letters for a type font," Palladino said. "I don't know if he ever used my Greek letters, or if he just used them as a starting point, but we had a good time. He was educating me about what a computer is, as I hadn't the foggiest idea what he was talking about."
Jobs co-founded Apple in 1976; Palladino taught until 1984.
On retiring, Palladino moved with his wife onto a 20-acre farm, where they raised sheep, according to a 2013 Catholic Sentinel profile.
She died in 1987.
He became a priest in 1995.
Despite his decades working for the church and teaching scores of students, Palladino knew his legacy would be as the man whose art inspired an iconic brand – ironic though that may be.
"He found it amusing that he would be remembered primarily as the calligraphy teacher of Steve Jobs, especially since Robert did not own and never used a computer," Calligraphy Initiative Coordinator Gregory MacNaughton said in a Reed College statement announcing Palladino's death.
Jobs was just one of hundreds of students Palladino taught, at Reed, and also at Portland State University, Marylhurst University and the Portland Art Museum, according to the 2003 profile.
He hand-lettered all of the medical licenses licenses for the state of Oregon for a time and lectured far and wide.
He also taught other famous students, including Sumner Stone, famous for his work at Adobe and creating the ITC Stone font.
Palladino worked as a professional calligrapher from 1969 until his death on Feb. 26, according to the Archdiocese of Portland.
"Ethically, Steve was as nice a guy as you could meet," Palladino told the Hollywood Reporter in 2011, after Jobs himself died. "A real nice fellow."
The publication noted, however, that "Palladino's attempts to get back in touch with Jobs after fame struck were rebuffed by Apple, whose office responded with a silence stonier than any Trappist's."
["source-Gadgets"]