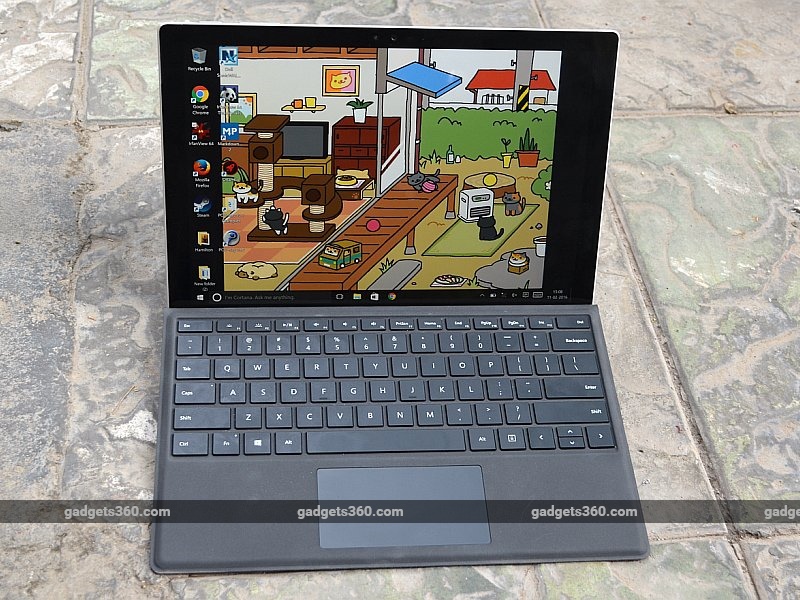 The first thing that you'll note when you see Microsoft's Surface Pro 4 is that it is, beyond a doubt, cool to look at. Microsoft launched the tablet-hybrid in India in January, just a few months after the launch in the US. Microsoft loaned us a Surface Pro 4 (Core i5/ 4GB RAM/ 128GB SSD) (priced at Rs. 89,990), along with the Surface Type Cover Keyboard (priced at Rs. 12,490), and the Surface Pen (which is bundled with the tablet), and we've been using this hardware quite heavily for the last couple of weeks. It is a stunning achievement, and hugely useful in many regards, yet it involves some major compromises which can't be ignored either.
The first question we need to answer is whether this device is a tablet or a laptop. Microsoft's own messaging is clear; it sees the Surface Pro 4 as "the tablet that can replace your laptop," but from the perspective of a tablet, this device has a number of problems.
One of the biggest issues occurred within the first few hours of testing the device, (and repeated twice more during the course of our review process) was particularly worrying – the Surface switched off in the middle of use. The first time this happened was right after we'd just started using the Surface, and were just setting up the different tools we'd need to use for work. The second time this occurred, we were watching a movie and turned the screen off for a moment to take a call. The third time happened while writing this review, and removed around 500 words of unsaved work – which incidentally is as good a reminder as any to never write using a tool that doesn't autosave work!
The Surface Pro 4 simply went dark and refused to respond to anything. A quick search on Google Showed that this is not an uncommon issue for the Surface family of devices. It's also an unfortunate reminder of the black box nature of tablets and tablet-like devices. There was no indicator to tell us what was wrong, no lights or beeps to guide us to errors. Instead you only have an opaque slab, and no indication if anything you're trying is making a difference. The actual problem was easy enough to solve after a few minutes of looking around on Google, but the fact that you have to do this at all, several months after the Surface was launched, definitely meant that we started this review feeling pessimistic.
Secondly, its battery life is a far cry from what we've come to expect from our mobile devices, and perhaps worse still, the Surface Pro 4 simply doesn't feel well optimised for use as a finger-friendly device. There is a tablet mode in the settings that you can quickly switch to, and this is probably the best thing to do when you simply want to watch some Netflix or listen to some music, but this means that you can't easily switch to desktop-mode tasks.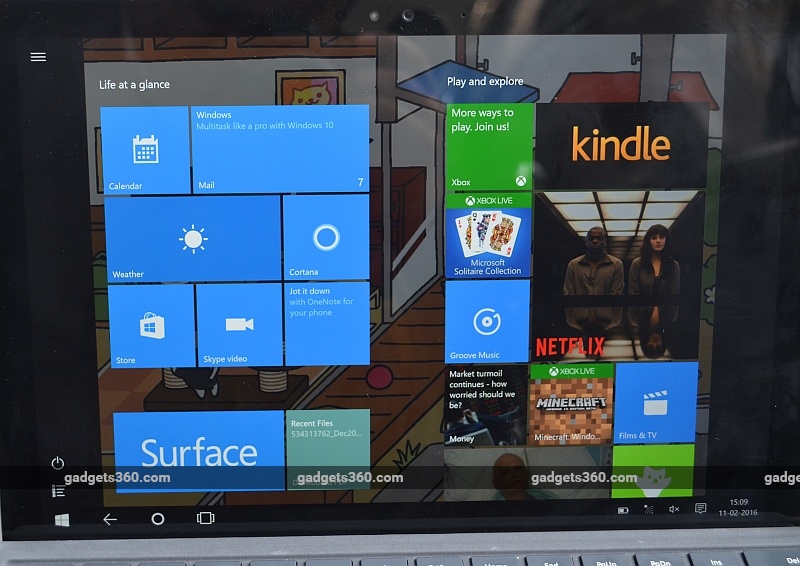 Simply put, seen as a tablet that can do the work of a laptop, the Surface Pro 4 falls short. On the other hand, how does it fare if you look at it as a laptop that's small and light enough to be as portable as a tablet? Suddenly, it becomes a far more interesting device. It's not a powerhouse, certainly, and it wouldn't be the first choice for people with specific hardware needs – but if you're looking for a highly portable machine that is great for the typical "work" use case, then the Surface Pro 4 is great to use. Over time the Surface Pro 4 has come a long way towards winning us over. Read on to know how.
Look and feel
The Surface Pro 4 is a sleek looking tablet with sharply angled edges and when you consider the design from a purely aesthetic perspective, it's fantastic. The 12.9-inch display obviously dominates the design, but beyond that, the angled body, the way the ports have been laid out, and of course, the iconic Surface kickstand at the back, make this a great looking product. The tablet is just 29.2cm X 20.1cm X 0.8cm in size, and weighs 786g; the keyboard adds another 292g, taking it up to just over 1kg. It's roughly the same weight as the smaller 11-inch MacBook Air; the 13-inch Air is closer in screen size, which at 1.35kg is significantly heavier. And when you take into account the fact that you can easily disconnect the keyboard from the Surface Pro 4 when you're doing something like reading a book using the Kindle app, or watching a movie, then the lightweight device really shines.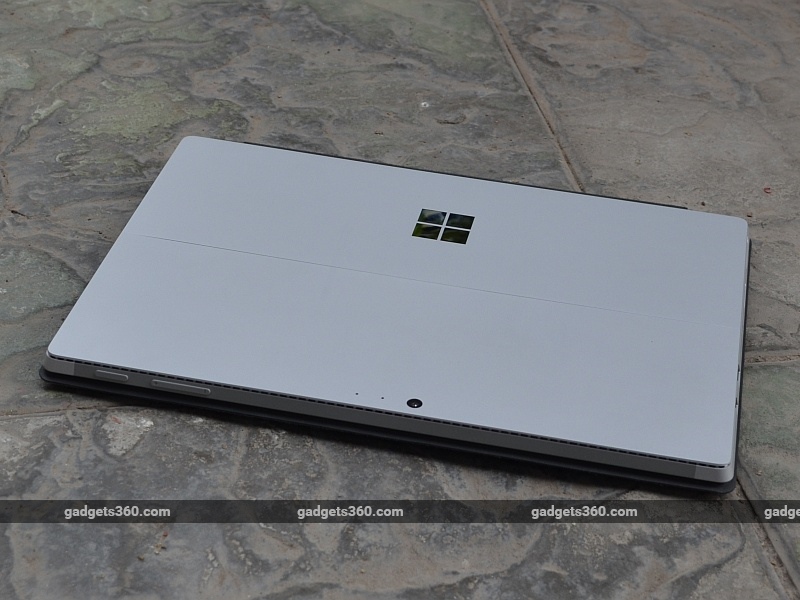 Propping it up to use with the keyboard is really simple and takes no time or effort. This means that although the Surface Pro 4 is best used with its keyboard attached, for scenarios where you want to drop the extra weight, doing so is easy enough. Assuming that the side that rests on the table when the kickstand is extended is the bottom, the right side of the tablet holds a full sized USB 3.0 port, a Mini DisplayPort, a microSD port under the kickstand, and the charging port. The charger is designed to allow you to connect it with either side on top – unlike a USB port or a Micro-USB charger on your phone, this charger, much like the Lightning cable, can be inserted in either orientation, which makes it a lot easier to use.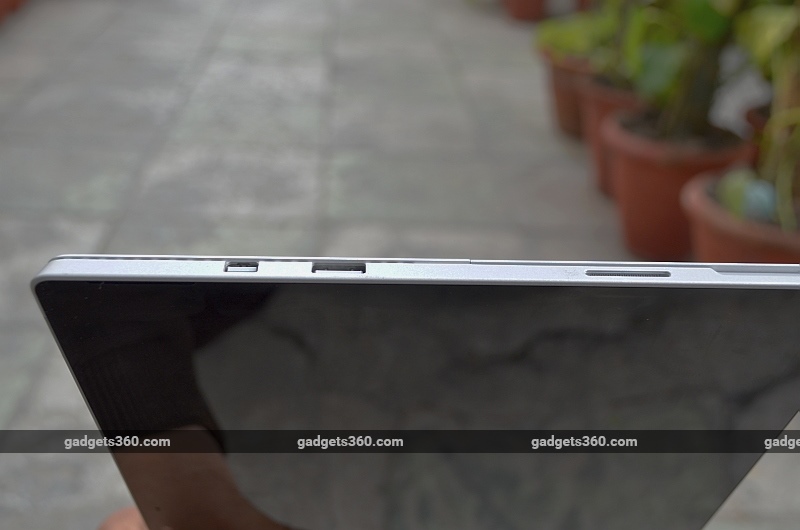 The port is also magnetised, so it's easy to find even in the dark, and the cable has an LED on the side near the connecter that lights up when the charger is inserted and the adapter connected to the power. This makes it easy to see if the tablet is getting charged or not, and it unclips easily as well. It's one of the small bits of design flair that make this tablet good to use. The AC adaptor is a small enough brick, which is good because you will need to have the charger handy if you want to get through a full work day. The Surface Pro 4 comes with a single USB port – useful if you want to charge your phone or some other USB powered device, without tying up the single USB port on the Surface Pro 4.
There is also a connector along the bottom for the keyboard to connect to. The ports are all on the tablet body – the keyboard connects to the tablet via the port on the bottom and draws power from it as well; but it does not bring any additional ports such as an extra USB. Near the top, the left edge has the 3.5mm port for audio out, while the volume and power buttons are laid along the top, and there's a camera positioned along the back, near the top. There's a camera on the opposite side facing you, that's used to log into the system, along with the microphone. The sides are magnetised so you can easily attached the Surface Pen to the body of the tablet without needing a dock or port for it, and this also helps the keyboard cover to angle upwards slightly. We'll go into more details about both the Pen and the Keyboard soon, but from a design perspective, these little details make the Surface Pro 4 a real treat to use.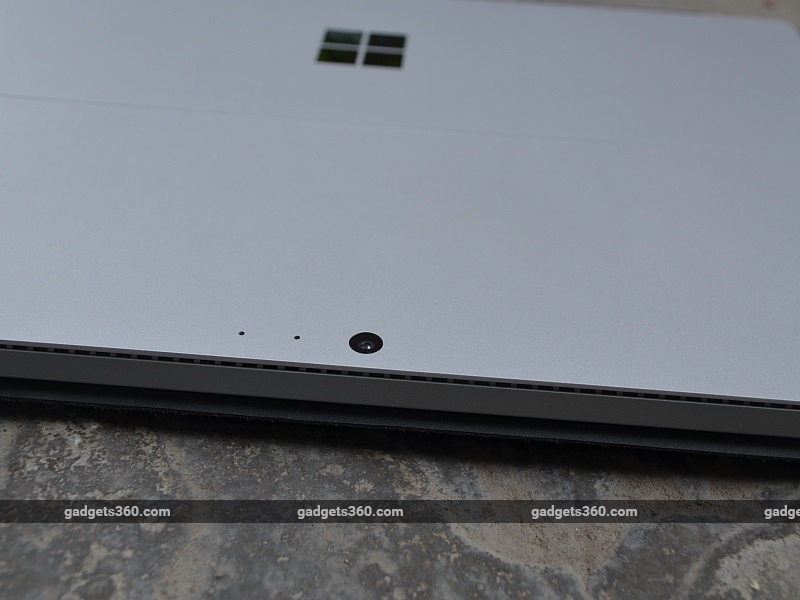 This extends to the rest of the tablet as well. Take the famous kickstand at the back, for example. There's a slightly raised hinge along the sides, and it's easy to pull out with just two fingers. The stand looks thin, but feels very sturdy, and won't move even if you hammer away at the keys when typing, and use the touchscreen regularly. Everything is put together nicely, feels incredibly durable, and looks premium. There's a huge range of movement available to the kickstand as well – it allows you to set the tablet almost flat against the table – it might not always be a useful way to set up the screen, but there could be some times when it makes sense. At the other end, it can lean forward to nearly perpendicular. This means that you can adjust the angle fairly easily to use the Surface Pro 4 in a way that's comfortable for you. In this way, it feels a lot more like a laptop than the iPad Pro.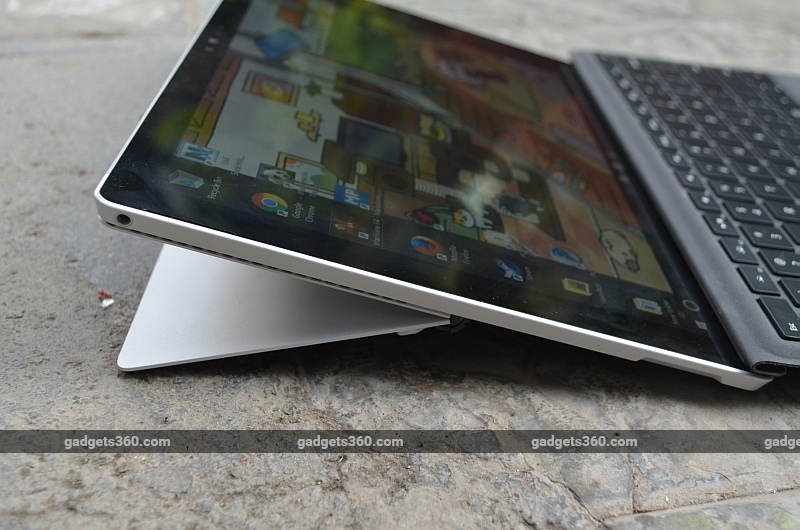 The same can be said about the Surface Pen as well – it works really effectively (although there were a few issues with palm rejection, which we'll address in the Performance section) and feels remarkably well built. It's accurate to use, and displays a small pointer on the screen when you're hovering close to contact – this allows you to be extremely precise with the Surface Pen. At the same time, it's relatively thick compared to many other styluses we have used, and this is a plus point, in our opinion. The extra size allows for a comfortable grip and the added heft allows for greater precision. We're not artists, but for simple sketching, the Surface Pen was excellent to use, and it also works extremely well for note-taking.
Windows has long allowed for handwriting recognition input, and this works fast and fairly accurately with the Surface Pen as well. You can't write as accurately or as quickly with the Surface Pen as you would be able to type, but using something like One Note, you can easily sketch down notes when you're talking to someone. It's a pretty reliable way to make handwritten notes that can be backed up to the cloud instead of being lost in notebooks. And our favourite thing about the Surface Pen is that you don't need to keep charging it up – Microsoft claims that the battery will last for 18 months, using coin cell batteries.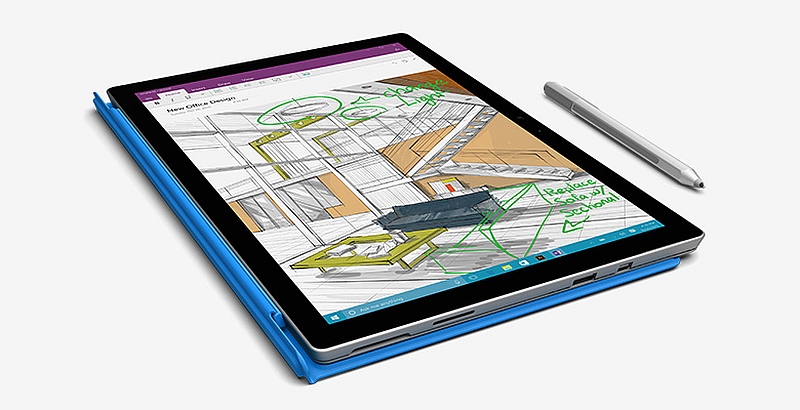 The Surface Pro 4 Type Cover Keyboard was the only area where we had a few problems with the hardware we were using. Considering how slim the keyboard is, Microsoft has accomplished something truly impressive in getting the keys to have this much travel, and the design includes a backlight as well. It's an impressive feat. However, the keyboard is really light, and doesn't really counterbalance the weight of the tablet. This means that the whole thing does shake a little when you're typing. It's not enough to make you unsteady but it feels uncomfortable. Also, the slight angle at which they keyboard is raised can't be adjusted so you really have only two choices there – completely flat, or fully raised. We actually preferred the former, as it gave the tablet more stability.
Because of how light the cover is, it doesn't really provide any stability if you're trying to use this laptop on your lap either; you can rest it there and type, but the whole thing does feel hugely unsteady. In our experience, it was best to tilt the kickstand a little extra, and then brace that against a raised knee, instead of trying to keep the stand level with the keyboard. This is workable, and also the setup in which around a third of this review was written, but it's actually not the most comfortable way to use the Surface Pro 4 for extended durations.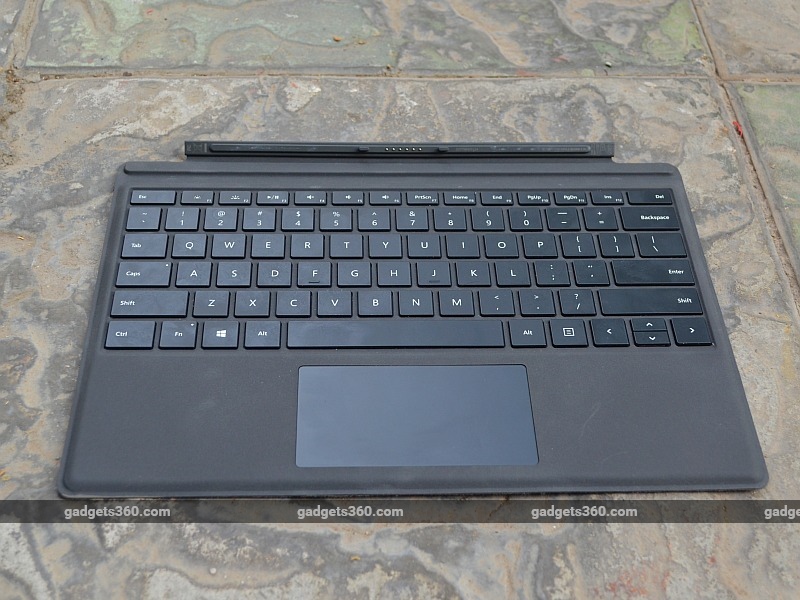 There is one thing we really loved about the keyboard though – that is the trackpad on it. This is fairly small, but hugely responsive, and extremely accurate. It has a really smooth feel and one that we enjoyed using consistently over the entire period of the review. In comparison, the ones we've used on most other laptops have a lot more friction, and just don't feel as smooth and comfortable to use; which is a big reason why a mouse is usually plugged into our work laptop.
Specifications
The Microsoft Surface Pro 4 we reviewed was the entry level model, priced at Rs. 89,990. This model comes with a 6th generation Intel Core i5 processor clocked at 2.40GHz, along with 4GB of DDR-3 RAM, and 128GB of storage. The tablet comes with a number of ports, as discussed earlier, and also includes built in speakers with Dolby sound. As you'd expect, you can't upgrade the parts in this tablet, so whichever model you buy, the specs are final and can't be changed down the line.
The 12.9-inch display runs at a resolution of 2736x1824pixels (4K), at a density of 267ppi. At the typical viewing distance for a tablet or laptop, this is quite spectacular. Everything looks sharp on the screen, and reading text at a small font size is quite easy. The screen is great for watching movies on, or playing video games. The viewing angles are similarly comfortable. You can look at the screen from the sides, and recline it to the angle that's most comfortable for you without losing out on the visual fidelity. It's a huge step forward from the typical Windows laptop screens you get, and that makes this a really comfortable computer to work on.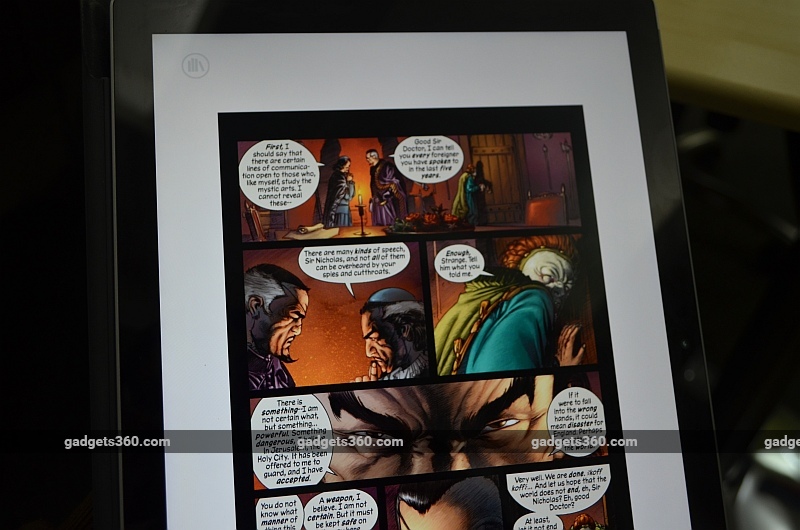 Obviously, the display is also a touchscreen, which means that you can use it as a tablet without any accessories. It's quite responsive – there was never any instance where it didn't pick up a tap or swipe – although there are a few issues related to the on-screen elements which we'll discuss in more detail in the next section.
As already mentioned, the device is not overburdened with connectivity options. There is a single USB 3.0 port that you could of course plug a hub into if you feel the need. The Mini DisplayPort can be used to connect to a monitor, and otherwise there is the 3.5mm jack for your headphones. This will be a bit of a problem if you're used to working with a number of different accessories – the lack of an Ethernet port was particularly annoying for us because the wired access in office is much more effective than our internal Wi-Fi. Having a single USB port also means that we had to disconnect our mouse every time we had to use the port for a thumb drive, or to transfer pictures from our phone. You can argue that with the smooth trackpad and the responsive touchscreen, you don't really need to use a mouse, but if you're used to working in a certain way, then this setup could be a little inconvenient.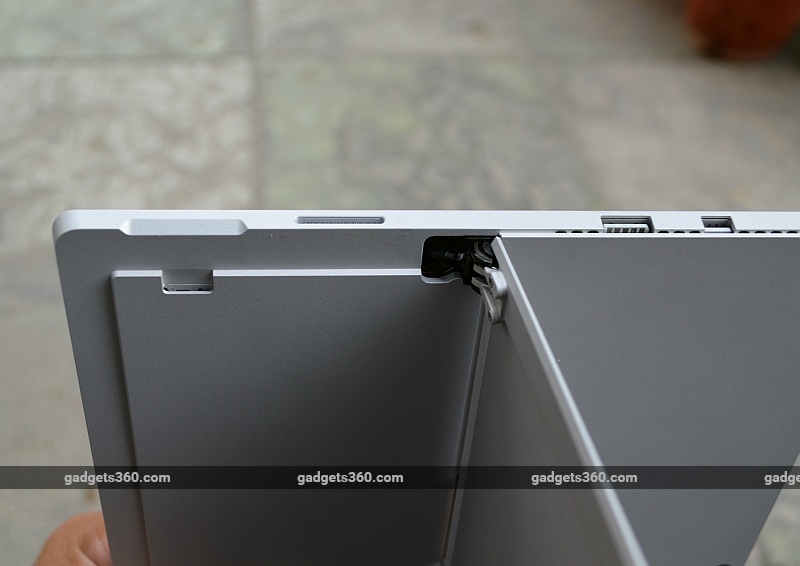 As is to be expected from Microsoft's flagship device, the Surface Pro 4 comes with Windows 10 pre-installed, and no bloatware to speak of. Windows 10 runs very smoothly on the Surface Pro 4, but there are some inconsistencies that are quite annoying and hard to fix. For example, there are small issues in setting up things like Cortana and the Surface Pen. We had to go through the setup multiple times before we could use either of the two correctly, which feels less than ideal. When you're actually using the Pen, palm rejection works well most of the time, but not always, and the problem is that it's not very predictable about it either. That means that you can't really be confident if you're "holding it right".
The biggest problem though, is that Windows is not really designed to be finger friendly. Yes, you can swipe in from the right and enter tablet mode. This is great if all you're trying to do is use the Surface Pro 4 as a tablet – but when you're trying to use it as a laptop but with a touchscreen, things start to fall apart. The default size of text and apps when you start the Surface Pro 4 is set to 200 percent. The first thing you're going to want to do is go to display settings and change this to 250 percent – if you're primarily using the device as a laptop. That's because although the text is fully readable at lesser magnification as well (thanks to the sharpness and clarity of the screen) it's a lot more comfortable at 250 percent. Unfortunately, a lot of the UI elements are still not easy to use with your fingers at this point. At 300 percent, this is less of a challenge, but then the amount of usable space you have on your screen gets quite limited.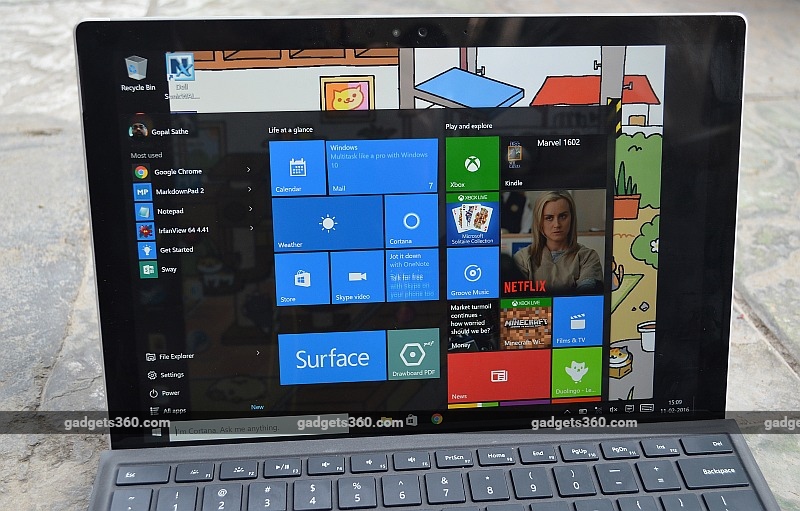 Similarly, when you're trying to copy and paste text, or move files on your computer, you're really better off just plugging the keyboard in and using that or the trackpad – the touchscreen is just too limited. Of course, you can argue that this is why you have the keyboard in the first place. But it means that you can't really seamlessly move between the comfort of using a tablet, and the productivity of using a laptop, and the issue isn't the superb hardware, but Windows in its current form.
Performance
On a day to day basis, the Surface Pro 4 proved to be up to just about any tasks that a journalist has – which is admittedly not a very draining experience, though we did manage to run Photoshop just fine. Opening dozens of Chrome tabs, editing PDF files, and simultaneously working on a Word and Excel documents while listening to music the whole time was perfectly smooth. That's simply not possible if you're using an Android or iOS based device. We were doing this while also transferring photos from a USB drive we'd plugged in, and there was absolutely no slowdown, and no awkward issues of hopping around from app to app – everything was just going on all the time in front of us, and we could pick and choose what we needed to do, when we needed to do it.
Also, it's worth noting that while the Surface Pro 4 does heat up when you're using it, this never gets unbearable even when you're doing something like gaming. The one area where the performance is disappointing is battery life. We've seen some people claiming 7 to 9 hours of use on a full charge, but that's not been the case in our own experience. With the suggested settings for the battery management and brightness, we typically got up to 6 hours of use on the battery. The Battery Eater Pro test (which shows the minimum battery life under heavy use conditions – your actual usage will last for longer than this) lasted for 1 hour and 32 minutes. And running the standard video loop test we use for mobiles, the Surface Pro 4 lasted only 5 hours and 35 minutes.
When you're gaming or going something else that's battery intensive, you simply have to plug in the Surface Pro 4. It's a far cry from other tablets which give you a lot more backup.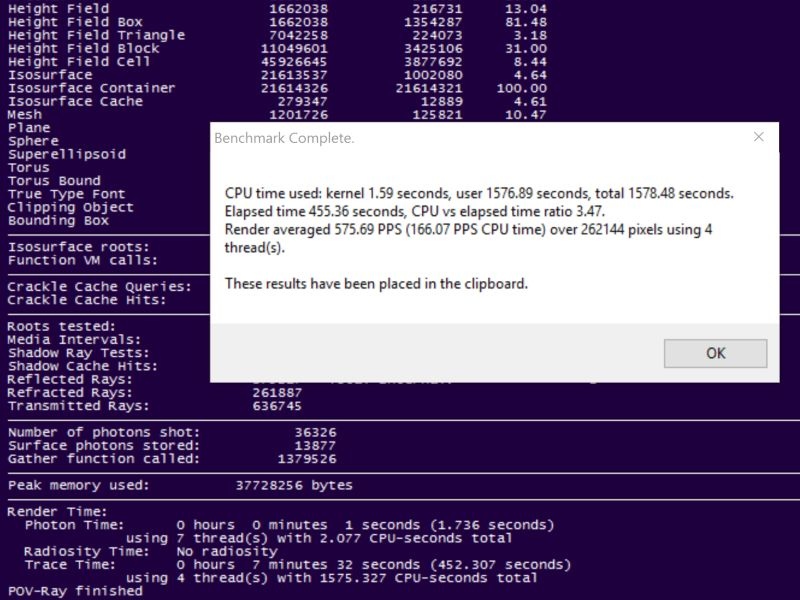 In terms of performance though, this machine is quite capable even if it isn't a powerhouse. The top end model can definitely be used for gaming; the 4GB RAM in this entry level model is a little more limiting, however benchmarking tests showed that it's not too bad either. The POVRay benchmark took just over 7 minutes, while the CineBench R15 CPU Multi score was 206. PC Mark scores for Home, Creative, and Work (all accelerated) were 2,782, 3,608, and 3,677, respectively.
These are reasonably good numbers and since the computer is powerful enough for most office work, we tested the performance of a number of different games. We quickly learned that running current game at high settings is a bad idea as they're pretty unplayable. However, with a few tweaks, there are a lot of games that you can play on the Surface Pro 4.
For example, playing Skyrim at 1440×900, with textures at high and other settings at low, we got a typical frame rate of over 20fps; typically it hovered at over 25. That might not sound high considering most gamers talk about 60fps, but this is actually good enough for a smooth playthrough. Battlefield 4 also ran at 1440×900 pixels, at around 25-30fps, but only when all the visual settings were turned down to the minimum. That's still pretty good although if you're interested in playing competitive multiplayer games, you're probably better off sticking to something like Counter Strike: Global Offensive, which ran at the same resolution reliably over 50fps. The Witcher 3 was completely unplayable at 1024×768 and all settings turned down; GTA V ran with the other settings on low, at 1280×960 pixels. It ran at around 25fps, which again, is quite playable. The same was true for Shadow of Modor, though it stuttered when there were a lot of enemies on the screen. Still, this should give you a pretty good idea about the overall capability of this computer.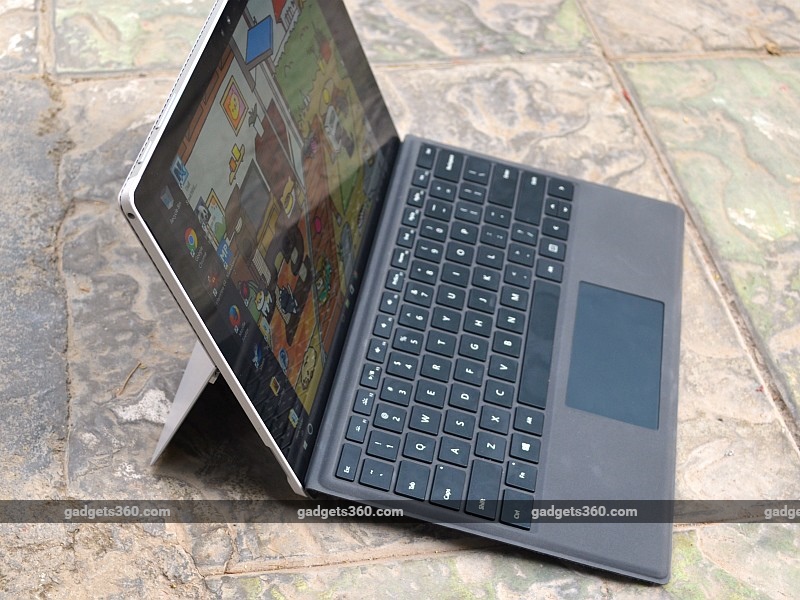 Verdict
At the end of the day, the Surface Pro 4 is a very impressive Windows tablet. Unfortunately, that's still a very small category. It's certainly not the best tablet we've used. It's held back by certain issues – scaling of visual elements, for one, and oppressively limited battery life for another. The power and the portability of this laptop are impressive, but it perhaps falls short of delivering that something extra to justify its price tag.
With that said, having Windows to use in such a portable form factor was a delight. The Surface Pro 4 boots up near instantly giving tablets a run for their money, and it was able to handle a wide range of tasks with ease. And since it's running Windows 10, we were able to go from launching the Netflix app and watching movies to running all the tools that we use for work on our regular laptop without any compromise or searching for alternatives. The amount of software that's available to Windows users means that you can get a lot done without wasting time searching for tools, and the appeal of this is hard to overstate.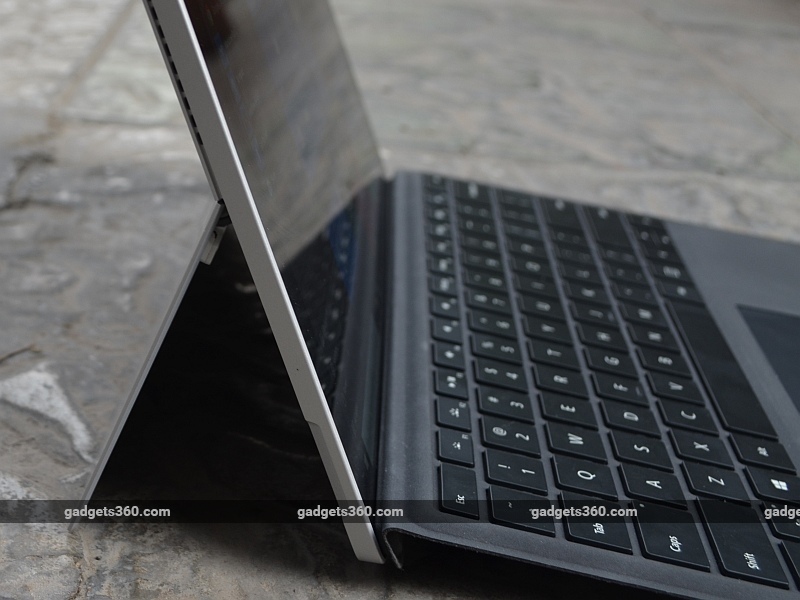 And while this might not be a powerful gaming machine, the Surface Pro 4 can be used to play recent games if you turn the settings down a little. Considering how small and convenient this laptop is, it's kind of amazing to realise that you're carrying a device that will let you spend a couple of hours inside Skyrim when you're stuck on a long flight.
Those are not going to be reasons for everyone to spend around a lakh on this laptop – but for some people at least it's going to be a very appealing device indeed.
Price: Rs. 89,990
Pros
Great design
Sturdy construction
Plenty of power
Cons
High cost
Short battery life
Not fully finger friendly
["Source-Gadgets"]