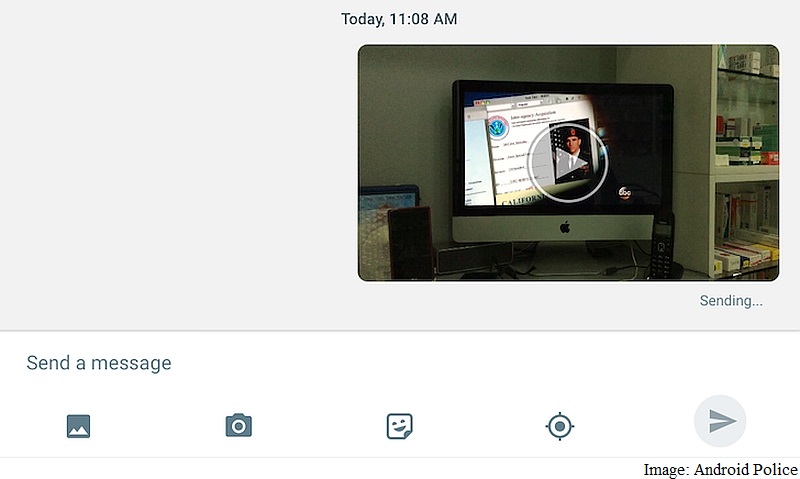 Google last week rolled out Hangouts v8.0 on Android and brought the same version to iOS earlier this week. However, the updated app iOS has brought an exclusive feature where users can record and send videos for a much longer duration than before.
Hangouts 8.0 on iOS will now let users record and send videos for as long as 60 seconds. It is worth mentioning that the messenger app on iOS already had 10-second video recording and sending ability since the app version 2.0 (released in 2014). It is yet to be revealed when the feature will arrive on its Android client as it has not yet got the ability to send 10-second videos.
The Hangouts v8.0 for iOS additionally brings fixes for unread conversations when the user is on call, for users stuck on the "Ok, got it" button, and support for Google for Work – Mobile Management. Theupdated app is available to download from App Store.
Google Hangouts 8.0 on Android on the other hand got the Android N's inline notification responding feature among others. Of course, the quick reply feature was already available with Hangouts 7.0 but this time the Direct Reply works inside the notification tray only. The app also got support for Android N's new bundled notifications, stacking up individual message notifications in one card inside the notification tray. None of these features will be visible for those who are on the older version of Android. The images sent or received inside the chat window has also become slightly rounded from corners.
Hangouts last month got improved call quality with peer-to-peer connections. The inclusion of peer-to-peer protocol for calling, Google says, allows the app to reroute the call to the recipient or caller instead of going through Google's servers. While this improves the quality, as the packets have to travel a shorter distance – which in turn, takes less time – there's a downside to this as well.
In a support document, Google has revealed that a direct peer-to-peer communication also discloses the IP addresses of all the participating parties. "A direct peer-to-peer connection between you and the other person reveals both your IP addresses. With an IP address, it's possible to approximate your location."
Download the Gadgets 360 app for Android and iOS to stay up to date with the latest tech news, product reviews, and exclusive deals on the popular mobiles.