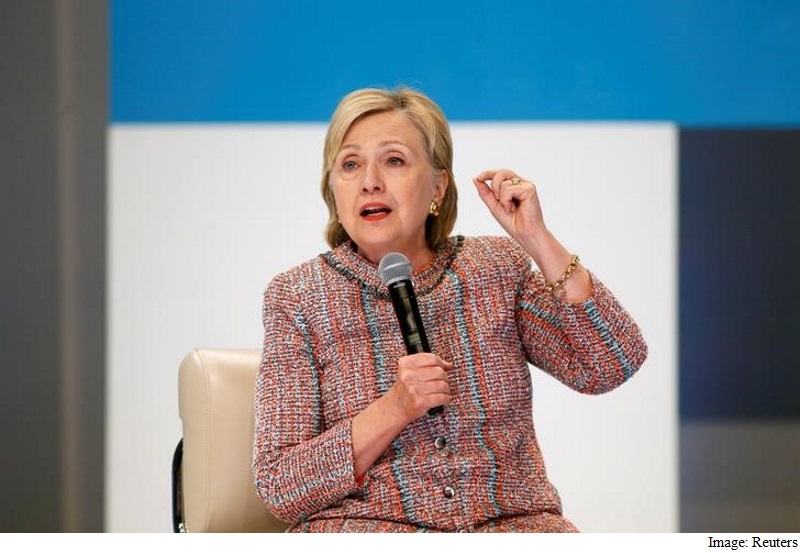 HIGHLIGHTS
Clinton's plan would forgive up to $17,500 in student loans
She would expand Internet service to more public spaces
She would encourage the deployment of 5G networks
All US households would have access to high-speed Internet within Hillary Clinton's first term in office and young entrepreneurs could defer their college loans while launching startups, under a broad technology agenda she released Tuesday.
Putting off loan payments for up to three years would allow greater latitude for some of those most likely to drive the innovation economy, Clinton said after a tour of a technology hub here.
"I do plead guilty to being a policy wonk," Clinton said to laughter from a crowd of mostly young tech entrepreneurs. "It really matters what we do and how we do it if we're going to build the economy of the future."
She took a shot at Republican opponent Donald Trump for inviting Americans to look backward, she charged, rather than forward.
"I am on a mission to find out what works," Clinton said.
Clinton's plan would also forgive up to $17,500 in student loans for some entrepreneurs who develop businesses with measurable public benefit or launch initiatives in economically struggling or underserved areas.
Clinton's campaign did not estimate the cost or detail how she would pay for these goals.
The presumptive Democratic presidential nominee also wants to ensure that every student has access to computer science education, a goal she would achieve partly by asking the private sector to help train 50,000 new computer science education teachers over the next decade.
She would expand Internet service to more public spaces, such as airports and train stations, with the goal of offering more free Wi-Fi, a statement from Clinton's campaign said. She would encourage the deployment of 5G networks across the country to provide faster wireless service and promote the connected system of Internet-enabled devices and buildings, known in tech-speak as the Internet of Things.
The goal of universal high-quality Internet long predates Clinton, and has proved difficult to achieve in areas for reasons mostly related to geography and poverty. President Barack Obama speaks frequently of closing the "digital divide" and has pledged to connect 99 percent of students to high-speech Internet in their schools by 2018, a year after he leaves office.
"Every year we waste means we leave people behind," Clinton said.
A body of research shows student debt is holding back small business creation. A study out of Penn State concluded that fewer businesses were started in areas of the country where people carry the highest levels of college debt, while the Federal Reserve Bank of Philadelphia said large student loan obligations significantly hinder the creation of startups.
Higher education policy experts, nevertheless, remain skeptical about a link between the two, especially given the wealth of generous repayment options afforded to borrowers. The White House has given Americans more options for repaying their loans so they can avoid default, expanding programs that cap monthly payments to a percentage of earnings, known as income-based repayment plans. People can already defer their payments or pay nothing under income-based repayment plans, said Jason Delisle, a resident fellow at the American Enterprise Institute, a right-leaning think tank.
"Someone starting a business generally wouldn't be showing any income on their tax return, so they wouldn't need to make any payments if they're enrolled in an income-based plan," he said. "So what would this [proposal] add? Yet another complicated option to achieve the same thing that the income-based program already does?
Delisle also finds Clinton's debt forgiveness plan for entrepreneurs puzzling at a time when the Obama administration has been dialing back its existing forgiveness plans. Under the newest repayment plan, anyone who borrowed for graduate school will have to make payments for 25 years, five years longer than everyone else, to have their remaining balance forgiven. That change addresses growing concern that the government could sink the program if it continues to offer grad students, who tend to borrow and earn more, generous debt forgiveness.
"Here we have the Obama administration who has basically admitted they went too far in their efforts to provide loan forgiveness. But here you have Clinton driving right by that, saying no, what we need is more," Delisle said. "So which is it?"
Clinton spoke Tuesday at "Galvanize," an incubator housed in a sleek renovated building where tech entrepreneurs share office space and a barrista whips up lattes in the lobby. Later on Tuesday, Clinton was meeting with "digital content creators" in Los Angeles.
© 2016 The Washington Post
Download the Gadgets 360 app for Android and iOS to stay up to date with the latest tech news, product reviews, and exclusive deals on the popular mobiles.