Headteachers and campaigners fighting cuts to special needs education call move 'sickening'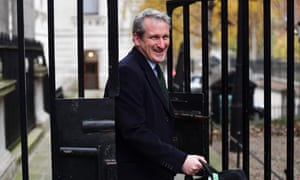 Headteachers and campaigners for children with special educational needs and disabilities (SEND) have reacted with fury to a government announcement that 16 grammar schools are to split a £50m bonus to create new school places.
Making the announcement on Monday, the education secretary, Damian Hinds, said the 16 schools chosen to receive the additional funding out of 39 applications had been given permission to expand after setting out clear actions to prioritise access for disadvantaged children.
"I have always been clear that selective schools will only be able to expand if they meet the high bar we have set for increasing access for disadvantaged children, and all of these schools have done that," Hinds said. "As a result, countless more children from disadvantaged areas will benefit from places at outstanding schools."
Headteachers who have been campaigning for months to highlight the funding crisis in their schools described the move as "ill-judged". Campaigners who are fighting SEND cuts to their children's education through the courts said it was "sickening".
"It's difficult to stomach the backdoor expansion of grammar schools while inclusive schools are being financially penalised and special educational needs funding is in crisis," said a spokesperson for SEND Family Action. "Attending these schools is simply not an option for many pupils with SEND."
According to the Institute for Fiscal Studies, per-pupil funding in England is down by 8% in real terms since 2010, causing real hardship in schools. As a result, headteachers are increasingly asking parents for cash donations, with some schools forced to cut staff, SEND support and pastoral care.
Dr Mary Bousted, the joint general secretary of the National Education Union, said the £50m boost would benefit very few children. "Yet again the government shows its complete lack of understanding of the huge funding crisis in our schools. This will be a huge disappointment to the majority of non selective schools and colleges facing financial hardship."
Headteachers who marched on Westminster in September to bring the financial crisis in their schools to the attention of ministers also expressed their disappointment. Jules White, the headteacher of Tanbridge House school in West Sussex and leader of the Worth Less? fair funding lobby, which represents 7,000 headteachers across 60 local authorities, said all schools deserved better funding.
"When the Department for Education only ever talks about efficiencies rather than proper investment for schools, we are concerned that today's announcement is ill-judged. In short, it will cost £12,500 to fund each new place under this capital expansion project.
"It seems that the Treasury and the DfE can always find money for projects that suit an ideological direction. At the same time, when the need to fund each child's education properly arises, we are told that money is in short supply."
The opening of new grammar schools is barred by legislation passed under Tony Blair's government in 1998, but the current government has made plain it is keen to increase the number of grammar school places, and in May Hinds announced the selective schools expansion fund, despite fierce opposition from educationalists and policy-makers.
Critics argue that grammar schools are bad for social mobility. Recent figures showed that little more than 2% of grammar school pupils receive free school meals, compared with about 15% in other state secondary schools.
The shadow education secretary, Angela Rayner, said: "Today's announcement is a stark reminder that the Conservatives have nothing to offer the overwhelming majority of schools apart from more cuts.
"At a time when the chancellor promises only 'little extras' for almost every school, the government are handing out millions to a handful of cherry-picked grammar schools which will do nothing for almost every child in the country."
The government says the 16 grammar schools who have been awarded the additional funds have pledged to prioritise children who are eligible for the pupil premium for admission – these are children from the lowest income families.
More than half of the schools approved have agreed to lower the mark required to pass the entrance test for pupil premium pupils – Altrincham grammar school for boys says a pass will be 10 marks lower for such children – and Chelmsford county high school says 16% of places (30 pupils) will be awarded to girls eligible for pupil premium.
The schools also had to outline measures to improve outreach to children and families who might not otherwise consider applying to grammar school, including free entrance test materials available online and visits to primary schools and mentoring by sixth formers.
["source=cnbc"]