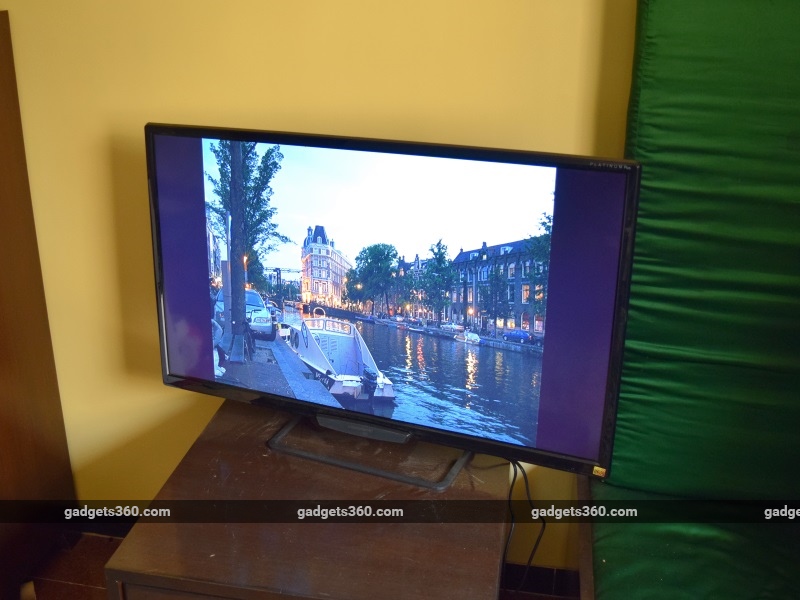 Videocon is one of the oldest electronics conglomerates in India, and a trusted name when it comes to appliances. The company also now has significant presence in other industries, such as mobile phones, telecommunications, direct-to-home television services and large-format retail. But if there's one thing the company is known for above all else, it is televisions.
Videocon's latest innovation in the field of televisions is a home-grown LED-LCD based television technology that it calls 'Liquid Luminous'. The range is claimed to reproduce 95 percent of the colours that the human eye is capable of perceiving, compared to the 72 percent that most conventional TV panels reproduce. Today, we're reviewing the Rs. 39,790 40-inch (KV40FH11CAH) model. Does this technology result in a better picture and improved performance? We find out in our review.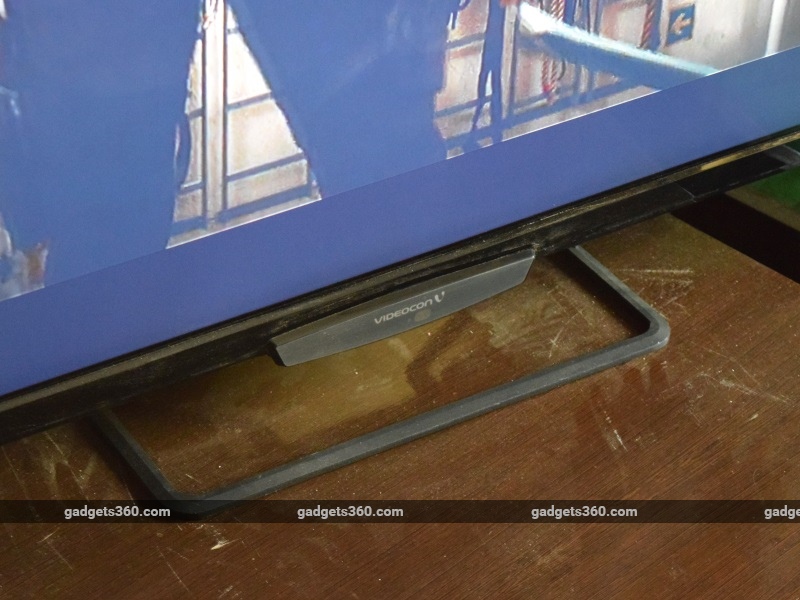 Design
The Videocon Liquid Luminous TV isn't the kind of television set that you're likely to give a second glance. It's simple and straightforward to look at, and is designed to sit inconspicuously in its place without being a distraction. At 40 inches diagonally, the screen doesn't even have the sheer size and presence to make it eye-catching. This doesn't mean that it's unattractive, just that it's plain and functional, which can be either a good or a bad thing depending on how you look at it.
The approach towards a middling aesthetic is more evident when you look at the TV up close. It isn't slim, but it isn't particularly thick either. The borders around the screen are neither too thick, nor can they be considered narrow. The only interesting thing about the design is the wedge at the bottom where the Videocon logo and IR receiver are located, which lends a dash of modernity to a design that is otherwise incredibly average.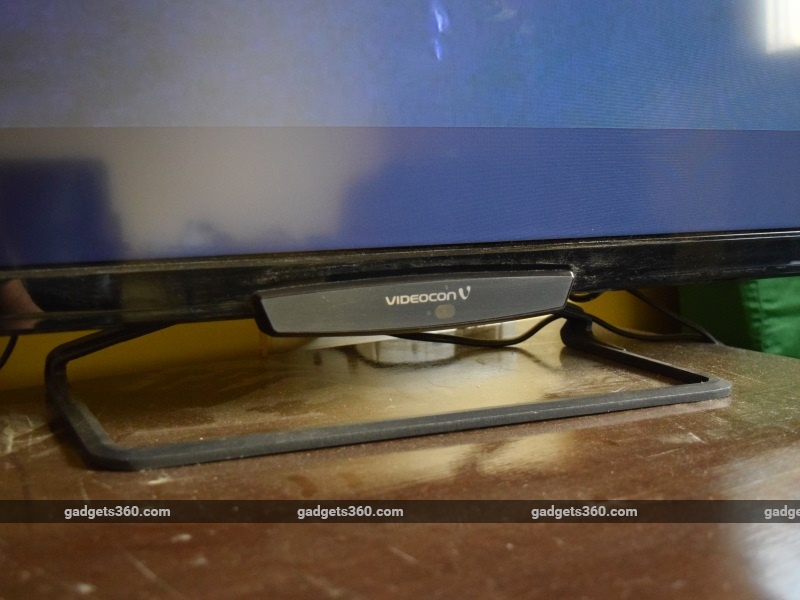 The stand of the 40-inch Liquid Luminous TV is a single metal piece, attaching at the center. This is useful if you plan to place the TV on a table or cabinet. It was extremely easy for us to assemble. The TV is also light and easy to lift and move around, if that's something you intend to do. The metal stand itself is sturdy, but the TV tends to rock back and forth quite a bit with the slightest of touches, thanks to the plastic portion where the stand attaches to the back of the TV.
Most of the input ports are located on the left side of a slightly thicker portion of the back of the TV. This includes the USB ports and other audio and video inputs. However, all the HDMI ports are at the bottom, along with the audio out socket for headphones or external speakers. This was incredibly inconvenient for us; at least one HDMI port facing the side would have made sense.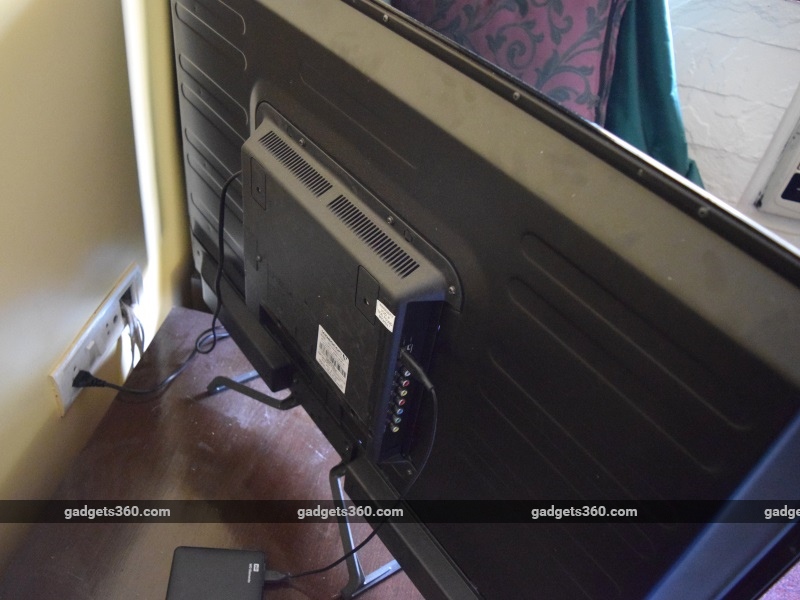 Specifications, features, and software
The Videocon 40-inch Liquid Luminous TV has a 1920×1080-pixel LED-LCD screen, and features Videocon's proprietary 'Liquid Luminous' technology. According to the company's own documentation, the technology claims to use "advanced light-diffusion techniques, enhanced colour longevity and better brightness to offer more accurate, soothing colour shades". At the end of the day though, this is an LED-backlit LCD TV, and functions as such. Our testing will reveal whether there is any merit to these claims.
The TV has a standard set of inputs which should be sufficient for most users. This includes four HDMI ports, two USB ports, and all sorts of sockets for various audio input and output.
While many of the TVs we've recently reviewed are smart TVs, the Videocon is unapologetically straightforward about lacking any such capabilities. The user interface is barebones and simple to navigate around, with a simple menu to switch sources and a second menu for the more complex settings. Plugging in a USB drive will bring up the on-screen media controls that aren't very intuitive to navigate around, and needed too many complicated steps before we could finally play a media file.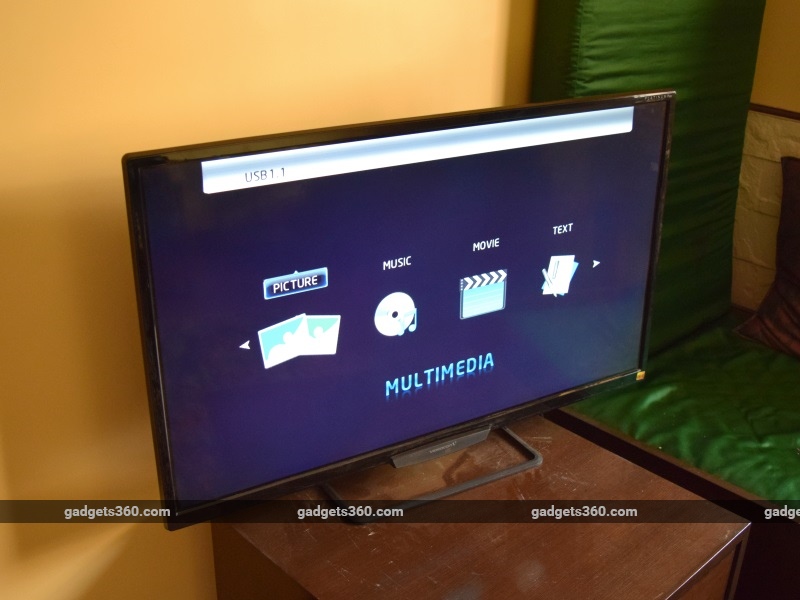 The remote continues with the no-nonsense style of things, with standard television controls, along with controls for the built-in media player. Although it usually serves the purpose, responsiveness is a bit slow. The TV's software is to blame for this, often taking too long to react to commands from the remote, especially when handling media files on a USB drive. Rewinding and forwarding are particularly slow, and we found it easier to use a laptop connected via HDMI to watch our media only because it was easier to control this way.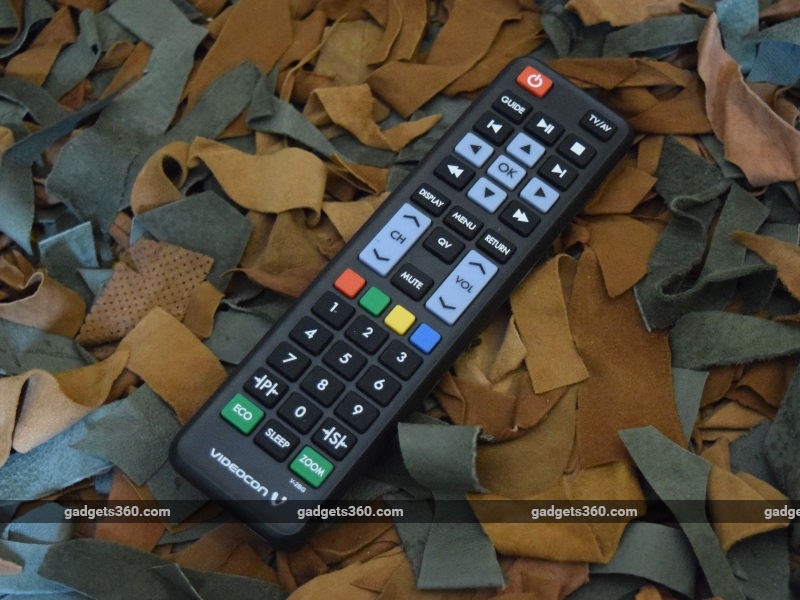 Performance
Videocon's traditional expertise was in cathode ray tube televisions of the past, and through experience we can say that the current LED range doesn't quite match up to the products that manufacturers such as Samsung, Sony, and LG produce. However, Videocon can be expected to compete strongly against other Indian manufacturers such as Vu, Micromax and Onida when it comes to performance. We tested the TV with a variety of content, ranging from full-HD to standard definition, using USB and a laptop connected via HDMI as our primary sources.
We started with standard definition content over HDMI, including some demo videos and Netflix, including the Netflix original series Master of None and Bojack Horseman. The picture was plagued with colour issues. Colours had a tendency to be excessive and unrealistic at times. Considering that the promise of Liquid Luminous technology is better colour handling, this was rather disappointing for us. Picture sharpness is average but bearable, and not quite as extreme in its failings as the colour handling.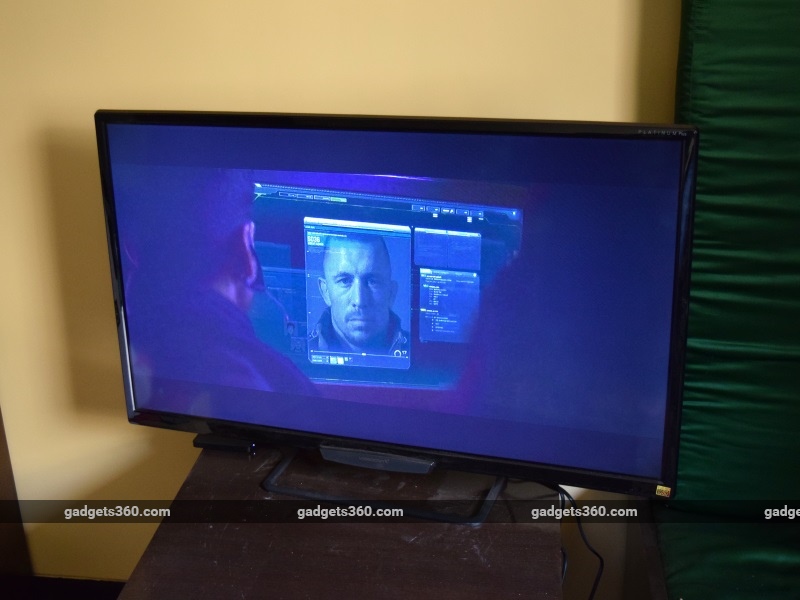 Moving on to a 720p print of Emily Blunt-starrer Sicario, we found the colour to be slightly improved, but still fairly unnatural. Colour shades tend to be either too bright or too dark, and skin tones lose any semblance of naturalness. Contrast levels and brightness are decent, though, and motion is good for the most part. However, some judder is visible in busy scenes, and this puts a slight stain on the otherwise decent motion handling.
Finally, we played a full-HD print of Captain America: Winter Soldier, along with other 1080p content from YouTube. High definition titles tend to bring out the best in the TV, with most of its colour issues adequately compensated for. However, judder is even more visible at the highest resolution. Sharpness is decent, as is general motion in scenes that aren't too active and busy. 1080p content does however overload the TV's abilities, and causes occasional slowdowns, especially when forwarding or rewinding. The picture occasionally tends to skip in such situations, and this is most unbecoming of a modern TV.
Sound quality on the Videocon TV is poor, and we found that we had to use external speakers or headphones with almost all content that we watched. Even at the highest volume, the TV often produces sound that is too soft, and often tinny and unclear. The tuning of the sound is poor as well, often making it too rough and booming.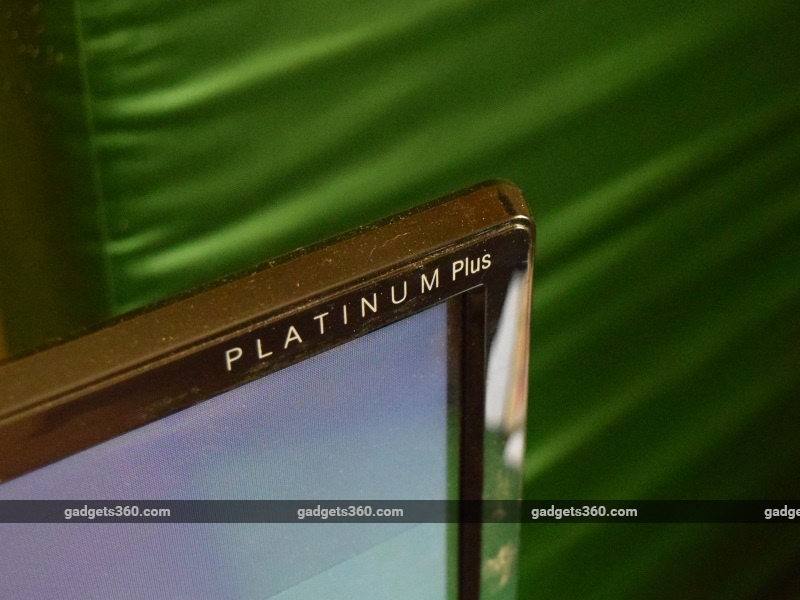 Verdict
Although smart TVs are all the rage right now, a lot of buyers prefer to have no-nonsense television sets that simply do their job without any fuss. The Videocon Liquid Luminous range aims to be exactly that: a simple TV that hopes to provide nothing but solid performance. Unfortunately, that solid performance is missing when it comes to standard definition content, and the promised 'better colours' are nowhere to be seen. What you get instead is exaggerated colours and niggling motion issues, and the whole premise of Liquid Luminous technology appears to be unfounded.
This isn't a very affordable TV either, and plenty of similarly priced options offer better specifications and performance. This TV is generally decent when it comes to 720p and 1080p content, and it looks good and is built well. But at its asking price of Rs. 39,790, the Videocon 40-inch Liquid Luminous Full-HD TV (KV40FH11CAH) seems just a bit too expensive for what's on offer.
Price (MRP): Rs. 39,790
Pros
Decent performance with HD and full-HD content
Spartan looks
Good build quality
Easy to use
Cons
Poor picture quality with standard definition content
Colours are exaggerated
Judder issues with high definition content
Ratings (Out of 5)
Design: 3.5
Performance: 3
Value for money: 2.5
Overall: 3
["Source-Gadgets"]