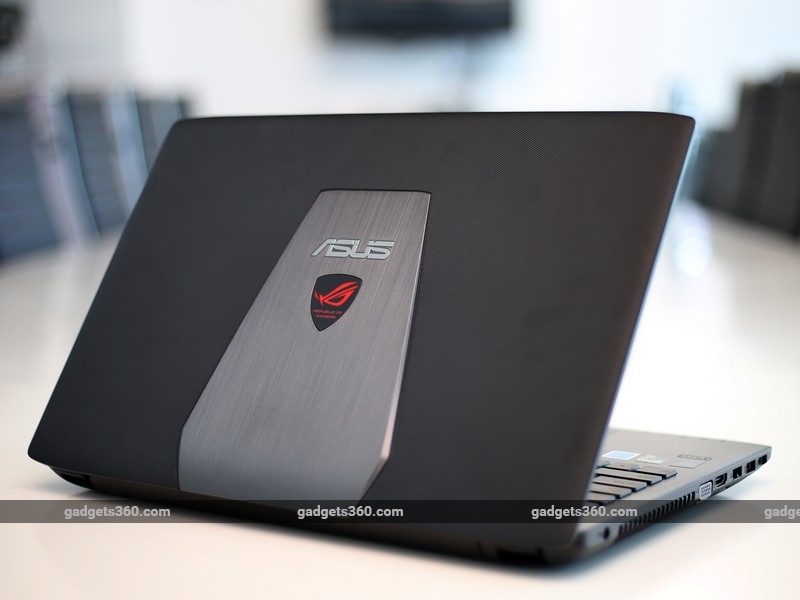 The new GL552JX from Asus's Republic of Gamers (ROG) stable was launched in India towards the tail-end of last year, aimed at gamers who wanted something a bit more potent than the R510J (Review) while still staying under the Rs. 1 lakh mark.
This latest model of the GL552JX is priced at Rs. 80,990 and features a much better design than Asus's mainstream R510J gaming laptop, and is upgradable, which many will appreciate. Let's see how all of this translates in the real world and if it's worth the premium over the company's more mainstream offering.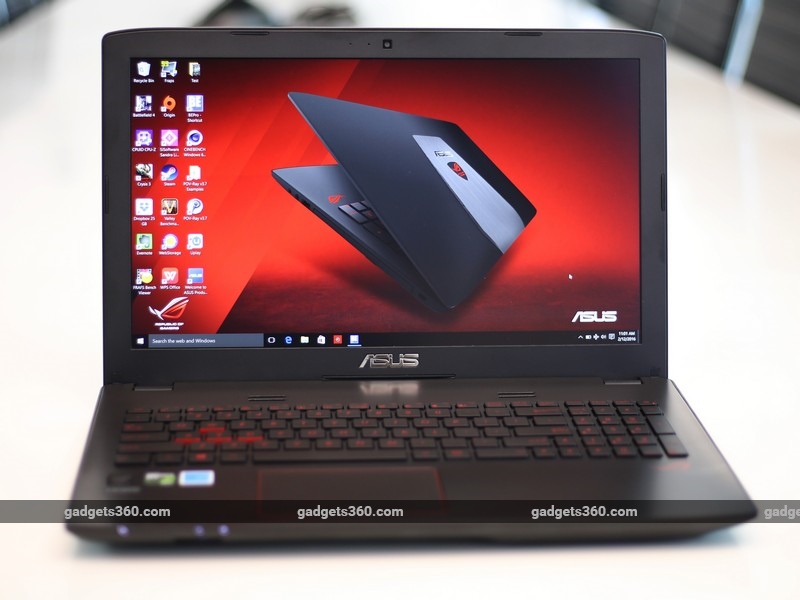 Look and feel
The GL552JX stays true to Asus' ROG style and sports an eye-catching design and very good build. The quality of plastics used for the chassis feels solid and well put-together. The lid offers decent protection for the display, and the screen doesn't distort too much when you apply pressure from behind. There's a rubberised coating over the lid along with a metallic strip in the middle with an illuminated R.O.G logo, which looks pretty slick.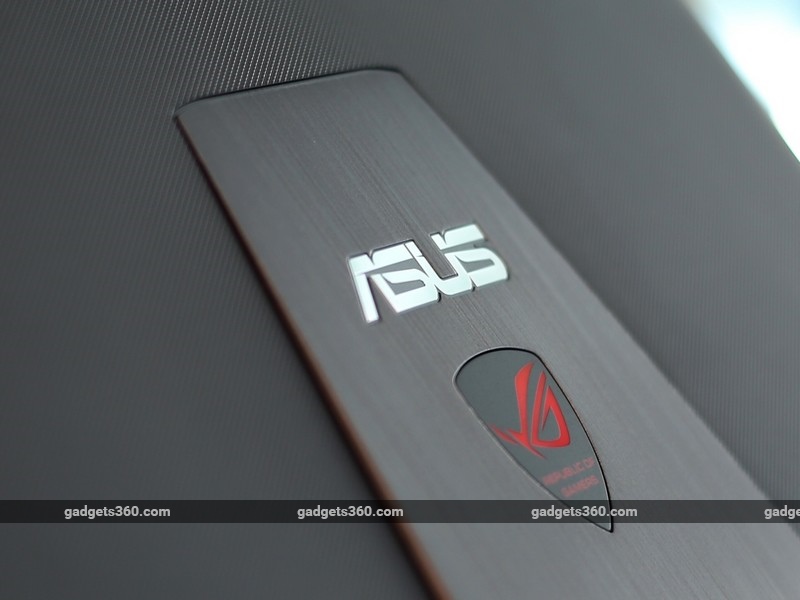 The 15.6-inch full-HD, anti-glare display is an IPS panel with very good viewing angles so there's very little colour shift even when you're viewing content at odd angles. Reflections are also a non-issue here, making the laptop comfortable to use under most lighting conditions. The display is held by two hinges, which feel rigid enough for long-term use.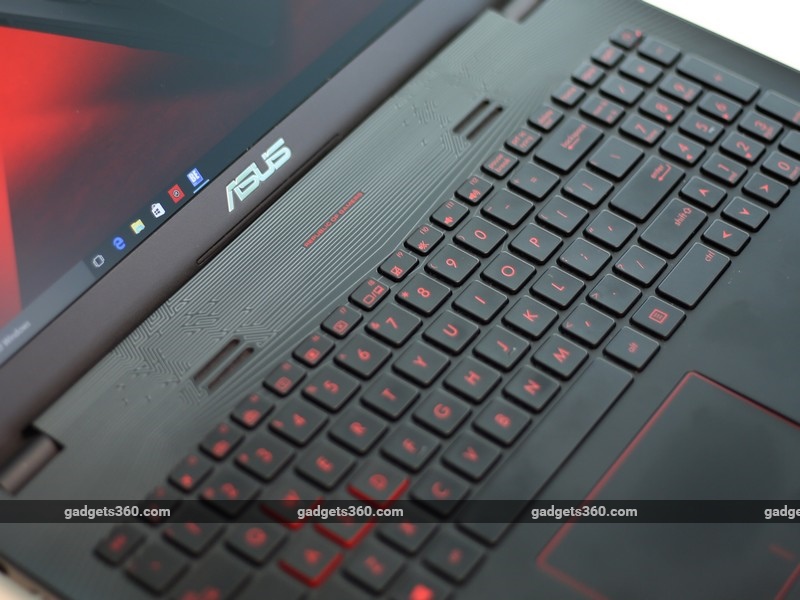 The black and red theme continues around the keyboard area too. The red lettering on the keys are visually striking and there's also red backlighting. You can vary the intensity of the backlight but you can't change the colour like on some of the more expensive gaming laptops offer. The keys themselves are well spaced out leaving enough room for a numeric keypad. We liked the tactile response of the keys, which aren't too noisy and have short travel making them comfortable for typing as well as gaming.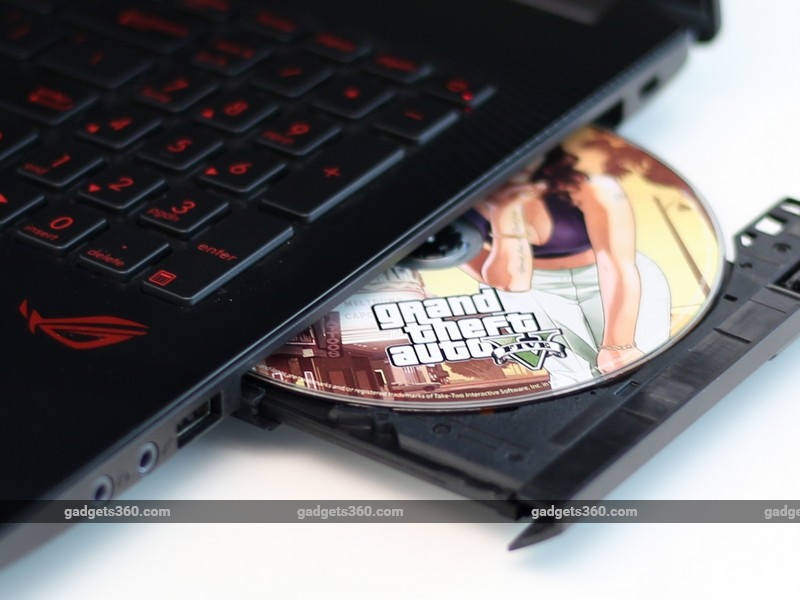 The trackpad is decently large and is placed a bit off-centre so it doesn't get in the way while typing. Button response is good as minimal effort is required to engage it and you also get the usual gestures for Windows 10. The status LED lights are placed towards the left of the trackpad, facing forwards. Asus has moved the speakers from the bottom to just above the keyboard so the sound doesn't get muffled if you place the laptop on an uneven surface like a couch or a mattress.
Coming to the ports, we have a total of three USB ports out of which two are USB 3.0, one HDMI output, Gigabit LAN, VGA, headphones and microphone ports, and a Kensington lock. There's also a DVD writer and an SD card slot. The exhaust vent is placed on the left, which also has red accents to go with the gaming theme of the laptop.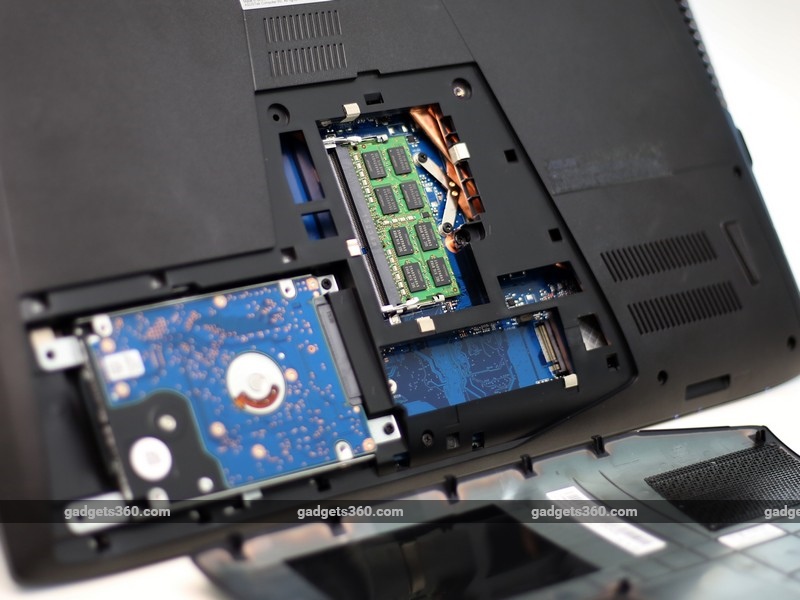 Flipping the laptop over we see four thick rubber feet to prop the laptop up for better ventilation. The battery sits flush with the rest of the body and is removable. The most interesting bit however, is the panel which gives you access to the RAM and hard drive. The GL552JX comes with a single 8GB RAM stick, which you can expand with another 8GB stick in the future.
Thankfully, Asus hasn't gone with the 'soldered-on' approach for the RAM like it does for its mainstream offerings, so this gives you better flexibility when upgrading. You can also add an M.2 (SATA III) SSD if you need to speed things up. We appreciate the fact that you can upgrade the laptop pretty easily by yourself, which is something most enthusiasts who are willing to spend this sort of money will look for.
The Asus GL552JX ships with a charger, cable tie, microfibre cloth and a backpack. The machine is pretty heavy at 2.6kg, so it isn't the most portable laptop. Then again, that's pretty much the case with most gaming laptops.
Specifications and software
We would have loved to see the more power-efficient Skylake platform here but we'll have to make do with Haswell for now. The CPU of choice is a quad-core Intel Core i7-4750HQ running at 2GHz with a Turbo frequency of 3.2GHz and HyperThreading. There's a single stick of 8GB DDR3 RAM running at 1600MHz.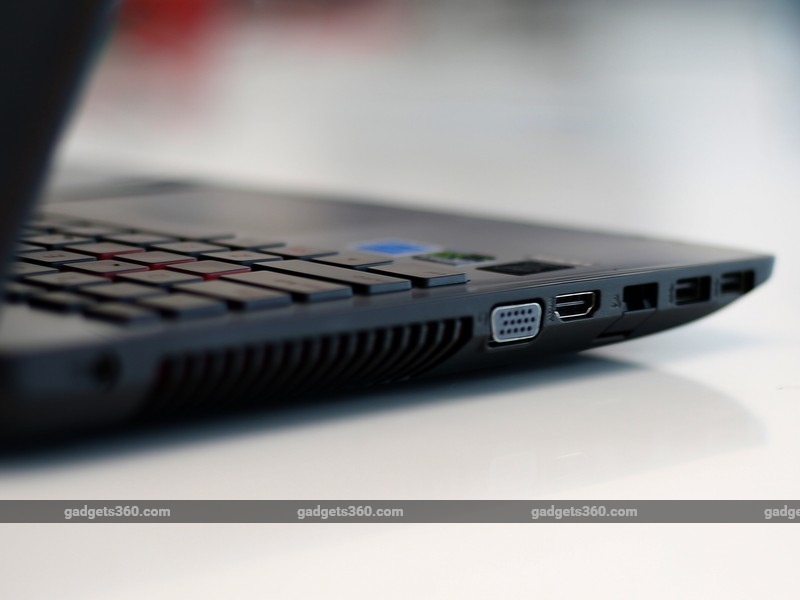 For storage, we have a 1TB 2.5-inch hard disk running at 7200rpm from HGST, which should be plenty for most use cases although we do recommend adding an SSD in the provided slot to improve loading times of Windows and applications. Graphics duty is handled by an Nvidia GeForce GTX 950M, similar to the one on the R510J, except for the 4GB of VRAM on this SKU. Other specifications includes an HD webcam, Wi-Fi b/g/n/ac and Bluetooth 4.1.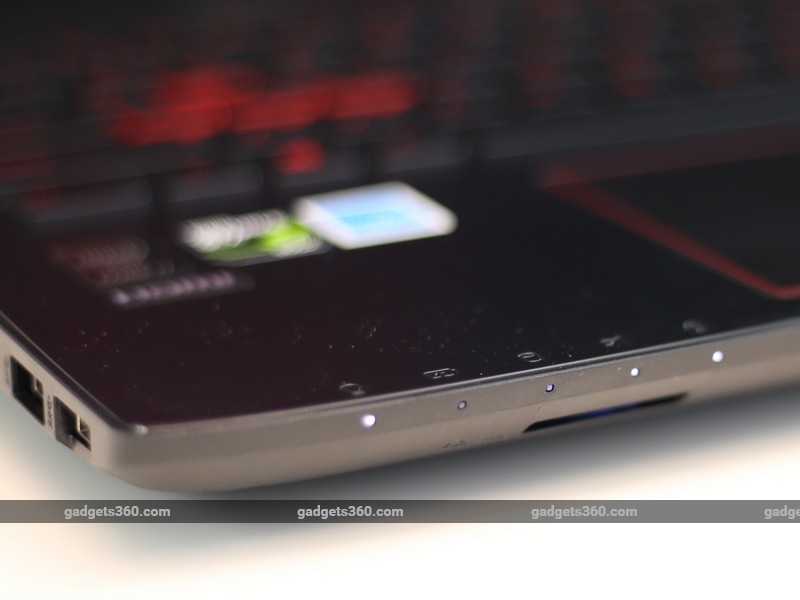 The GL552JX ships with Windows 10 Home 64-bit and Asus's usual variety of promotional offers and software pre-installed. Asus bundles some of its own software such as AudioWizard for tweaking the sound profiles for gaming, movies, etc. GameFirst III which also ships with its gaming motherboards, prioritises game data traffic to reduce lag during online gameplay. You also get a one month trial of Microsoft Office 365, 25GB of Dropbox space for six months, and a year's subscription to McAfee LiveSafe.
Performance
On first boot, Windows felt very slow and sluggish due to the myriad pre-installed apps prompting you to register or check for updates. The sluggishness got a little better once we trimmed the number of applications that start with Windows. However, the laptop just doesn't feel as snappy as it should even with a 7200rpm hard drive. An SSD is desperately needed here. Another reason could be due to the fact that the RAM is only running in single-channel mode, which effectively halves the memory bandwidth, as opposed to dual channel which is possible only with two sticks.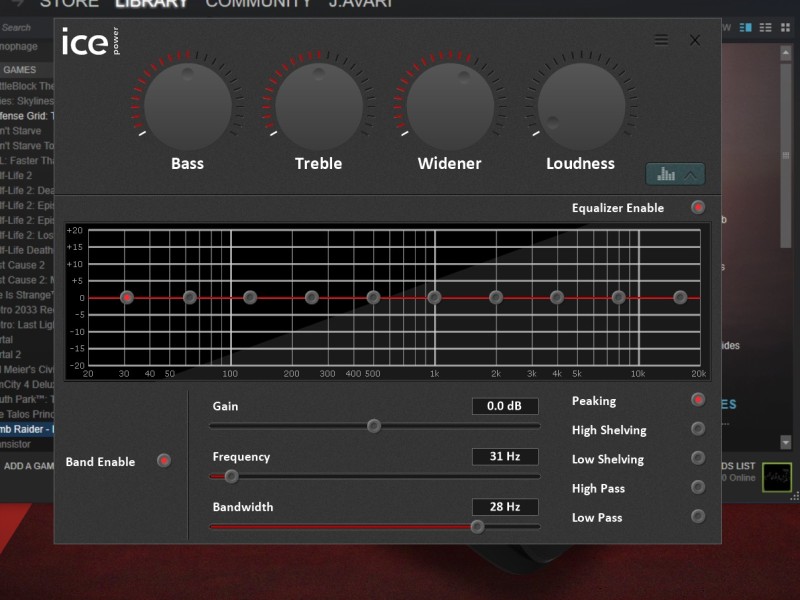 The sluggishness is also noticeable in the load times of games, which was a lot poorer than we would have liked. Audio quality is also quite good thanks to the speakers facing the user. You can also tweak the sound using Asus's software. Sound is not very loud if you're watching a movie with a group of people but is enough for solo use.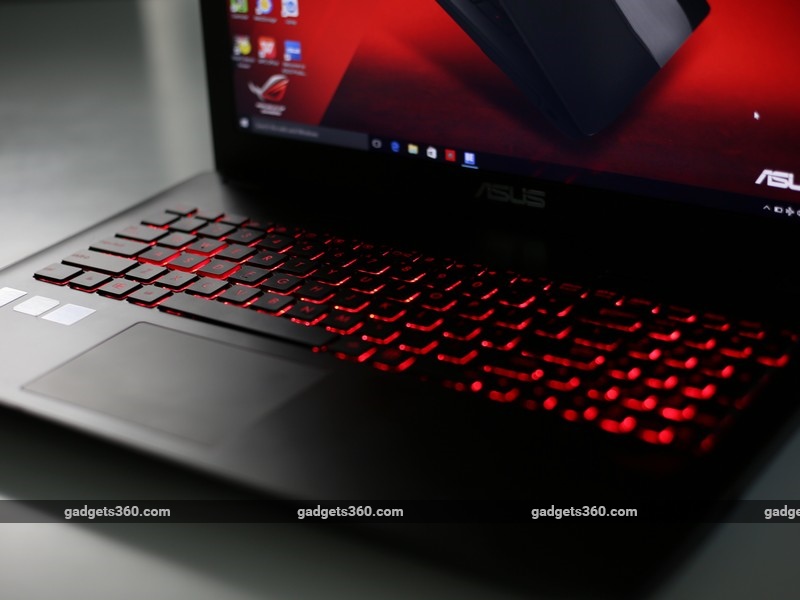 The GL552JX clearly has a much better cooling system than its mainstream sibling, the R510J. The palm rest area stays cool and so does the bottom part of the laptop, which means you can use it on your lap while gaming. Coming to the benchmarks, the laptop produced good scores as you'd expect given the components inside. Cinebench R15 returned 42fps in the OpenCL test and 598 in the CPU test. We also got a decently low trace time in POVRay: 3 minutes and 33 seconds. 3DMark Fire Strike gave us a score of 2,732, which was surprisingly a bit lower than the R510J, which recorded a score of 2,809. Finally PCMark 8 gave us a score of 3,518 for the Home test, 4,092 for Creative. and 2,962 for Work.
In real-world gaming tests, the GL552JX managed to hold its own at the native 1080p resolution. We got an average framerate of 22fps in Tomb Raider (2013), with most settings at 'Ultimate' and FXAA turned on. We had to drop the some of the settings down to 'High' or 'Ultra' in order to get a smoother and more enjoyable 27fps average during actual gameplay.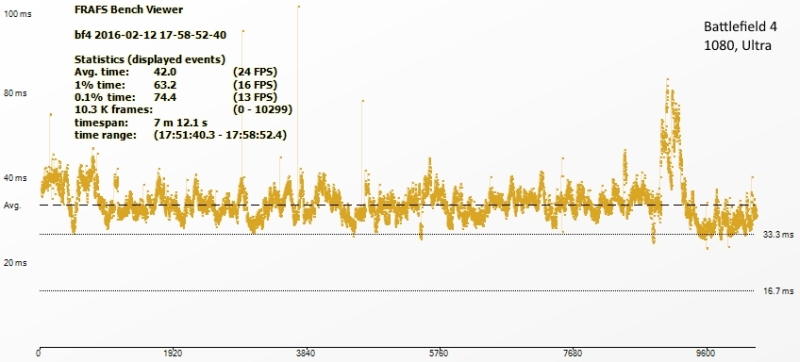 In Battlefield 4, we averaged 24fps with everything set to 'Ultra', Anti-Aliasing (AA) tuned off and 16x Anisotropic Filtering (AF). The game is playable at these settings although firefights and explosions cause a bit of lag.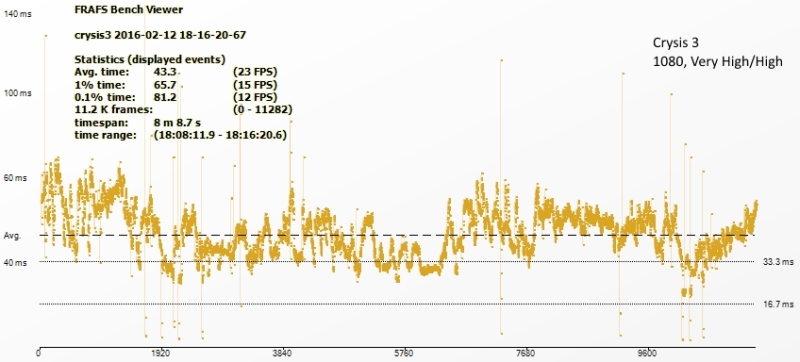 Crysis 3 put on a similar show churning out 23fps on average with the texture setting dialed up to 'Very High' and system spec setting at 'High'. This was with SMAA set to low and 16x AF.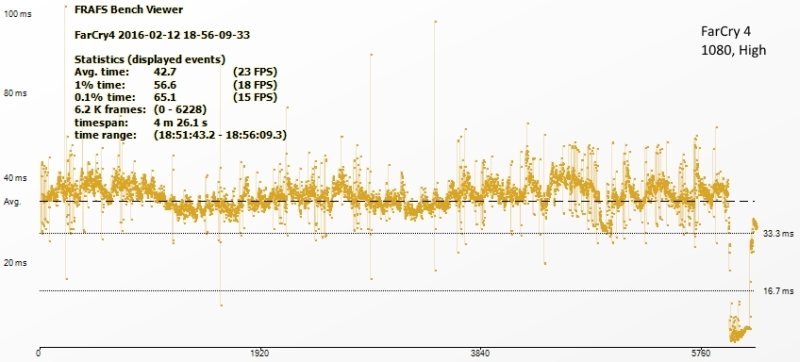 We tried to push the laptop in FarCry 4 but going beyond the 'High' quality preset resulted in unplayable framerates. After a bit on tinkering we settled at an average framerate of 23fps without compromising too much on the visuals.
Last but not least, we ran GTA V with DX11 and a mix of 'Ultra' and 'High' settings without any AA. In the fifth scenario of the built-in benchmark, we got 20fps on average, which is pretty poor. Dropping the settings down to mix of 'Medium' and 'High' resulted in a more playable framerate. One thing to note is that even though GTA will let you push the graphics settings to the max due to the 4GB of video RAM, it's a bit pointless since the GTX 950M won't be able to handle any of it.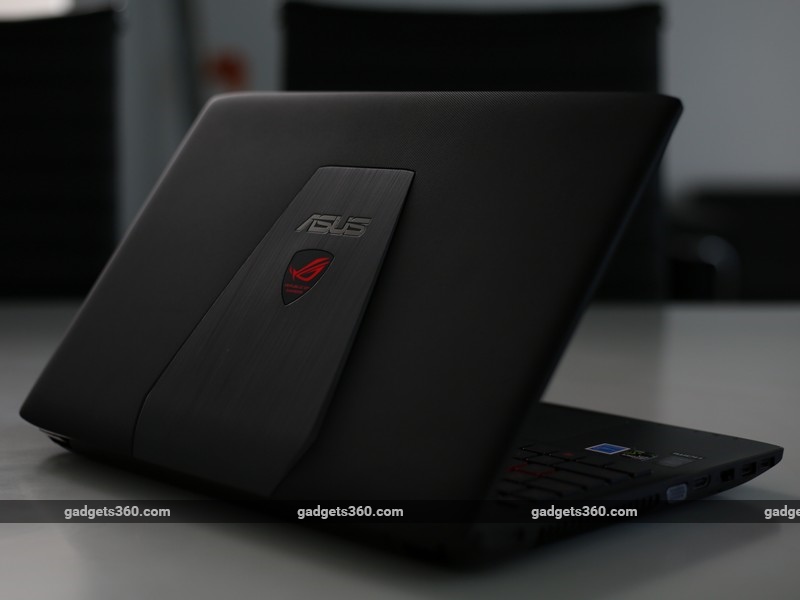 The 4-cell 48WHr battery only managed about 1 hour and 5 minutes in Battery Eater Pro, which is below average. During actual usage, we managed to get just about 2 hours of run time with Wi-Fi on and a lot of Internet browsing. Clearly, Asus expects you to use this laptop in one place near a plug point rather than on the go.
Verdict
The Asus GL552JX is priced at Rs. 80,990, which is about Rs. 10,000 more than its "budget-minded" sibling. We feel that if you're ready to spend a lot of money on a gaming laptop anyway then you might as well pony up a bit more and get the ROG version instead of the R510J. The GL552JX has a much better build and cooling system too and offers good upgradeability.
The laptop isn't designed to be carried around all the time (although there's nothing stopping you from doing that) and battery life is pretty weak too. Other than these two factors though, it performs well in gaming, if you don't have very high expectations. It also has a very good anti-glare screen, looks stylish, and is upgradeable. We strongly recommend adding another stick of RAM and an SSD for better overall performance if you do plan on getting it, but then again this will push the price up by quite a bit. Also, given how quickly Asus refreshes its lineup, we wouldn't be surprised to see a Skylake version of the GL552JX in the near future.
Price (MRP): Rs. 80,990
Pros
Stylish design and good build
Anti-glare 1080p display
Can be upgraded
Good gaming performance
Cons
Poor battery life
Not very portable
Based on an older platform
Ratings (Out of 5)
Design: 4
Display: 4
Performance: 3.5
Software: 3.5
Value for Money: 3
Overall: 3.5
["Source-Gadgets"]