Getting data access without spending money sounds great, but this usually involves some kind of catch. That's why different platforms such as Airtel Zero and Facebook's Free Basics triggered such a debate about net neutrality, and why zero rating (or making sites free to access) can be bad for the users. It's been over a year since this debate really kicked off in India and the issues are still developing, but there are a number of apps on the market that are offering users free data, without any exclusivity or limitations. All these apps are for prepaid users. Here's what we found:
1) Gigato
Probably one of the best known apps in the category, Gigato has been around for a while and allows users to "earn" data on the app, which can then be redeemed from your carrier. The way it works is simple – just install the Gigato app, and it will show you a number of apps you can try or use to earn data. The earned data is usually a little higher than the used data, so although the initial usage is cut from your data plan, you come out ahead. For example, you could use 20MB of mobile data on WhatsApp or Twitter, and earn 25MB which can be redeemed from your carrier.
When you launch the app, you can see a list of supported apps you already have on your phone, and Gigato will also recommend other apps you can install to get data benefits. Since Gigato includes many popular apps, it probably won't require you to change your habits to get a little extra cash on the side, which is great.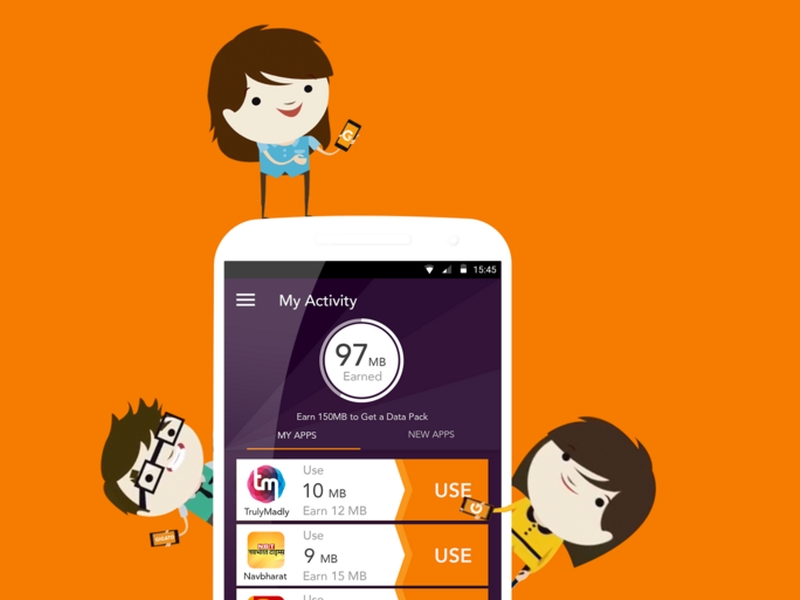 When installing Gigato, you give it permission to check your apps, so it can see how much mobile data is being used by its ​partners​, and give you rewards accordingly. Based on user and expert reports ​online​, it doesn't seem that Gigato snoops on your data to see what you are doing on the Internet, so it should be without any privacy concerns, but it's certainly something you should be aware of.
Get Gigato on Google Play, free.
2) Earn Talktime
The Earn Talktime app is pretty similar to Gigato in that it incentivises you to use different apps, but the way it works is a little different. While Gigato gives you recharges for using mobile data on apps, Earn Talktime pays out money which can be used to pay for prepaid recharges when you download apps.
So, you can make Rs. 5 if you download the Droom app, or Rs. 20 to download Myntra. Downloading Lybrate and then asking one question on the app will earn you Rs. 50.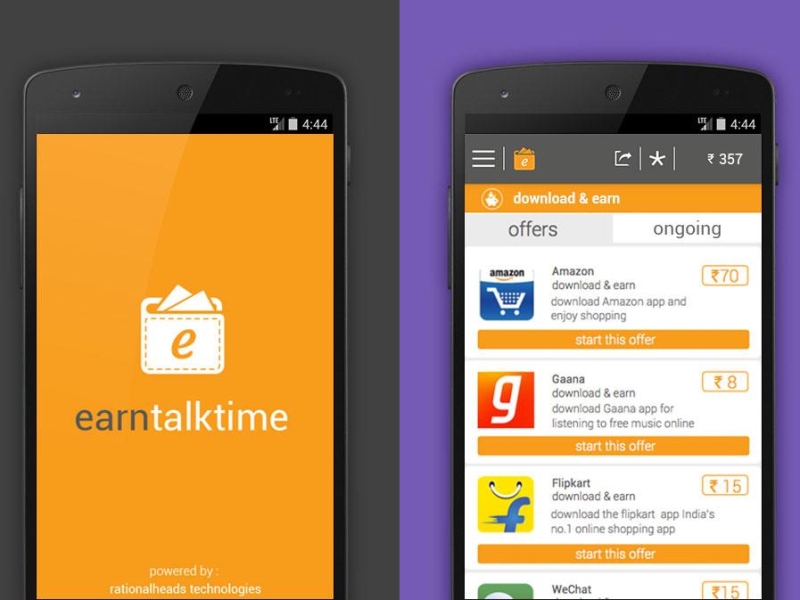 You also earn money for referring friends, and you can then use this to recharge your data via your mobile operator. From what we've found through searching online, there have been no reports of privacy problems with this app, and our own usage showed that it works without any real problems, but considering that Earn Talktime incentivises specific actions you should be aware of potential privacy concerns with this kind of app.
Get Earn Talktime on Google Play, free.
3) Paytunes
While Gigato or Earn Talktime need you to actively do different things to earn talk time, the Paytunes app replaces your ringtone with advertisements and you're paid for each call that you get. There are some checks in place to keep people from gaming the system, but for users, Paytunes actually fits into the day to day flow of actually using your phone.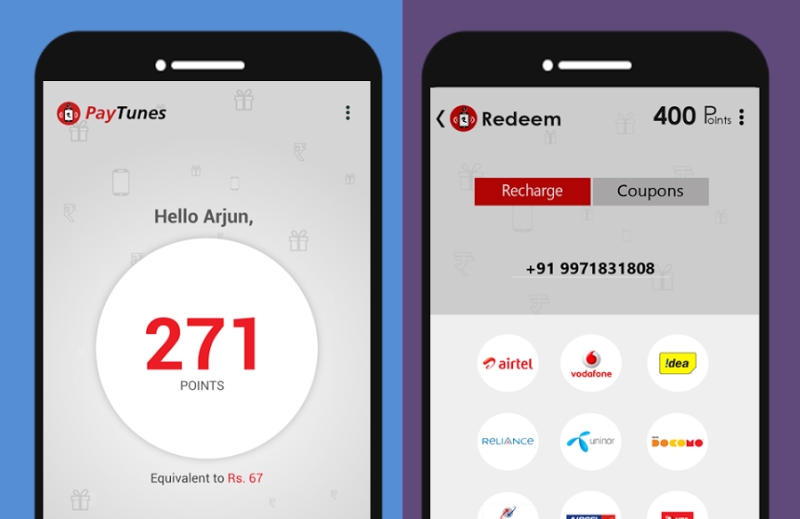 The payouts aren't very high – you have to answer at least three calls to get 1 Rupee worth of points in the app, but even if you get around 15 calls in a day, that works out to a payout of Rs. 150 per month, which can be used to recharge your data pack, or pay other bills via MobiKwik.
Get Paytunes on Google Play, free.
4) My Ads (India)
Watch an ad, and then answer a few simple questions and you earn money. The concept is so simple that it doesn't really need to be explained. You can watch the ads over Wi-Fi, and don't need to download or use any other apps. It's just like the apps you watch on TV, except that here, you aren't forced to watch an ad in the middle of your shows, it's just something you're doing for a little talk time.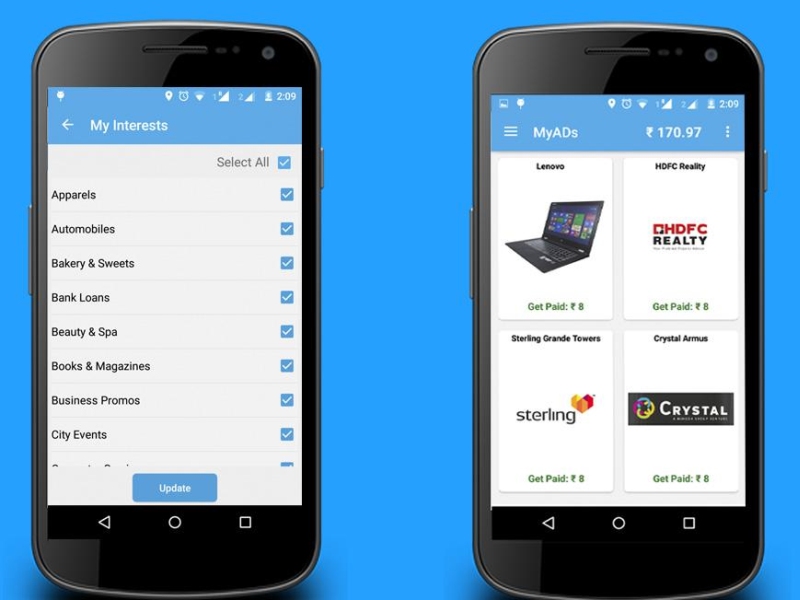 It's not the most convenient way to consume ads, but getting paid Rs. 8 to watch a 45-second ad sounded reasonable enough to us. That money can then be used to recharge your phone, so you can use the money for mobile data.
Get my ADs (India) on Google Play, free.
5) Recharging your phone
Apps like Freecharge, Paytm, or Mobikwik or Airtel Money, just about every app that allows you to recharge your phone online also offers special deals and cashbacks. This means that when you're recharging your phone, using any of these apps can get you a great deal. The specific deals vary on a day to day basis, so keep one or two of the apps you liked the most installed on your phone, and check these before hitting the recharge button to save a little more money.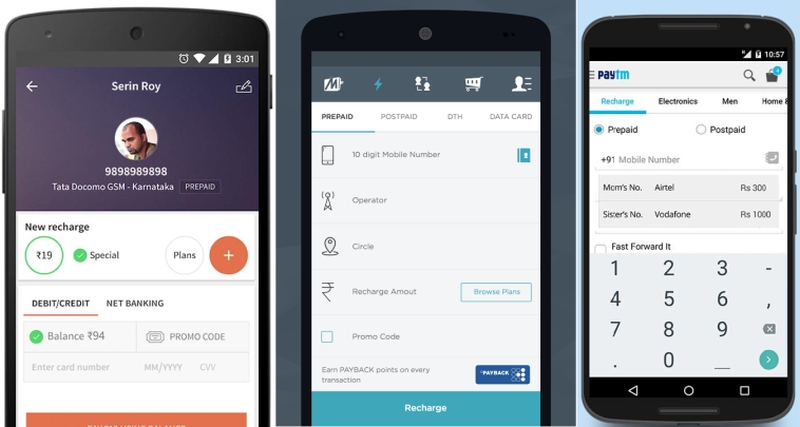 These are the five methods of getting free Internet access we found that worked. Have you tried any of these? What was your experience like? Tell us about that, or any other similar apps you liked, via the comments.
["Source-Gadgets"]