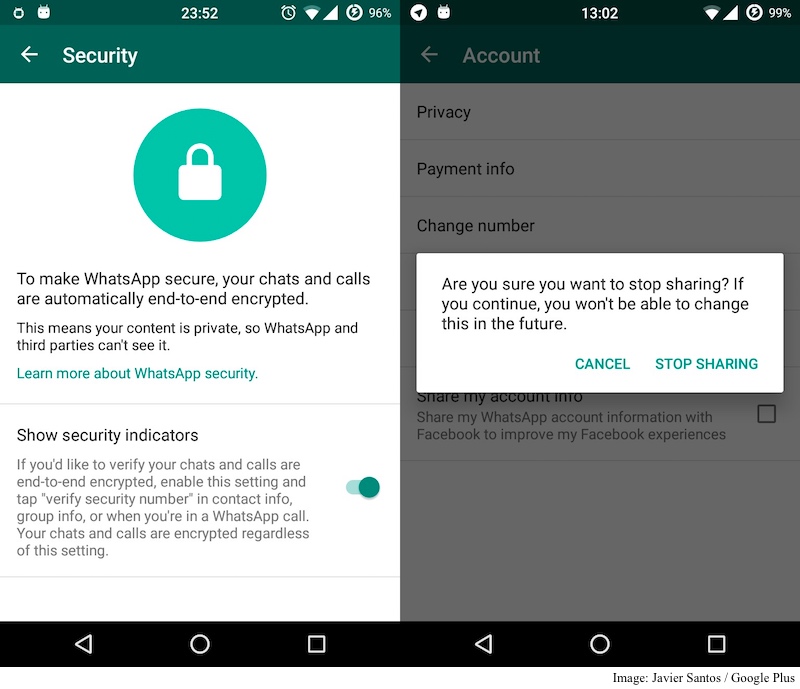 WhatsApp could soon introduce a feature to allow its users to integrate their Facebook account with the instant messaging and voice calling app. While exactly how this will benefit users remains to be seen, the description reveals that the integration will "improve Facebook experiences."
The version 2.12.413 of WhatsApp for Android reveals company's intention to allow users to link the messaging service with their respective Facebook account, as spotted by Android developer Javier Santos.
The feature, as seen in the screenshot, appears on the Account settings of the app, and asks users whether they want to share their WhatsApp account information with Facebook. From the leaked images, it appears to be an optional choice.
Facebook acquired WhatsApp in a multi-billion deal in 2014. Ever since the acquisition, the social juggernaut has been expected to introduce features to make WhatsApp and Facebook's marquee services Facebook and Messenger work more efficiently, leveraging on each other's features. But any such integration hasn't been seen yet.
Interestingly, the same version of the app also has a "hidden" security settings page that provides users with the option to enable an additional indicator that would inform them whether their chats and calls are encrypted. Enabling the feature, however, requires a person to have a rooted Android smartphone or tablet and run a bunch of command.
To recall, in 2014, WhatsApp partnered with Open Whisper Systems, a nonprofit software group that develops collaborative open source projects to scramble messages with a cryptographic key to bolster privacy. In the same year, Open Whisper Systems noted that the end-to-end encryption had been implemented on WhatsApp's Android client. In the studies conducted since, it has been found that the feature hasn't been implemented correctly, with the digital rights group Electronic Frontier Foundation giving WhatsApp a score of two out of seven when tested for privacy sophistication.
The inclusion of an additional indicator, if it is something that is indeed on the cards, could improve WhatsApp's image with privacy activists and enthusiasts who largely use services such as Telegram andSecure, though these people might not like the idea of sharing their information with Facebook. We've reached out to WhatsApp for comments and clarification, and will update the post when we hear back from them.
["source-gadgets"]