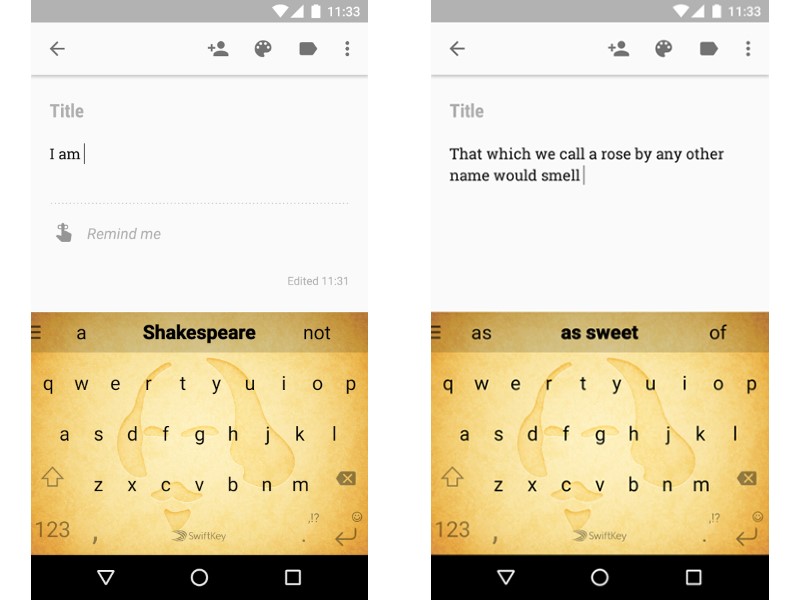 SwiftKey launched a keyboard app for Android on Thursday that allows users to text like William Shakespeare.
Called ShakeSpeak and can be downloaded onto digital devices. It uses predictive keyboard technology to complete sentences in the manner of Shakespeare.
2016 will see the 400th anniversary of Shakespeare's death on April 23 1616.
The app has been developed by SwiftKey, a technology company founded in 2008, as part of a tourism campaign for London. It is available via Google Play.
Technicians at SwiftKey analysed the Complete Works of William Shakespeare to design ShakeSpeak. Users wishing to convincingly adopt a Shakespearean tone to their texts can use "thou", "thee", and "thy".
The predictive technology in the app will do the rest, to produce fake Shakespeare text.
For instance, writing "To be" will prompt the app to complete the sentence with "or not to be, that is the question," or "All the", which is completed as "world's a stage, and all the men and women merely players".
Sarah Rowley, SwiftKey's head of partnerships, said: "Shakespeare brought language to the masses in innovative and exciting ways – and now people can experience his unique and timeless use of language on their smartphone keyboard."
SwiftKey's Head of Languages, Caroline Gasparin, on the company blog post added, "2016 marks a yearlong celebration of Shakespeare and the incredible literary legacy he has left us. SwiftKey's technology learns your personal writing style to predict what you will most likely type next. We have trawled thousands of words from his plays for SwiftKey to learn from the great playwright himself build this personalized language model. To celebrate the 400th anniversary of his death, the ShakeSpeak keyboard makes the greatest playwright of all time accessible in a new and unique way."
Written with inputs from IANS
Download the Gadgets 360 app for Android and iOS to stay up to date with the latest tech news, product reviews, and exclusive deals on the popular mobiles.