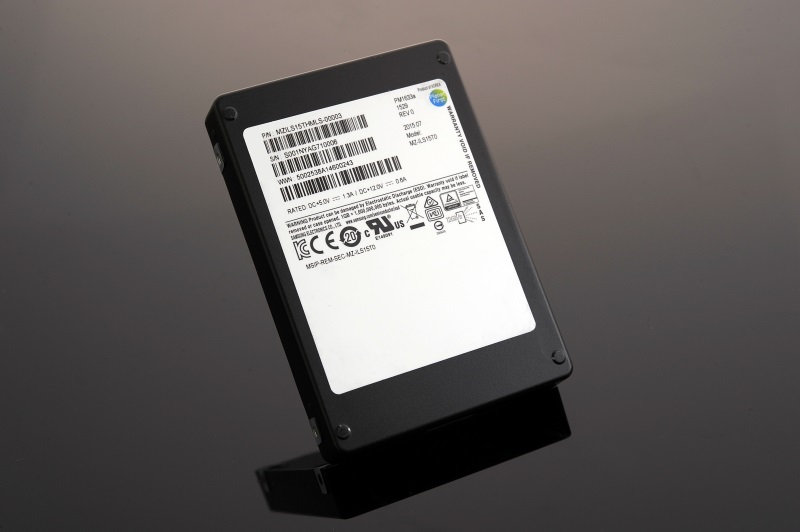 Samsung has announced that its PM1633a enterprise SSD, first unveiled in August, has begun shipping. The drive has a capacity of 15.36TB, which is currently the highest in the world for standard 2.5-inch SSDs. Samsung says the PM1633a will fit into standard 2U server enclosures, allowing customers to drastically increase storage density and power efficiency as well as reliability and performance.
The drive uses 512 of Samsung's 256Gb third-generation 3D V-NAND chips, each of which has 48 layers of flash storage cells. The chips themselves are arranged in 16 layers within the drive's enclosure, for the highest density ever seen. Samsung uses its own proprietary controller and firmware logic, and there's also a 16GB DRAM cache. The drive uses the enterprise-standard 12Gbps SAS (Serial-Attached SCSI) interface.
Samsung claims performance that is up to 1,000 times that of SAS hard drives and double that of SATA SSDs, with read and write performance of up to 200,000IOPS and 32,000IOPS respectively. Sequential read and write speeds are claimed to be over 1.2GBps. Users can write up to 15.36TB of data per day to the drive, ie its entire capacity, without failure.
In addition to the peak capacity 15.36TB model, Samsung will also offer versions with 7.68TB, 3.84TB, 1.92TB, 960GB and 480GB of space. Prices have not been publicly announced, and there's also no word on equivalent products for the consumer market.
The company aims to displace spinning hard drives from data centres by matching and exceeding the cost per unit of storage that currently still favours hard drives. However, the world's largest hard drives are all 3.5-inch and capacity tops out at 10TB for now, making the PM1633a not only the world's highest capacity SSD but also the highest capacity drive of any kind.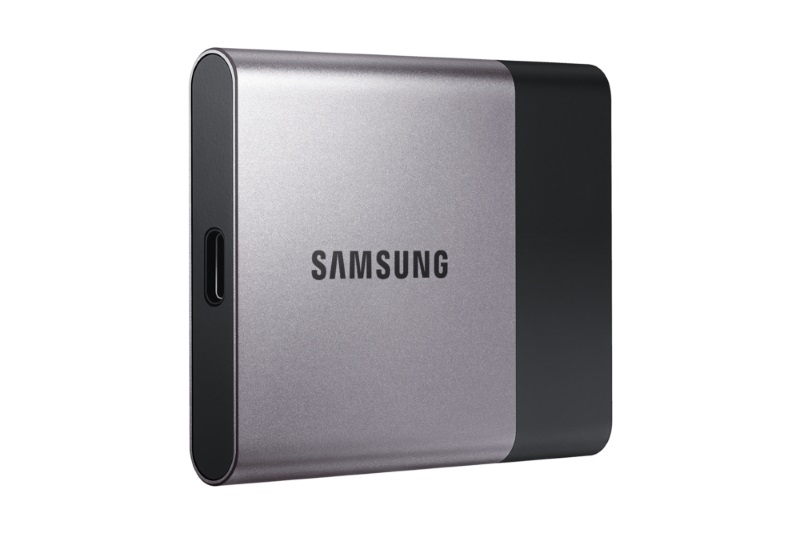 Samsung has also launched its consumer-targeted external SSD T3 series in India, in capacities ranging from 250GB to 2TB. The SSD T3 is the successor to the SSD T1 (Review), and uses the newer USB Type-Cinterface. The palm-sized device also uses Samsung's 3D V-NAND chips, and has a shock-resistant, anti-scratch body.
The SSD T3 offers speeds of up to 450MBps over USB 3.0 and promises 256-bit AES encryption for data security. You'll need at least Windows 7 or Mac OS X 10.7, and Samsung says Android is also supported through a custom app. It weighs just 51g. Samsung says the SSD T3 will go on sale in India in late March, though it is already listed by some retailers. It is priced at Rs. 10,999 for 250GB, Rs. 18,999 for 500GB, Rs. 37,999 for 1TB and Rs. 74,999 for 2TB. Each model is covered by a three-year warranty.
Download the Gadgets 360 app for Android and iOS to stay up to date with the latest tech news, product reviews, and exclusive deals on the popular mobiles.