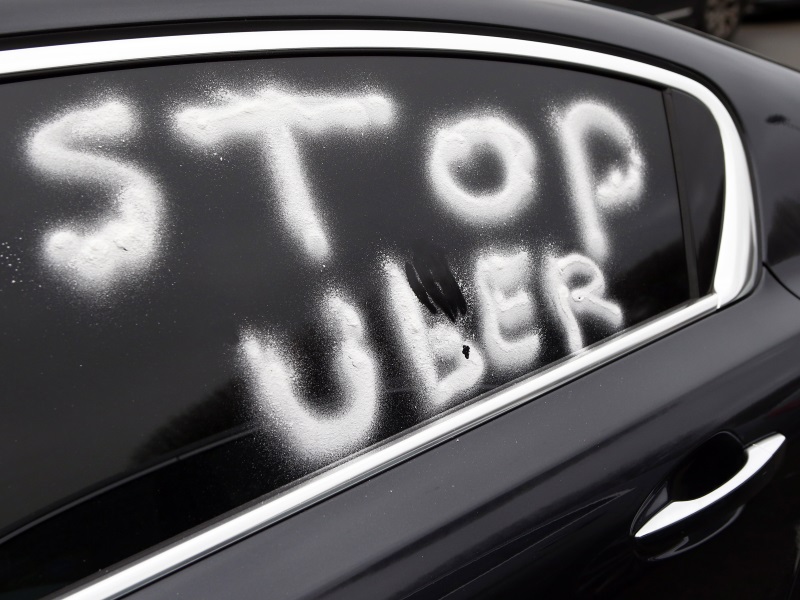 Thousands of Indonesian taxi and motorised rickshaw drivers Tuesday blocked major roads in the capital Jakarta, attacked vehicles and rallied outside parliament, in a violent protest against Uber and other ride-hailing apps.
The drivers adorned their vehicles with signs saying "stop illegal taxis" and set fire to tyres, while some jumped up and down on cars that refused to participate and tried to attack drivers working for motorbike taxi-hailing services.
"I want them to shut down Uber, GrabCar, Go-Jek because they are ruining us," said taxi driver Dudin Suhendri, 58, naming several popular ride-hailing apps.
The demonstration came after weeks of rising tensions between traditional public transport operators in the sprawling, traffic-clogged metropolis of 10 million and a flurry of new ride-hailing services.
The increasingly popular apps include controversial US service Uber, GrabCar and motorbike taxi-hailing apps GrabBike and Go-Jek.
Traditional taxi, motorbike taxi and other public transport drivers are angry that the new services are offering rides at lower prices and claim they are not paying taxes to the government.
After coming under pressure from traditional operators, the transport minister attempted to ban ride-hailing apps in December, but was forced to do a U-turn almost immediately after the move sparked online fury.
However, the communications ministry and President Joko Widodo have backed the ride-hailing apps.
A spokesman for the Jakarta police estimated the number involved in Tuesday's protest at 5,000.
Protesting taxis and motorised rickshaws parked en masse on several main streets in Jakarta, bringing traffic to a standstill and causing chaos for morning commuters.
The demonstration turned violent at times, with footage on social media showing drivers attacking taxis who were refusing to take part, and police having to protect motorbike drivers working for app-based services from angry demonstrators.
Download the Gadgets 360 app for Android and iOS to stay up to date with the latest tech news, product reviews, and exclusive deals on the popular mobiles.