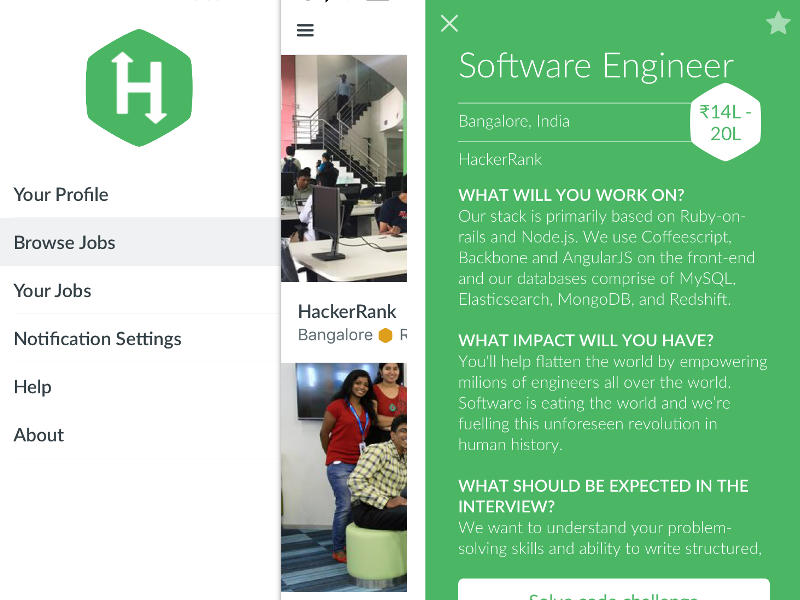 Bengaluru-based code-challenge community HackerRank announced the launch of HackerRank Jobs, a platform to provide a developer-focused approach to recruiting.
The HackerRank Jobs mobile app is available now in the Apple App Store and Google Play Store, as well as on the HackerRank website.
Launched in a limited beta, the site has jobs listings from Indian and US-based tech companiespublished online, which include VMware, Visa Inc, Practo, Uber, Quora, Zenefits, Palantir Technologies and Amazon. The company is working with 30 hand-picked companies who are already its customers in its beta.
"We will be working closely with these companies for two to three months, to build a bridge between our community and tying it back to the company who are participating in Hackerrank Jobs for now," said Arpit Maheshwari, Product Manager at HackerRank, speaking to Gadgets 360. Additional regions will be available by the end of March 2016.
The app and Web-based platform lets candidates sign up for a code challenge on the mobile app, available on Android and iOS, and features five-day response times, automated skill-based code challenges, and salary transparency.
Companies have up to five days to schedule an interview with the top-performing engineers, and candidates who didn't pass the hiring bar will be notified. Applicants are guaranteed to know whether or not they move onto the next round, the company said.
"For the company or recruiter, they will now have a very clear dashboard of who is applying to the company, and who is above and below the cutoff mark. They can define what is the criteria for qualifying their company's challenges, and rather than going through hundreds of resumes, they really just need to talk to the 20 qualified people," Maheshwari said.
HackerRank Jobs is focused on the software engineering domain, ad it also has sub-products to assess skills in areas like system administration, and database engineering, he added.
Founded in 2009, HackerRank provides coding challenges in over 15 domains and 35 programming languages.
["Source-Gadgets"]