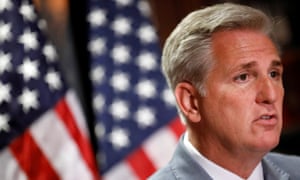 House majority leader Kevin McCarthy. Photograph: Aaron P. Bernstein/Reuters
In a 2016 conversation with fellow members of House leadership, majority leader Kevin McCarthy suggested that Donald Trump was on Vladimir Putin's payroll.
In an exchange first reported by the Washington Post, McCarthy said: "There's…there's two people, I think, Putin pays: [California Representative Dana] Rohrabacher and Trump…[laughter]…swear to God."
According to the transcript, speaker Paul Ryan immediately responded: "This is an off the record … [laughter] … NO LEAKS … [laughter] … alright?!"
On Wednesday night, Ryan's spokesman, Brendan Buck, said in a statement to the Guardian: "This entire year-old exchange was clearly an attempt at humor. No one believed the majority leader was seriously asserting that Donald Trump or any of our members were being paid by the Russians."
He added: "What's more, the speaker and leadership team have repeatedly spoken out against Russia's interference in our election, and the House continues to investigate that activity."
Both Buck and a spokesman for McCarthy initially denied the remarks; the Washington Post listened to and verified an audio recording of the conversation. McCarthy's spokesman did not respond to the Guardian for a request for comment. However, he tweeted: "This was an attempt at humor gone wrong. No surprise @WashingtonPost tried to contort this into breaking news."
Trump's ties to Russia have been the subject of bipartisan concern and, on Wednesday, deputy attorney general Rod Rosenstein appointed a special counsel to investigate those as well as Russian attempts to influence the 2016 election.
The conversation came shortly after both McCarthy and Ryan had been briefed by the Ukrainian prime minister, Volodymyr Groysman, about Russian attempts to undermine democratic institutions in eastern Europe, and a day after it was reported that Russia had successfully hacked the DNC.
At the time, Ryan had still not endorsed Trump but McCarthy had already signed up to become a Trump delegate to the RNC and formally endorsed the real estate developer's campaign.
At least some Democrats raised concerns about the statement. California congressman Eric Swalwell, a member of the House intelligence committee, said the remark raised questions about whether the majority leader has additional information on the "relationship the president had with president Putin".
"If it was said they had their own concerns and so far they have done nothing to address concerns about the president's ties to Russia," Swalwell told reporters. "So I just want to know, were these concerns based on separate information that the majority leader had or had been told?"
Rohrabacher, who has a history of expressing support for the Putin regime and has been described as "Putin's favorite congressman", told the Guardian Wednesday night that McCarthy reassured him it was a joke.
He said that the majority leader approached him on the floor during votes on Wednesday evening to ensure that he knew that the remark was intended as a joke.
"Kevin didn't mean any harm, I'm sure," said Rohrabacher told reporters.
"You have to be very careful when you're using humor," Rohrabacher said, recalling a joke he made during a hearing.
"I remember I was trying to make fun of the scientist who claimed that cow farts make global warming," Rohrabacher said. "And so at a hearing I said, 'Oh do you think maybe the dinosaurs disappeared because of dinosaur flatulence?'"
To this day, he said environmentalists still fault him for believing "that dinosaur flatulence killed the dinosaurs".
["source-ndtv"]