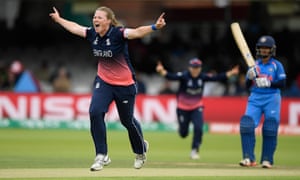 25th over: India 92-2 (Punam 39, Harmanpreet 32). Sciver brought back to replace Marsh. Keeps Punam honest, a decent shout for leg before. It's going down, and then quickly realise that and don't review. Mel Jones on radio complimentary of Sarah Taylor's influence in preventing any wild referrals. Four singles, including another Punam ramp. We're at the half-way mark. England were 103-3. Don't yell at me, I know this means nothing. I'm just sharing.
24th over: India 88-2 (Punam 36, Harmanpreet 30). Oh that's magnificent from Harmanpreet, the back pad along the ground, swinging with the straightest arms. The contact enough, landing in the grandstand, the chap in the front row putting down the catch. Second time she's done that. Into the 30s. Nine from the Hartley over – the bowler she seems most keen to take on, much as she was the left-arm orthodox of Jess Jonassen on Thursday. She won't need long to rip this game apart.
Facebook
Twitter
Google plus
10m ago15:48
23rd over: India 79-2 (Punam 36, Harmanpreet 22). Marsh's third over on the bounce where four singles have been added. Nothing more. Both sides probably happy enough with that. Three of those down the ground. A scoop too. Punam had a couple of goes at that now.
"It seems an obvious point to make but Jenny Gunn is a bit good, isn't she?" James Higgott likes the England all-rounder's work. "She fires them in, barrel straight, on target every time. She's an automatic pick for me. I'm glad they've held a few of her overs back, keeping her powder dry for later."
Facebook
Twitter
Google plus
10m ago15:48
Since you're here … we have a small favour to ask. More people are reading the Guardian than ever but advertising revenues across the media are falling fast. And unlike many news organisations, we haven't put up a paywall – we want to keep our journalism as open as we can. So you can see why we need to ask for your help. The Guardian's independent, investigative journalism takes a lot of time, money and hard work to produce. But we do it because we believe our perspective matters – because it might well be your perspective, too.
If everyone who reads our reporting, who likes it, helps to support it, our future would be much more secure. You can give to the Guardian by becoming a monthly supporter or by making a one-off contribution. – Guardian HQ
12m ago15:46
22nd over: India 75-2 (Punam 34, Harmanpreet 20). Hartley encourages a Harmanpreet dance early in the over. As I tried to explain after her 171 the other day, you just have to hold your breathwhen she goes down the track like that. Each time is an event. It only gets her a single this time though. Two from it. Hartley doing plenty right here early on.21st over: India 73-2 (Punam 33, Harmanpreet 19). 75 for Duckworth Lewis at the end of this over. I raise this becuase we have a game with 20 overs now registered. They get four from the over, all risk-free, leaving them two runs short of that mark. But the point is, we have a smashing contest on our hands here. Especially with Harmanpreet now up and about. Get yourself in front of a TV. This is spot on. 20th over: India 69-2 (Punam 31, Harmanpreet 17). A mate of mine popped on the social media the other day that when his boy grows up he hopes he can keep like Sarah Taylor. She shows her unique game awareness again here, dancing around while Punam is mid-ramp. So close to gloving it, too. Oh but forget about that: Harmanpreet has just done her thing! Dance, stop prop, swing of the arms, connect, six! And a big'un! Nearly into the crowd, 20m beyond the actual boundary. On ABC TV in Australia overnight Gideon Haigh compared her posture to that of the iconic Victor Trumper image (that he's literally written the book on, so he would know). Buckle up. 19th over: India 59-2 (Punam 28, Harmanpreet 10). Excellent little session since Raj was removed, England conceding 16 runs in 35 balls thereafter with Marsh's set here conceding four. India helped by a legside wide. But it did give Taylor the chance to show off her mad skillz again behind the stumps.18th over: India 55-2 (Punam 27, Harmanpreet 8). Right, so it's Hartley. We've seen her left-arm spin claim big wickets in this tournament, not least Meg Lanning. That was the game with the biggest crowd before this one, and she as ice cold under pressure. Here, she tosses it up to Harmanpreet from the get go, 45mph. Five high-quality dots before the Indian matchwinner goes sweeping to end the set. A single to square leg keeps her the strike. Big contest between those two coming up, surely.17th over: India 54-2 (Punam 27, Harmanpreet 7). Marsh giving it some air, encouraging both the drive. Harmanpreet doesn't make great contact and it goes back to the bowler. Looked close to reaching her on the full. Not to be. Punam more convincing, out to deep point for a couple. Four from it. Time for a drink in the middle, with Alex Hartley ready to take the ball for the first time in England's defence of 228 when they return. And for those on weather watch, it is very sunny. And we're three overs away from "a game" as they say in DLS speak. On the radio, Lottie says England are "just in front." 16th over: India 50-2 (Punam 24, Harmanpreet 6). Maiden for Jenny Gunn. Completed after a fantasic diving stop on the circle at cover to end the over. Didn't quite catch who it was – maybe Beaumont. That's what India did so well. The standard of fielding lifting for the final.
[Source:-theguardian]